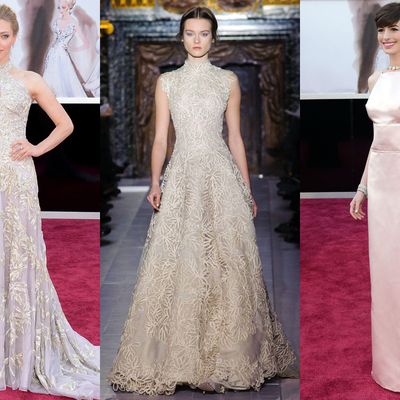 Seyfried, the Valentino dress, and Hathaway.
Photo: Getty ImagesImaxtree
As we learned earlier this week, Anne Hathaway made a last-minute decision to wear Prada instead of Valentino to the Oscars because of Amanda Seyfried's outfit. There was some fallout afterwards, mostly due to Hathaway's public apology to Valentino about the switch-up. Now more information about how all the drama went down has come to light, via Us Weekly, who talked to an "insider close to the situation":
Hathaway learned during an Oscar rehearsal at Hollywood's Dolby Theatre on Saturday, Feb. 22 that Seyfried planned to wear a dress notably similar to hers to the ceremony. After Hathaway asked about her pal's dress, Seyfried graciously shared an iPhone snap of the Alexander McQueen creation.

"Anne was like 'WTF?!'" the source reports. "She started throwing a fit!" The 30-year-old Best Supporting Actress victor, however, "never told Amanda she had to change the dress." Still, Seyfried, 27, was ruffled by Hathaway's tirade. "Amanda didn't want to deal with it and left" the rehearsal, the source notes.
Sounds like a way bigger deal than it actually is. But it's still odd that Hathaway is getting so much bad press over this — she's the one who ponied up and switched outfits, after all. Anyway, let's consider this over now, shall we?