Highlights: This Weekend at Paris Fashion Shows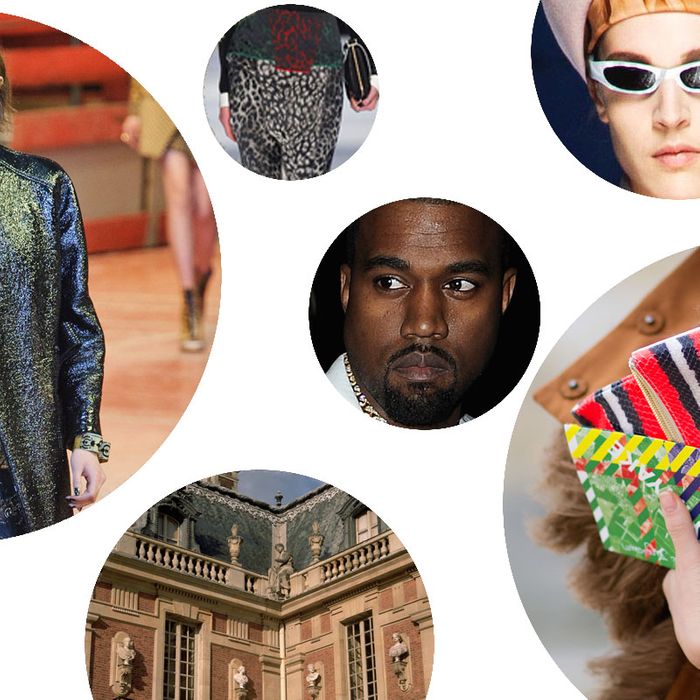 We're live from Paris, where our editorial director is reporting from Fashion Week (albeit in a different time zone).
FRIDAY
1. Waiting for Roland Mouret to start, I overhear a well-known street-style photographer lament that the lack of sun is ruining his shots. It has been awfully grey and cold. The lights dim and goth anthem "Bela Lugosi's Dead" plays because the collection was inspired by Catherine Deneuve's role in the NSFW film The Hunger.
However, geometric dresses, with quasi-peplum squares of royal blues, black, white, and pea-green are safe if you work somewhere very cool.
2. Hussein Chalayan makes clothes for women who place a high premium on being interesting. A few nifty details: cuffs that come nearly to the knees; textured stovepipe pants half-hidden under petals of silk; dresses that appear to be hemmed above the knee but transform into gowns as the model pulls a cord.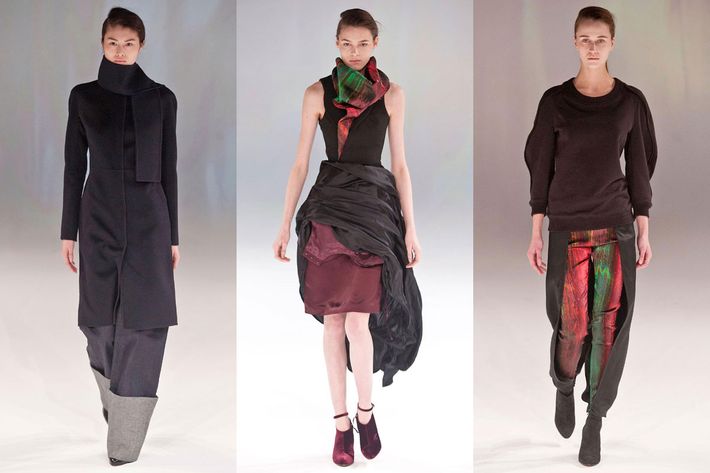 3. Brief stop at the Céline store. Pity they forbid me from Vining the orgasm face I made while trying on those fur-lined sandals.
4. If you want to have fun at a fashion show, sit with members of the indie British fashion press who disrupt the pre-show quiet at Isabel Marant with their laughter when 10 Magazine editor Anthony Miles shares a cock-shot (not his own) with colleagues. Finally, under frescoed ceilings, models with center-parted hair and no makeup stride out in short, navy wool dresses paired with a wedge-boot update of the popular sneakers. Marant makes a least three perfect, relaxed coats each season. Just ask Emmanuel Alt, who lives in hers.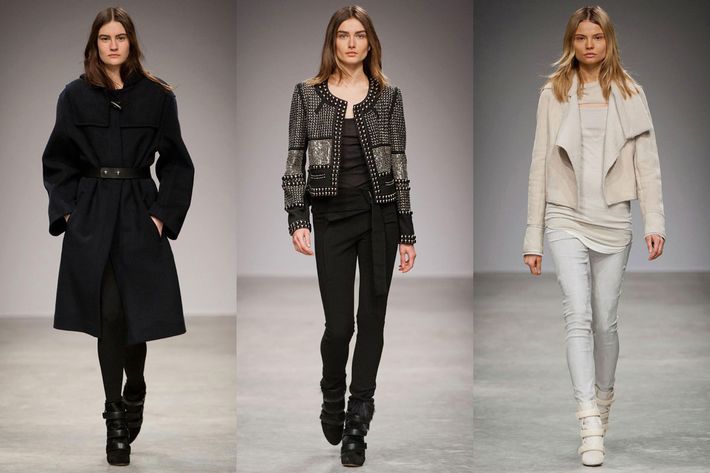 5. Back at the Hotel, I jump into the Cut chatroom and share two of the best Vines ever created, IMHO:
6. Time to enjoy a buttery dinner at Ma Cocotte with Christina Han and some friends.
SATURDAY
7. Strolling through the Tuileries, marveling at the fashion crowd's ever-better outfits, I spy the virgin sole on an editor's Givenchy boots and realize everybody's been shopping. A lot.
8. Meanwhile, some of the world's most whimsical shoes are on view at the Roger Vivier showroom.
9. Continuing their adventures in draping, Victor & Rolf have somehow folded and sewn the fabric of their shirts and dresses into oversized bows. Bill Cunningham snaps almost every look from his front row perch.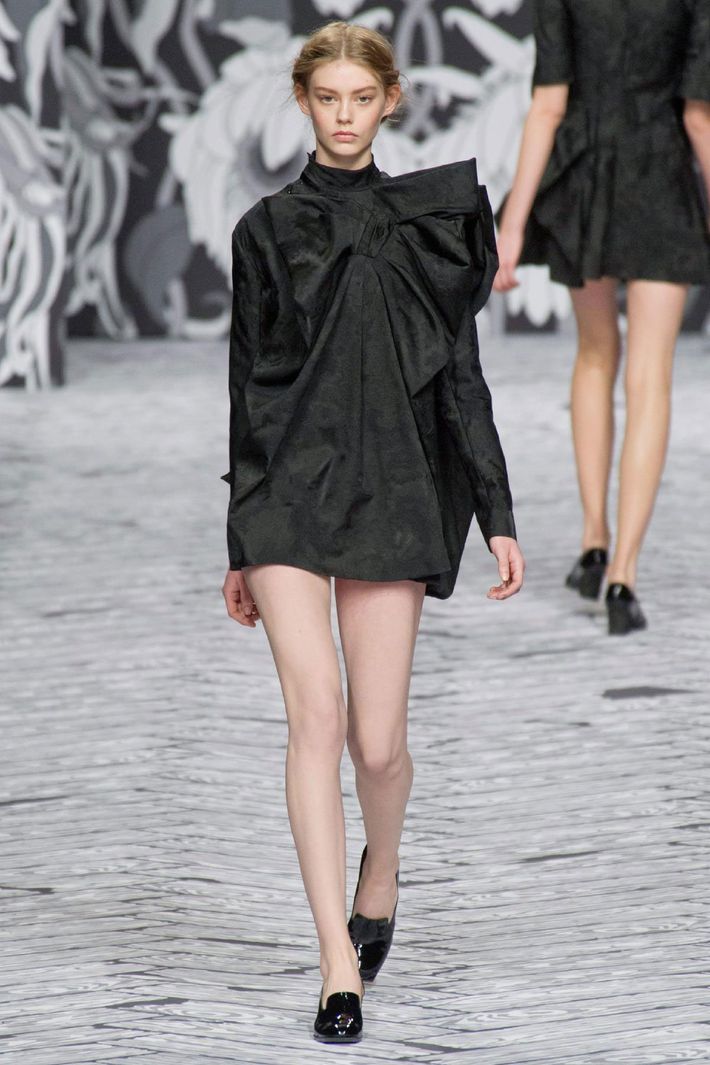 10. ACNE has been getting more ambitious and interesting with every collection. Perfect for genuine fashion eccentrics like Tilda Swinton and Swedish singer Robyn, both of whom sit front row. The Boy George hats stay on with a scarf that actually weaves out the back.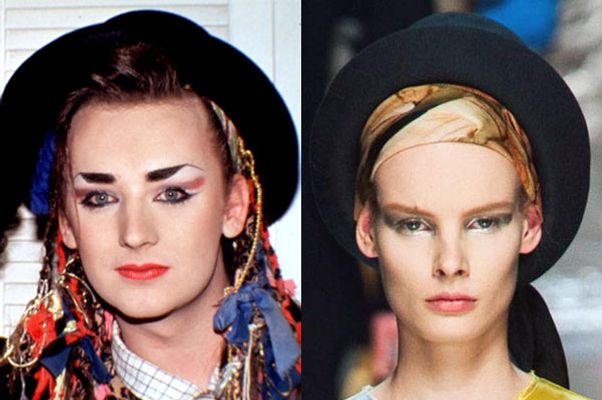 Fall's ochre, burnt umber, royal blue, and red palette feels refreshing after so many restrained collections this week. Less adventurous dressers will also find wearable pieces like this half-leather, half-corduroy blazer.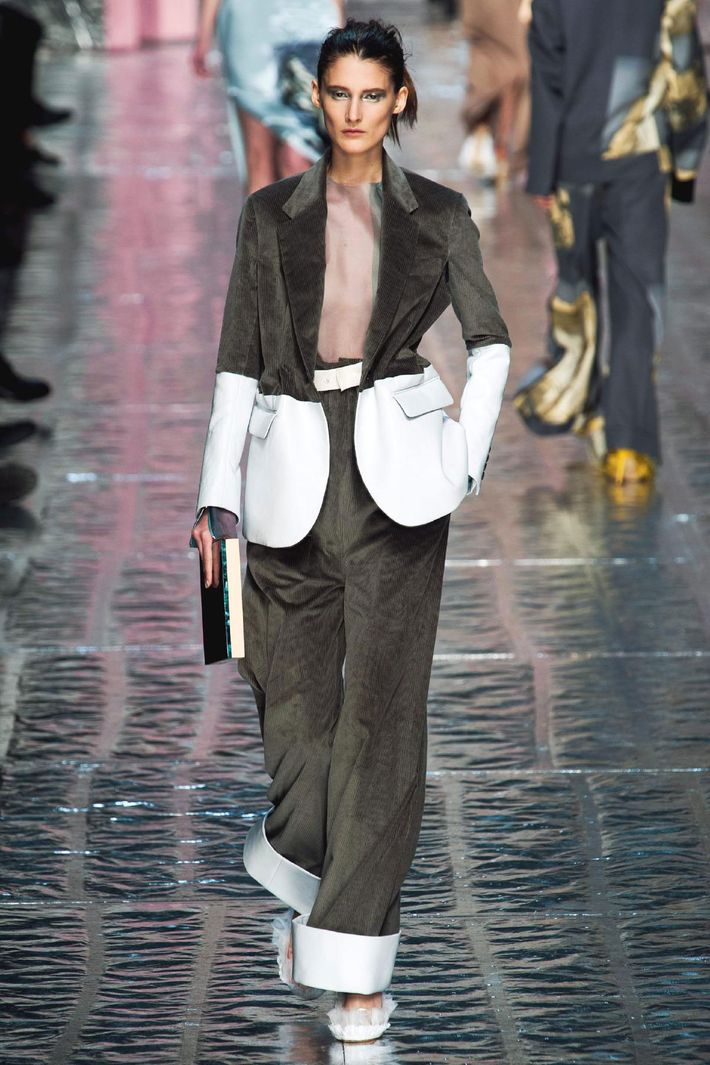 11. Vivienne Westwood braided the models' hair with clear plastic and the clothes were as flamboyant as ever. It was nice to see so many nonwhite models on the runway. To my left, Tziporah Salamon, long-time Bill Cunningham muse and one of the stars the Advanced Style blog, wore a black and white clown ensemble that she claimed took seven years to perfect. I then adopted her as my Paris Mom.
12. There are at least ten parties, but sometimes a lady just needs to spend a quiet night hand-washing her delicates.
SUNDAY
13. The street-style photographers must be pleased because the sun finally shines outside of the Kenzo show, which takes place in a long-abandoned department store. Aside from their design talents, Carol Lim and Umberto Leon make everything they do undeniably fun. The unheated space is bearable because they've left warm down panels that snap into scarves (or skirts/shawls/nun's habits) on each seat. The models walk out in patterned jacquard and printed lamé samurai dresses and coats. Trips to Nepal, India, and China inspired the recurring motif of an all-seeing eye.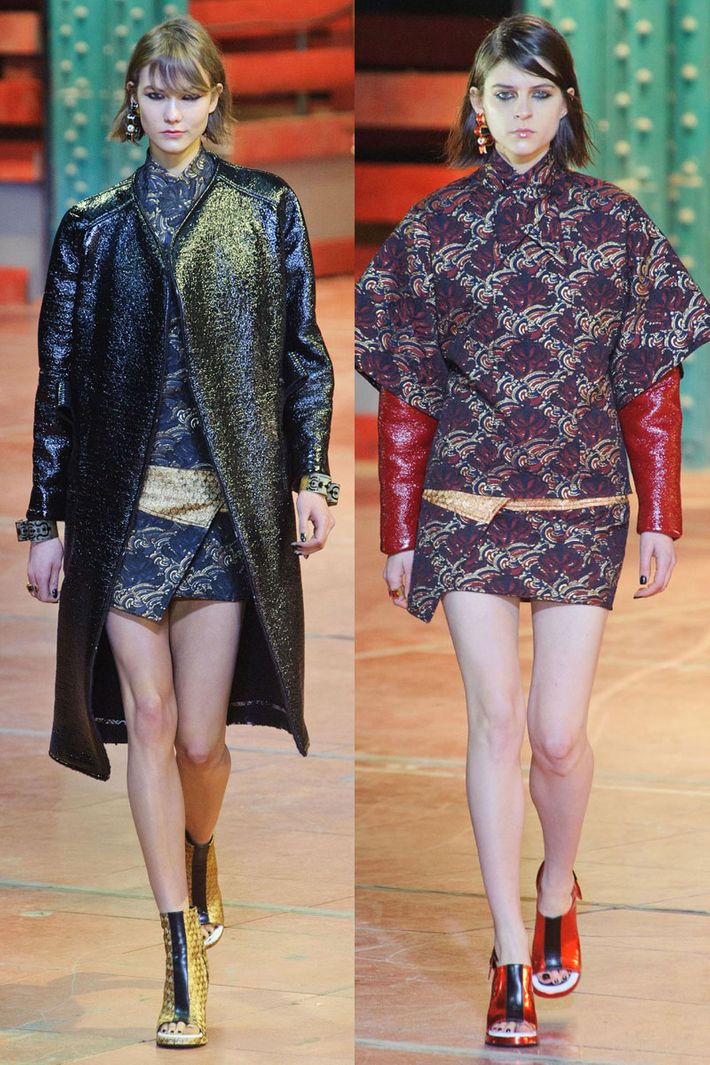 Karlie Kloss dances a little to the M.I.A. soundtrack while she waits for the models to finish in an arresting line on the stairs.
14. With a break in shows and appointments, I hightail it to Versailles, which is free the first Sunday of every month. It's crowded, but full of inspiring design details.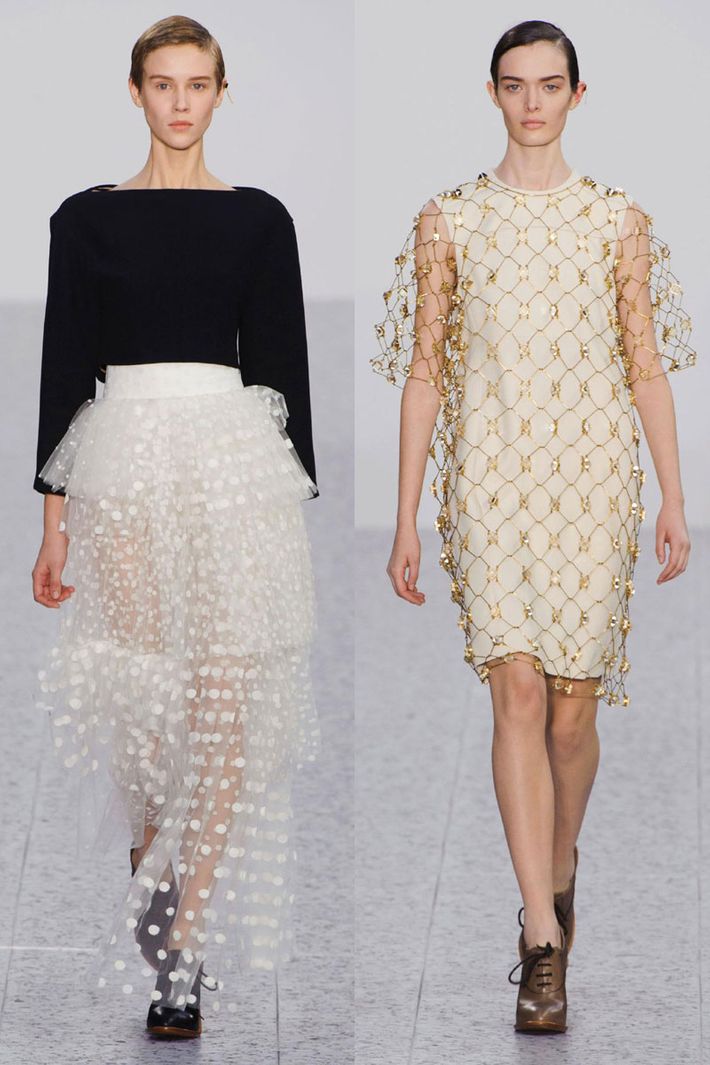 15. Back in the nick of time for Chloé. The sun illuminates the tent as the girls come out in the signature cool, polished look the house is famous for. Standouts include uneven tulle skirts with polka dots paired with lace-up loafers, as well as a jeweled chain-link "T-shirt."
16. Givenchy is a scene. I can't decide whether to stare at Kimye, Jessica Chastain, or Amanda Seyfried, because all of them are much better looking in person. Maybe it's their Givenchy outfits? The singer Antony's androgynous, operatic vocals fill the round space with a song called "FUTURE FEMINISM," which he wrote for the occasion. Handwritten transcripts provided: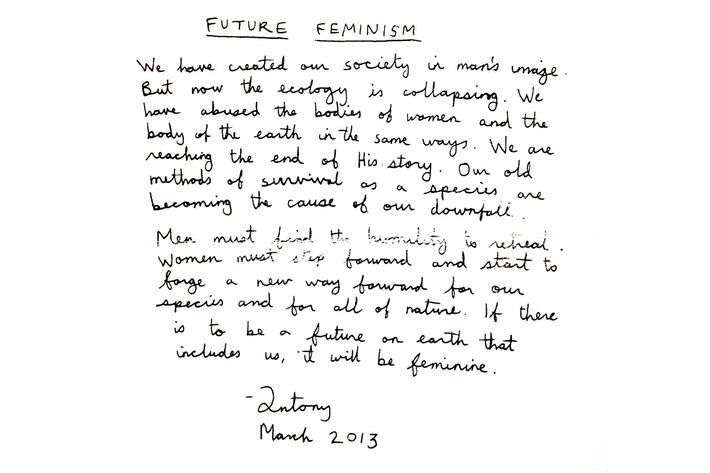 The models wear pin-curled wigs that look like rainbow tea roses. Here's to hoping they are actually hats that people can buy. Digital prints of Bambi mix with lace, leather, flowers, and lots of black. Super-beauty Natalia Vodianova closes the show in a rose-printed sweatshirt with shiny round dots, tied at the waist with a bungee cord and worn with a sheer skirt.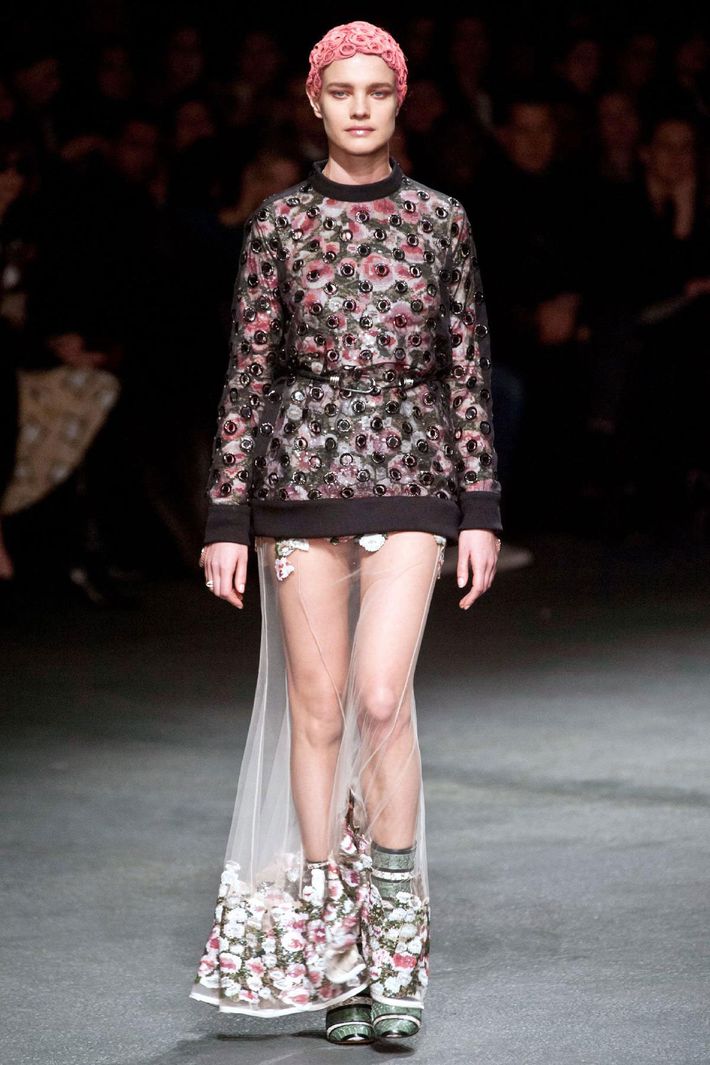 17. A disco nap is in order, because the Kenzo party will be a rager.
18. Fall asleep looking forward to Stella McCartney, which will be mercifully fur-free.