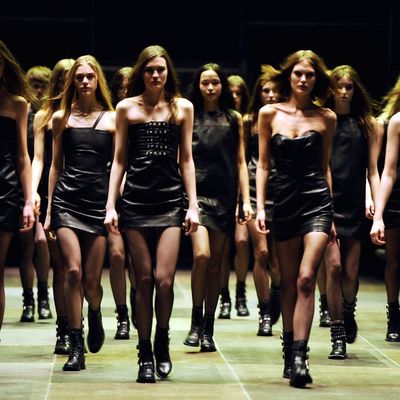 Saint Laurent's finale.
Photo: Pascal Le Segretain/Getty Images
After last season's dust-up between Hedi Slimane and the Times' Cathy Horyn, it's no surprise that he continued to ban her from Saint Laurent this week. And once again, she simply looked at the clothes online and wrote about them anyway, lumping her review into a larger evaluation of several major Paris collections, including Hermès and Louis Vuitton. Titled "Clothes Worthy of Their Labels," the piece insinuated that Slimane's designs did not fall under that category.
Horyn's remarks on Slimane's show, while tempered, were not complimentary. Although it's clear Slimane has been hard at work fashioning a new, modernized identity for the house, Horyn seems to think he's throwing out the baby with the bathwater:
One of the first things the new designer, Hedi Slimane, did was to remove "Yves" from the label, thereby severing a symbolic connection to the founder, and everything he stood for, like good taste and feminine power.
As for this particular collection, Horyn made a point to note that other people hadn't liked it. Almost every critic used this tactic with Saint Laurent this season, because it allowed them to knock the clothes without assigning credit (or taking blame) for negative comments. Horyn was quite measured in her approach, making some references to her colleague Eric Wilson's review from a few days prior, which had a similar tone. She writes:
Many people said the clothes looked like stuff sold at Topshop or a thrift store, while others defended Mr. Slimane's approach and identified pieces, like a pink fur chubby, that relate back to Yves's designs of the late '60s and early '70s, when he got ideas — say, for a pea coat — from the street. It's doubtful that customers will make that connection, but such comments serve to validate what Mr. Slimane has done.
She really stuck the knife in, though, with backhanded compliments to the fashion house's reputation and Slimane's skills as an instigator.
And the controversy is good for Saint Laurent. But mainly it was clear to me how strong the name is. In terms of design, the clothes held considerably less value than a box of Saint Laurent labels. Without the label attached to them, Mr. Slimane's grunge dresses wouldn't attract interest — because they're not special. But a box of labels is worth a million.
And finally, moving on:
Hermès stands in sharp contrast to the Saint Laurent show and its lazy values.
Well! At least someone was willing to express an opinion. We'll keep a close watch on Slimane's Twitter feed today.