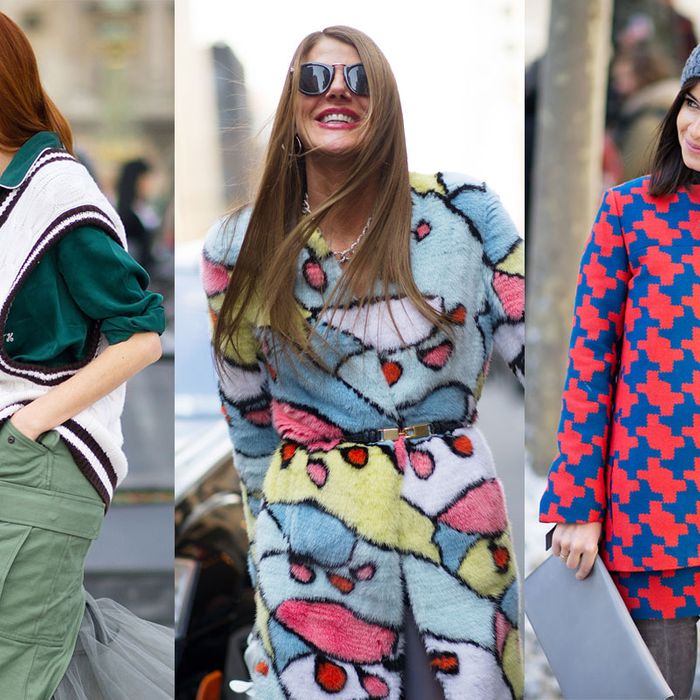 Photo: YoungJun Koo/IM KOO
At this point, it was more than a month ago when Suzy Menkes — in Deborah Needleman's debut issue of T — thought it might be novel to call street style (that proverbial scene in Paris and New York) a circus. You probably read this piece, because even though it was in a print magazine, it was the sort of easy opinion made for Internet sharing: "Two things have worked to turn fashion shows into a zoo," she writes. "The cattle market of showoff people waiting to be chosen or rejected by the photographers, and the way that smart brands, in an attempt to claw back control lost to multimedia, have come in on the act." Yeah, duh. Brands would like well-dressed people to wear their nice things. They send Anna Dello Russo a head-to-toe look, or name handbags after Bryan Boy. This isn't new (or even news).
Still, it was well-timed — it dropped one morning when all the stylish people, wearing borrowed clothing or not, were planning their looks for a roster of shows — and it rippled as a sort of existential street-style crisis that's still playing out this week. Natalie Joos, she of an enviable vintage-luxury mix, complained on her blog that "I can't but feel attacked myself, being the subject of those street style photographers everyone is complaining about, and writing a blog on top of it. Perhaps I am one of those people who is famous just for being famous?" She did so in an open letter to Leandra Medine, the Man Repeller, who had written in February that Menkes's article mildly enraged her: "If the girl had got the proverbial balls to strap live vertebrae to her head and loves how she looks, well, good for her." Derek Blasberg, in researching his Harper's Bazaar best-dressed list this week, felt the opposite, referencing his friend, the socialite-entrepreneur Lauren Santo Domingo, who had somehow managed to stay chic amid all the insanity by wearing a (probably stupidly expensive) plain white T-shirt to New York shows. He explains: "With so many girls, some of whom had no business being at a fashion show other than to be photographed at a fashion show, wearing everything and the kitchen sink, her instinct was to slip into something simple."
But whether you're saying that your friend had to wear a T-shirt to stand out, or that you feel criticized for simply expressing your personal style, or that you feel bad for young bloggers who were called out by a scene-stealing veteran — let's not forget that Suzy Menkes has drawn decades of attention with that hairdo of hers — for experimenting with their look, none of that rings true to me.
When I think back a month, I see a swirl of beautiful Céline coats, Givenchy rock studs, and stunning Russian women with fantastically glossy hair wearing head-to-toe Fendi, those awesome neoprene bags with baubles included. It's pretty, of course, and the Cut is complicit in publishing hundreds of these fashion week street-style photos throughout the month, yet I can't look at any of it without realizing, after five or so slides and tens of thousands of dollars in clothes, one thing: I'm hate-watching. We all are, I'd argue — whether it's Blasberg hating on non-minimalists, or Menkes hating on the young'uns, or Medine and Joos hating on other bloggers who have accepted free clothes in the past and make all bloggers look like cads — subverting the purpose of street style in the same way we might retweet an enemy's comment or follow them to prove an ironic point, or click into The Bachelor season finale with a bottle of Chardonnay and some friends so we can make fun of blonde midwestern women and their one-shouldered dresses. Is that really much different than looking at Miroslava Duma in seventeen different statement outerwear pieces and feeling like it's both funny and entertaining? (Not really, though it is different than shooting regular, non-fashion-famous women's awesome outfits, which the Cut also does).
There comes a point in every cultural phenomenon — whether it's Girls, or Vine, or Instagram, or Bret Easton Ellis — that earnestly appreciating something becomes boring; just imagine bringing up the Sartorialist with fashion friends at the Smile and talking about the outfits, rather than the insanity that is Scott Schuman himself. That's a cynical thought, sure, but there's nothing wrong with enjoying something for the wrong reasons as long as you're still enjoying it. It's all on the same spectrum. And I love street style, to be clear: I think it's fun to flip through and get lost in graphic Proenza knits and really insane shoes and to try to count how many times the beautiful Courtin-Clarins girls have changed their outfits in one day. It's like the ready-to-wear equivalent of the Hollywood red carpet, a chance to see rare designer clothes off the runway and out there in the real world. I love it for the spectacle, most of all, which is exactly the same reason I love seeing Lindsay Lohan appear in court.
So to say that street style has become a circus, or that white T-shirts are the new neon Balenciaga coats (I'm sure Lauren Santo Domingo still got photographed), or that all the criticism has perverted the righteous acts of both blogging and getting dressed just misses the point. It assumes that we're all looking at street style for a way to be involved in the fashion industry, or a place to take styling cues, or a place where the most personally stylish people in the world can assert their authority. All of that may be true, but that doesn't mean the game isn't rigged to induce eye-rolling: Photographers now shoot the most expensively, recognizably "editorial" looks from the runway; we editors choose the shots that feature the best clothes on the best people. Then we all arrange it in a dizzying array that keeps readers clicking forward for some batshit fashion game of I Spy.
In the end, we've created the online version of a really stylish reality competition. And, whether you're rooting for or against the players, the real pleasure is in tuning in and zoning out.