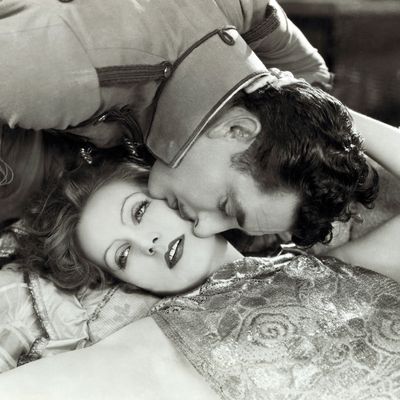 In the thirties, famously reclusive actress Greta Garbo met self-described "doctor of natural science" (i.e., doctor of nothing) Gayelord Hauser, nutritionist to the stars. They reportedly hit it off, which is saying a lot, because Garbo had very few friends, hated going out, and once refrained from speaking a single word during a dinner with Mae West.

But Garbo and Hauser were bonded by their love of calorie restriction. Garbo had begun shedding pounds in 1924, after Louis B. Mayer told her, "In America, men don't like fat women," and dieted continuously throughout her life. She particularly loved fad diets, which made her a good disciple for Hauser's science; he had written several books about nutrition including New Health Cookery and his most famous tome, Live Younger, Live Longer, in which he suggested eating raw yeast and drinking buttermilk as a fun treat.
Garbo was an adherent to the Hauser regime, which emphasized the glories of vegetables, nuts, and yogurt, for many years. Some publications even speculated the two had an affair based around their shared love of disgusting food. They often cohabitated, and a neighbor of theirs in Palm Beach once complained of their exploits, writing, "that skinny Swedish actress and her fancy boyfriend are always running around naked in their backyard." Still, Simon Doonan described Garbo as Hauser's "longtime beard." Whether they had an affair or not, here was a chronic dieter who lived with her nutrionist. Garbo was living the dream! So I wanted to emulate that in some small, sad, yet thoroughly modern way for my latest experiment in historically validated strange eating habits.
PREPARATION
After a rather exhaustive search, I find two of Hauser's aforementioned books on Amazon and buy them. When I finally receive the books in the mail, they're quite dusty and a little intimidating. Neither seems to have been opened since they were published in 1930 and 1951; when I crack the spine, I start sneezing.

The first line to Live Younger, Live Longer is "You are making a mistake." Why? Because you are treating this book "like any other book" when it is in fact "a passport for a new way of living."

Hauser believes that if you fuel your body with "wonder foods" you can live until you are 100. In case you are curious, wonder foods are: Brewer's yeast, wheat germ, and molasses, apparently all rich in various vitamins and minerals that will guarantee long life. These are not easy products to procure in the modern world. Edible yeast is quite hard to find (the stuff that makes bread rise is not something you can just pop in your mouth) and looks very disgusting and inedible when I buy a version you can sprinkle on cereal at a health food store next to my house. Apparently yeast is quite nutritious. My grandmother tells me that she had a relative who used to eat yeast all the time. "Of course she did have stomach troubles," she tells me.

The recipes in both books look absolutely terrifying. There is one particularly horrible-looking one for a "celery loaf" which Hauser defends as "really delicious" and consists of pureed celery, nuts, and milk. There is something about this combination that makes me involuntarily shudder. Luckily, I also find an exhaustive fan website devoted to Garbo's eating habits. Apparently, she loved dried apricots? That works.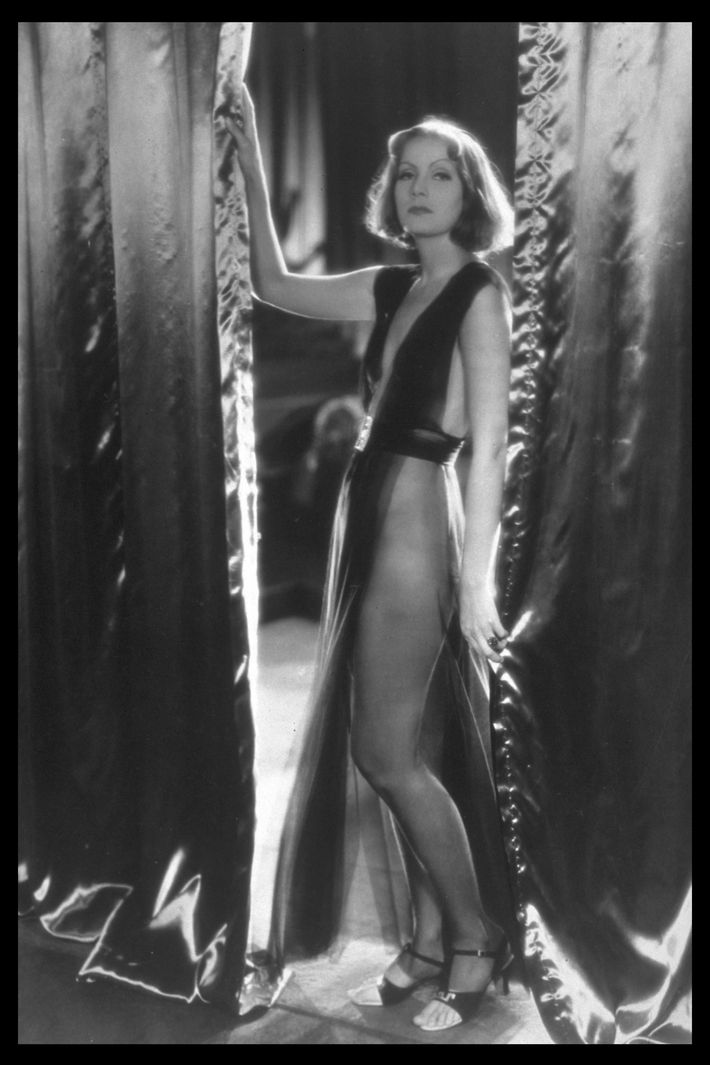 DAY 1
In one of Garbo's first and only interviews, she told a reporter in exasperation, "I was born. I had a mother and father. I went to school. What does it matter?" It is in that spirit of Lutheran simplicity that I start my diet with one of Garbo's favorite lunches: "a cup of chicken broth with chives, cottage cheese, half a ripe avocado with a vinegar, herb and oil dressing, a slice of pineapple and one piece of toasted and buttered dark bread." Although this dizzying array of food does not go together in the classic sense, it is not exactly terrible. It is just plain. Terrible comes with dinner, which is based on Hauser's meal for Garbo the first night he met her: a veggie burger "consisting of wild rice and chopped hazelnuts, mixed with an egg and fried in soybean oil," plus dessert of "a broiled grapefruit with [blackstrap] molasses in the center!" The veggie burgers take a long time to cook and taste prominently of eggs. The hazelnuts were an unpleasant surprise. Broiled grapefruit tastes medicinal. I am not very hungry, just confused about why these ingredients have been paired together.
DAY 2
There was a period in Garbo's life where she subsisted almost entirely on "chicken, dried apricots and whole milk, with brown beans and biscuits for snacks." This is actually a fun day. Whole milk is delicious and brown beans are very filling. I eat chicken I bake in the oven. I feel like I am in the army in 1942.

Garbo retired from acting at the age of 36 after she appeared in the notorious flop The Two Faced Woman. (A crazy movie in which Garbo plays fake twin sisters and has to dance for a very long time. She is not a good dancer.) Soon thereafter she moved to New York and did most of her grocery shopping about ten blocks away from my apartment. I could have bought apricots at the same store she did! We were practically neighbors, except she lived in a beautiful castle on the East River and I do not.
DAY 3
Garbo was born Greta Lovisa Gustafsson in Stockholm in 1906. Although she got rid of her original name, she always said she "missed" the food of her native Sweden. She once brought what was probably lingonberry jam to Italy and flummoxed the Italians when she put it on her cornflakes and then poured coffee over it. In honor of Garbo's affinity for her own country's cultural heritage, I eat waffles with lingonberry jam on them. Then Swedish meatballs with lingonberry jam on them. It's delicious! Can this be the whole diet?
DAY 4
Back on the Hauser regime, I start the day with his notorious "pep breakfast" — two raw eggs beaten in orange juice. Hauser describes it as a "creamy drink fit for a King's table." I do not feel the same way. This is so much worse than raw eggs in milk that I drank for the Marilyn Monroe diet, I kind of can't believe it. If pneumonia were a food, this is what it would taste like.

Later, I go to a bar with some friends. Garbo enjoyed the occasional drink, even in the depths of a diet. When she transitioned to the talkies her first line on screen was, "Gimme a whiskey, ginger ale on the side, and don't be stingy, baby!" That is an awesome thing to say, but I don't say it. I have a hamburger, a Hauser favorite, but I am still hungry. I also drink a beer.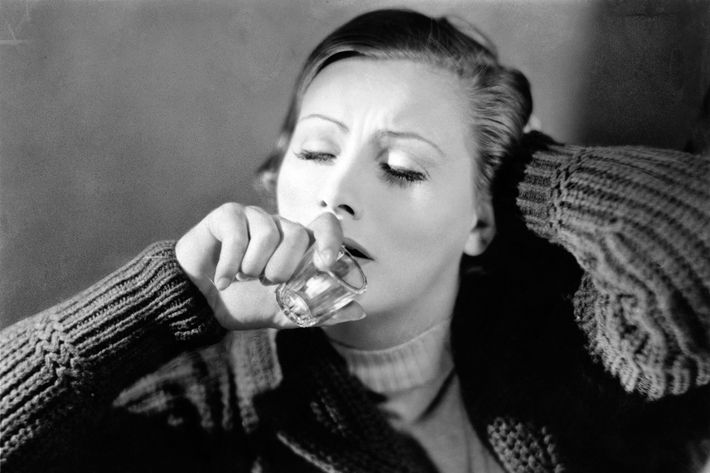 DAY 5
Today is a special day. It is the day I will finally make the thing that has been ruining my life since I first heard about it: the celery loaf. Around 4 p.m., I psych myself up to do it. I purée the celery in my blender until it is a green mush. Then I add walnuts, parsley, onions, mushrooms, butter, eggs, and breadcrumbs. The whole thing becomes an awful brown goop. I pour this into a baking dish and cover it with a lot of milk. Then I bake it. While it bakes, it smells like a rotting body. Finally, after 30 minutes, it is ready. Now, I am no baby. I have gladly eaten peanut butter on steak. I drank raw eggs in milk for several days. I even had risotto without any cheese.

Yet, when I open up my oven to get out my celery loaf, I start to dry heave. It smells like I just put vomit in a baking pan and baked it for 30 minutes. How is this possible? And yet it is. I slam the over door shut, spray the entire place with Lysol, and leave my apartment.
DAY 6
Today is the day of the Oscars, which Greta Garbo never won. (She got an honorary one, though.) The people I invited over to watch the Oscars are eating popcorn and sushi. I am eating this weird Hauser recipe for "Swiss Steak," which is steak you dip in bread crumbs, fry, and then boil in water. It is incredibly soggy and bland and I am so hungry. Sometimes, I see the celery loaf peering at me from inside the oven, since I haven't cleaned it out yet. My guests ask me what is in there. Maybe they can smell it.
DAYS 7–8
In the next two days, I devote myself to "wonder foods." I follow Hauser's reducing plan, which has me drinking buttermilk with yeast (this tastes like yogurt mixed with something oddly breadlike and mealy, like uncooked oatmeal); milk with molasses and yeast (this tastes like the worst milkshake of all time); and wheat germ on cereal (wheat germ tastes like quinine, am I going insane?). For dinner, I have hamburger patties and liver. Liver, which used to disgust me, might be delicious? This diet might have broken me. It reminds me of the time Garbo just didn't even go to her own wedding. She was probably overwhelmed.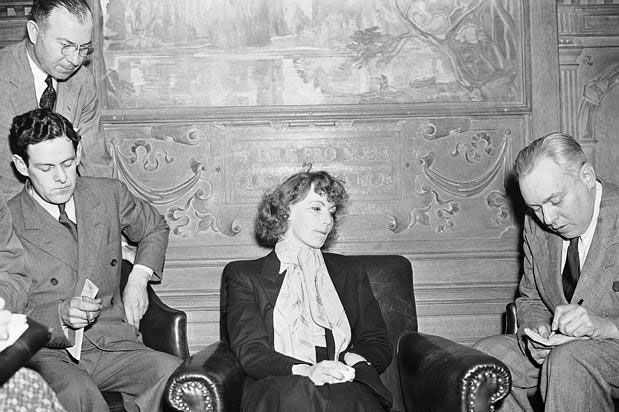 DAY 9
I attempt the first diet Garbo ever tried. According to legend, Garbo ate nothing but spinach for three weeks to lose the weight that jerk Louis B. Mayer told her to lose. I am sort of relieved I don't have to eat weird substances anymore but I am really starving and it is extremely hard to eat only spinach when you already have been dieting for a while and there is a celery loaf that is still in your oven. But Garbo had tremendous willpower. Once on a trip to Italy, her lunch consisted only of yellow and red carrots, which she insisted had different flavors. I use that mental image as my guide, waiting until lunch to eat, when I have a big bowl of raw spinach. For dinner I have sautéed spinach. After dinner, I take a walk. Garbo loved walks and used to walk from her apartment on 52nd Street to Washington Square Park and then back. I meet my friend in the West Village. I am so hungry that I sort of cheat at her apartment and eat some dried fruit and a spoonful of gelato. For a moment, life is perfect.
DAY 10
I am off the diet! I lost four pounds officially and look rather ill. (I am pale and my cheeks are unusually prominent.) But I have a great respect for the grand dame of movie acting. No wonder she "want[ed] to be alone." She had to bear the pain of such an insane eating regimen without the impertinent attention of the world.

Several days after the diet has finished and I am eating normally again, I return home to my apartment at night and smell something awful. The heart of darkness — my celery loaf — is still in the oven. I had forgotten about it, but the time has come time to confront my demon in its celery face. I take it out of the oven; the smell of rotting celery is overpowering and immediately I gag. I put it on the counter. I take a small piece, eat it, and then promptly scoop the whole loaf into a small trash bag. Okay, time for that whiskey.