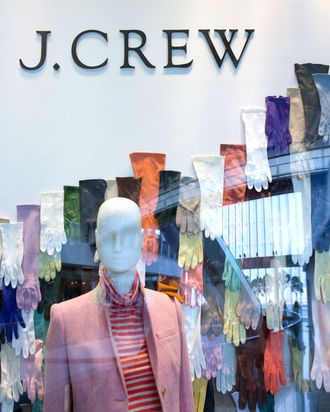 Photo: Bloomberg/Getty Images
Despite a slower fourth quarter — "net profits fell 32.5 percent to $10.2 million," WWD wrote Wednesday — J.Crew Group Inc. reported record-breaking numbers for 2012 as a whole, such as $2 billion in revenues and 39 store openings. And, according to the trade, company officials gave a rundown of what to expect this year during a conference call yesterday afternoon. J.Crew plans to add 46 more stores to its fleet (that's sixteen J.Crews, seventeen Madewells, and thirteen factory outlets), including its first European location, on Regent Street in London. Other European and some Asian cities might get their very own J.Crews, too.
The brand is going to focus on jcrew.com, though chief financial officer Stuart C. Haselden said, "We do believe the catalogue continues to drive online and in-store sales" — much like H&M is sending out catalogues to promote its fall offerings. Catalogues: They never get old!