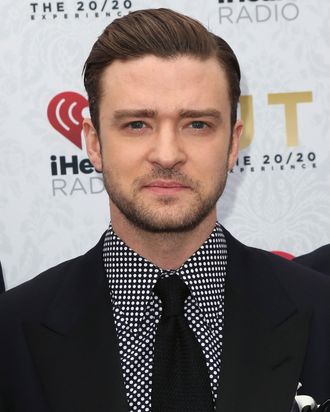 Justin Timberlake.
Photo: David Livingston/Getty Images
Much like Justin Timberlake's acting career, his clothing line William Rast hit its peak in 2010. That year, the label got a deal with Target, won a "Brand of the Year" award, and drew celebrities to its fashion show like sorority girls to bartops when "SexyBack" comes on. But since then, its prestige has waned: It stopped showing at New York Fashion Week, and Timberlake no longer appeared in their ads. Now its clothes are sold at J.C. Penney and a few places online. To be fair, the label probably works best as a mass-market line, but it has all but disappeared from the spotlight.
Today, rumors emerged that Timberlake himself may abandon the label, which he co-founded in 2005 with his best friend Trace Ayala, who still oversees it. The Post reports:
Sources said Timberlake is still involved in the brand for now, "But by the end of the year, he won't be anymore."
A spokesperson for the label didn't deny Timberlake's departure, but said that he was "eternally" connected to the brand because its title is "a combination of Justin's grandfather's name and Justin's best friend [Ayala]'s grandfather's name." Well at least now Timberlake won't have to wear it on his tour this summer! Here's to all Tom Ford, all the time.