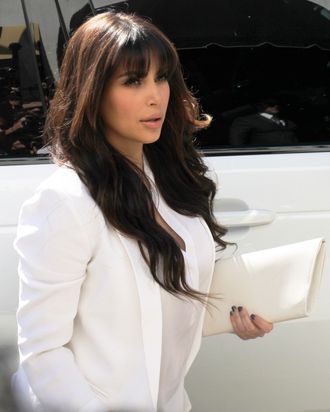 Photo: Diabolik / Splash News
Kris Humphries, a simple giant from the Middle West who dared to marry a Hollywood princess, has gone nuclear in his Kardashian divorce proceedings. To prove fraud, Humphries lawyer is hellbent on revealing Keeping Up With the Kardashians artifice, like Kim using a "tear stick" to induce crying, or demanding a reshoot of Kris's proposal.
Pinpointing Kardashian reshoots is cherished activity online. By contrasting televised scenes with paparazzi pictures, hobbyists can identify which scenes were shot in the moment or on sound stages in L.A. Team Kardashian is, of course, retaliating against Humphries's decision to put Keeping Up on trial: "His entire case is based on the premise that he is the stupidest person on the planet," said a "Kim source." Or he's the most devoted Keeping Up recapper in the world.