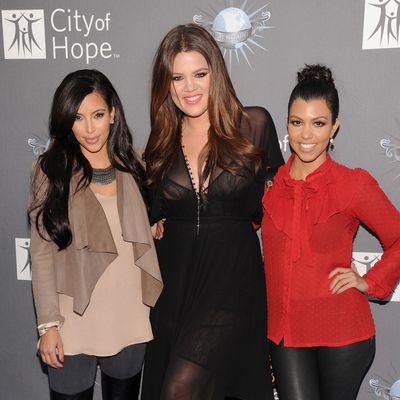 The Kardashians.
Photo: John Sciulli/2011 Getty Images
Two weeks ago, California judge Audrey Collins outlawed the Kardashians' beauty line, Khroma, in the wake of a trademark lawsuit filed by another beauty brand called Kroma. The court issued a preliminary injunction that blocks the Kardashians' products from being restocked in stores, effective immediately. Of course, Khroma's owners, Boldface Licensing + Branding, won't give up their multimillion dollar brand without a fight, and today they appealed the decision. Their lawyers told WWD that the injunction, which has now been put on hold, would cost Boldface tens of millions of dollars and possibly even destroy the company, although perhaps they should have considered that before giving the Kardashians' line the same name as two other existing brands.
As noted previously, this legal battle won't have much impact on the Kardashians themselves, who have already walked off with their $1 million signing fee. Sure, if all things Khroma head south, they won't get their projected millions in royalties, but they won't lose any money either. And they're already working on that new tanning line, so it's not like they're going to run out of products to shill anytime soon.