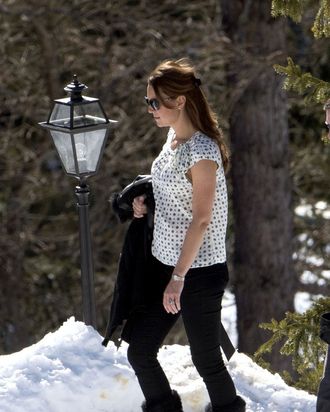 Kate in the Swiss Alps.
Photo: Bauer-Griffin LLC
Over the weekend, Kate Middleton took a break from her mundane shopping and cookie-eating to jaunt over to the Swiss Alps for a friend's wedding. While Harry and William went skiing, Kate walked around in the snow wearing a silk T-shirt. One would think she'd be cold, but perhaps she was just overheated; in any case, her state of undress revealed her tummy a little bit.
Also of note: her mukluks! They look like the very same kind that Harry supposedly bought for his new alleged girlfriend, Cressida Bonas, last week! This could mean so many things — did Harry actually buy those mukluks for Kate? Did Kate inspire Harry to buy the mukluks for Cressida? Are the royals making mukluks "happen," like Kate did for L.K. Bennett shoes and nude hose? This last option is something we can get behind, because the word "mukluk" should be spoken aloud as often as possible.