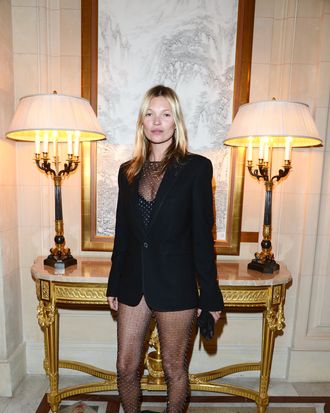 Kate Moss in Saint Laurent by Hedi Slimane.
Photo: Courtesy of Saint Laurent
Hedi Slimane's latest Saint Laurent collection hasn't won many hearts, but as anyone well knows, the favor of one important person far outweighs that of popular opinion. Enter Kate Moss, who got the honor of being the first person to wear one of Slimane's controversial fall 2013 designs last night, just one day after it appeared on the runway.
Slimane pulled the exact same trick last season, only with Lady Gaga, who christened his collection just days after his debut show by wearing it to a much-photographed visit with Julian Assange. (The clothes were apparently her reward for publicly siding with Slimane in his awkward fight with Times critic Cathy Horyn. God, remember how ridiculous last season was?) Moss, who was the second person to wear Saint Laurent after Gaga in the fall, got first dibs this time around. She wore her look to Carine Roitfeld's CR Fashion Book party in Paris, where it surely got the proper reception: "Ooooh!" instead of, "Where are your pants?" She also looked appropriately unimpressed with herself, just like all of Slimane's scowling models.