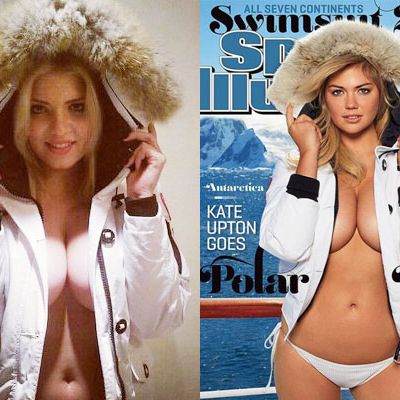 Same… coat.
Photo: Huliganjettaa/Twitter.com, Courtesy of Sports Illustrated
A 22-year-old Russian student named Ania tweeted a photo of herself posing like Kate Upton on Sports Illustrated's cover over the weekend, and after Upton herself retweeted the picture, it went viral. Ania, who describes herself as a "Mail order bride in training" in her Twitter profile, promptly made her tweets private to stave off the onslaught of Internet attention, but agreed to do an interview with Sports Illustrated today under the condition that her last name not be used.
The Q&A is pretty brief, but most important, the mail-order bride thing was "a total joke," to the disappointment of thousands of suitors. "I'm getting a lot of marriage proposals," she said. Also: "I've been told I look like [Upton] in the past, but when the SI issue came out and she was wearing the same jacket that is hanging in my closet, I knew it had to be done." The same jacket. Can she dougie?