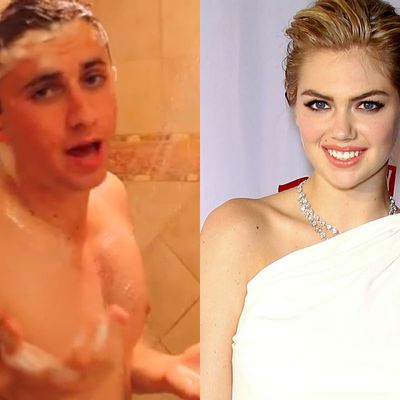 Photo: YouTube; mjt/AdMedia/Corbis
Over the weekend, back-to-back Sports Illustrated swimsuit edition cover model Kate Upton reneged on her pledge to go to senior prom with Los Angeles teenager Jake Davidson — the star of the "Kate Upton, Will You Go to Prom with Me?" video — claiming her schedule will not allow for it. Thank God. By retracting herToday R.S.V.P., Upton briefly corrects the social order that threatens to be overthrown by an epidemic of teenagers using Twitter, Facebook, and YouTube to blackmail celebrities into attending their formal dances. (Behold, the democratizing power of social media.) In the process, she takes a stand on behalf of women everywhere, who risk appearing bitchy if they choose not to acquiesce to a man's request.
"But I really appreciate being asked," Upton told People. "It made me feel really great."
It's nothing against Davidson. His video is charming, well-executed, and will surely go a long way toward securing him an internship at College Humor. But Davidson is no Make a Wish kid. Actually, his plainness is the main joke of his proposal. "You're on the cover of Sports Illustrated," he says in between push-ups. "I read Sports Illustrated." So why did he, of all people, deserve to go to prom with national obsession Kate Upton? For articulating a desire shared by millions in the most viral manner?
Occasionally campaigns like Davidson's are legitimately heartwarming, such as the cancer-stricken New Jersey teenager whose sister reached out to Taylor Swift on Facebook. (Swift could not make it to the boy's prom but invited him to be her date to country music awards show.) Some demonstrate scary-slick self-promotion skills: Justin Bieber fan Cady Eimer's prom proposal campaign had its own URL. (She too scored an invite to an awards show.) Others are just dogged. Having tried and failed to lure Justin Bieber and Gabby Douglas to the prom with all-student-body Twitter campaigns, New Jersey high schooler Leon Purvis now wants to get President Obama to speak at his high school graduation.
The more news coverage these perennial stunts attract, the more I cringe for the young man or woman who is putting him or herself out there, as his mom might say, in such a frivolous, Googleable, and college-application-tainting way. But there is also something pernicious about these teenage power plays. Like the over-the-top marriage proposals immortalized on hidden cameras and Good Morning America, these social media campaigns turn what should be a sincere question into an exercise in emotional extortion. Once someone has choreographed a marching band or hired a skywriter, the question is no longer "Do you want go to prom with me?" It's "Will you choose not to publicly humiliate me?" And once it's a trending topic, the question cannot be ignored. At least not while maintaining your reputation as a nice — albeit famous — person.
In Upton's case, there could have been some symbiosis to the stunt. Attending an Average Joe admirer's prom would have been a publicity appearance perfectly tailored to her brand, the adolescent Über-fantasy. But her "yes" would have reinforced the idea that women owe something — attention, time, sex — to men just because they've asked nicely. Or paid a compliment. Or bought a drink. Hence all the men's magazine profiles written to make you think the woman on the cover might sleep with her interviewer: For powerful women, acquiescence is a sure path to likability.
Remember how Mila Kunis secured her place in the pantheon of celebrity BFFs? By agreeing to attend a wedding with a journalist — a really lousy journalist, who sounded like an even lousier date. Instead of asking Kunis questions (his job) in the taped interview that quickly went viral, the British cub reporter told Kunis about his football club and the names of his mates. He practically drooled when she told him she knows how to pull a draft, and invited her to serve him and his friends from behind the bar at his favorite pub. "That would be epic," he said.
Kunis had already proven her magnanimity by saying yes to the sergeant who asked her to the Marine Corps Ball via video from Afghanistan, but she still played along. "Apparently, I say yes to everything when put on the spot," she told the hapless reporter. Now Hollins College senior Kristen Bledsoe hopes to take advantage of Kunis's confessed niceness: Shortly after she heard Kunis can't say no, she asked her to the cotillion.
Kunis has yet to respond to Bledsoe. I hope, just this once, she follows the lead of New York Jet Tim Tebow. Tebow never responded to Iowa high schooler Rachel Bird's highly publicized Twitter requests to go to prom. (Not that he couldn't have used the Q score boost.) Far from ruining Bird's life forever, she seemed perfectly content to go with his cardboard likeness.
The extreme power imbalance of a celebrity proposal amps up the pleasure derived from seeing a woman say yes to a mere mortal man, but that doesn't mean that normal women won't be punished for non-compliance. If the self-described Nice Guys who relay their sad romantic histories on Reddit advice boards are to be believed, there are plenty of men out there tallying up women's socially obligatory acts of kindness. These acts eventually fuel their resentment towards women once they discover that — despite all the pleasantries — the targeted women don't wish to sleep with them. In long rants disguised as advice, they will accuse women of feeding off the compliments they give them like self-esteem vampires — even though their kindness was, apparently, merely transactional.
But back to Upton. Asked why he wanted to go to prom with her, Davidson told Today's Savannah Guthrie that Upton is "obviously very pretty."
If that was the best he could come up with, Davidson did not deserve Upton's hand in slow-dancing. Politely pretending to be honored by his invitation is more than enough. Not because Upton isn't pretty. She is making a handsome living off her appearance, and she probably doesn't need a high schooler to tell her it's nice. (As a well-endowed actor once said, "That's what the money's for.") If a stranger who is not (a) terminally ill or (b) serving our country overseas wants to enjoy her prettiness at his senior prom, he should have to pay. Or at least compete. With two months to go until high prom season, it's not too late for MTV to revive its win-a-date-with-a-star reality contest Once Upon a Prom. That's how Taylor Swift got into this game, anyway.