Kristen Stewart's Feet, Ke$ha's Hat, and Other Highlights From the Kids' Choice Awards Red Carpet
Photo: Frazer Harrison/Getty Images
In case you've been wondering about the status of Kristen Stewart's foot injury, which forced her to hobble down the Oscars red carpet on crutches last month, rest assured she's all healed now and back to her usual shorty-shorts. On Saturday, she arrived the 26th annual Nickelodeon Kids' Choice awards in a matching navy shorts-and-top ensemble by Osman, which she briefly accessorized with Louboutin pumps before changing into black sneakers backstage.
This carpet was totally different from all the stuffier, more adult-geared awards shows for a number of reasons. First of all, it was a purple carpet with a pink and yellow backdrop that managed to clash with just about everything. The result was very Dr. Seuss–ian, like what would happen if the Lorax got a spray tan.
As for the outfits: Perhaps in an effort to be kid-friendly, almost everyone covered up their chests and showed their legs or tummies instead. Katy Perry wore a matching crop-top and pencil skirt by Hervé Léger that made her look like a spandex-y butterfly. In addition to Stewart, folks like Selena Gomez, Kylie Jenner, and the Justice sisters went with super-short hemlines but wore some semblance of sleeves up top. On a similar note, A.N.T. Farm's Stefanie Scott had a Marilyn Monroe moment on the red carpet, but acted with impressive quickness to keep things under wraps.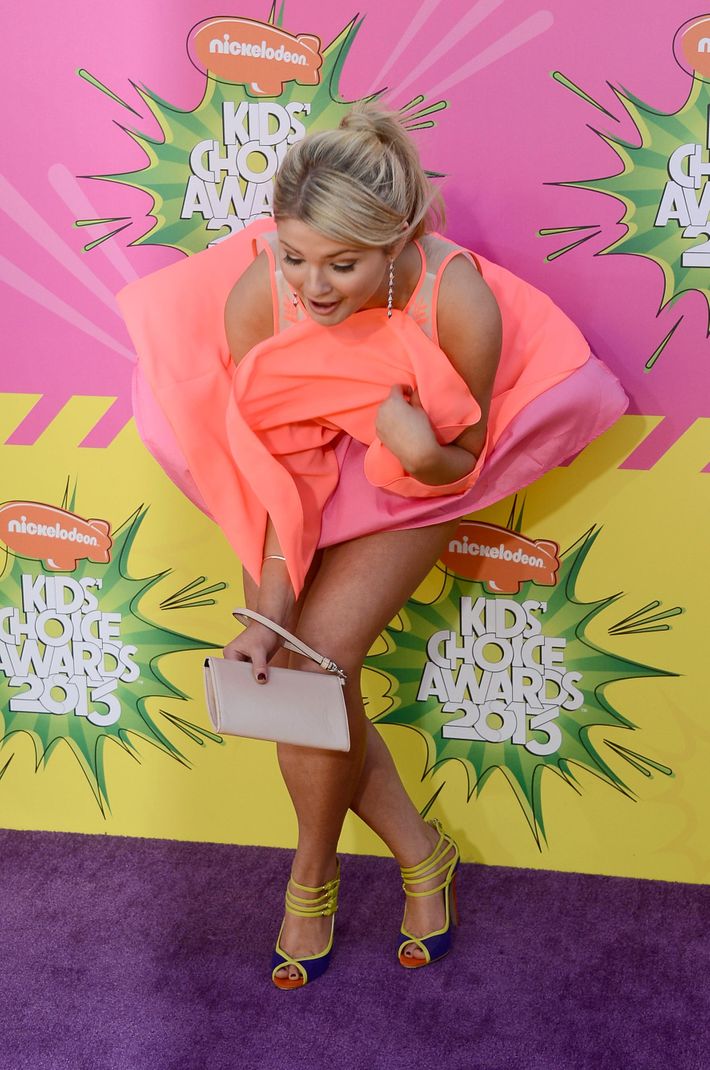 Perhaps the most unexpected ensemble of the evening was Ke$ha's. She and her little brother Louie Sebert wore matching tuxedos, complete with canes, sunglasses, and top hats; the result was very Lloyd and Harry in Dumb & Dumber (a snowy owl somewhere would've really tied it together, it must be said). So does this make Ke$ha the best sister in the world, or the worst?
Click through our slideshow to see all the attendees.