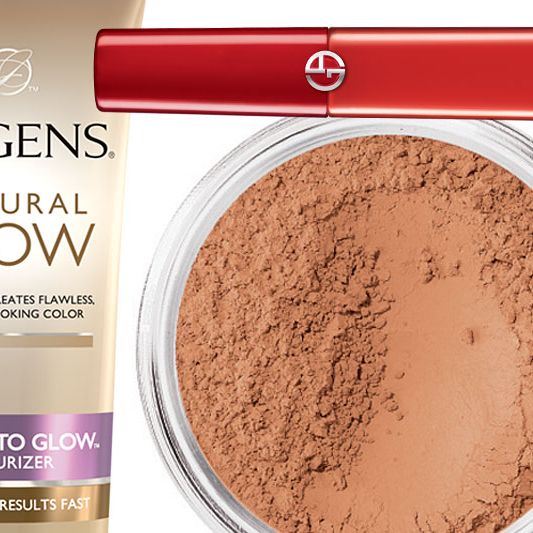 Each weekend, I test out a few of the many beauty products to hit my desk so you can decide if you want them, too.
Jergens Natural Glow 3 Days to Glow Moisturizer ($8.99): It used to take seven whole days of slathering your body in this lotion and walking around in a telling cloud of DHA before you achieved a sun-baked glow. The new formula promises to darken your skin in half the time. I coated just one leg in the stuff and, immediately, its fruity-floral scent stood out because it wasn't laced with the stink of DHA. Indeed, your skin will quickly start glowing. By the end of the first day, my one leg appeared subtly sun-kissed; by the end of day two, I had enough of a tan that I didn't even need to do a third application.
Bare Minerals Bronzing Mineral Veil Finishing Powder SPF 25 ($20): The trick to these powders is that they're meant to be buffed onto the skin with a brush (instead of swept all over your complexion like other powders) for a more seamless, blemish-covering finish. For a person who doesn't like to spend too much time in the morning getting ready, this won't be your first choice for a full-face (and neck) bronzed look; it takes too long. Instead, I preferred to use this as a subtle contour product and lightly buffed it under my cheekbones for a fake mini face tan. 

Giorgio Armani Lip Maestro ($32): These lip colors don't necessarily have any tanning and bronzing properties, but they'll deliver a full burst of highly pigmented color to your lips. Available in twelve rich colors from chocolatey-brown (great for now) to brilliant oranges and pinks (for when the sun's out), the brand's new formula leaves lips with a hydrating, matte-cream hybrid finish.