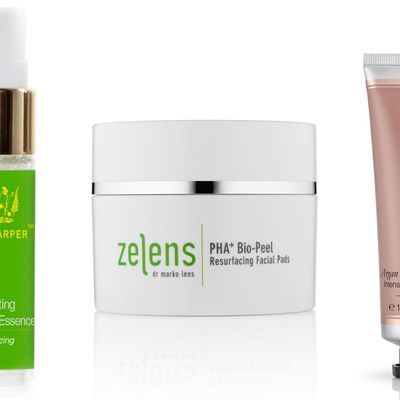 Each weekend, I test out a few of the many beauty products to hit my desk so you can decide if you want them, too.
Zelens Resurfacing Facial Pads ($95): My face is really starting to feel the effects of this long winter, so I packed these pads for a weekend away because they are presoaked with a combo of polyhydroxy, lactic, citric, and salicylic acid for gentle skin exfoliation (even for the sensitive types). They're meant to be used day and night after a thorough cleansing, so I gave these pads a go the night after getting in from a flight and then again the next morning. I have pretty sensitive skin and the pads didn't irritate, except for a slight tingling over a blemish I had picked earlier that day. The only issue is my skin got significantly dryer (flakiness ensued) for about twelve hours — despite the amount of moisturizer I kept slapping on — before my face righted itself again, but somehow better. It was now hydrated and smooth, which means the stuff (eventually) really works.
Josie Maran Argan Infinity Cream Oil ($28): Former model and makeup maven Josie Maran firmly believes in the healing and hydrating powers of argan oil. In fact, most all of her products include a dose of the oil — from lip glosses to bronzer. The latest is something she calls a "creamy oil" but can more aptly be described as a soft, squeezable balm, kind of like Goe Oil. I dabbed some onto my dryish cheeks after using the Zelens pads which helped the flakiness a bit. It also went on my lips at night and cuticles during the plane ride. It's lightly scented with tangerine peel oil and fast-absorbing; it won't leave behind a greasy residue.
Tata Harper Hydrating Floral Essence ($25 for the Jet Set): I'm not one for "herbal" scented products but this facial toner spritzer is light on its rose and lavender fragrance. The travel-size version doesn't quite deliver as fine of a mist as its regular sized version, but even still, it's a great face moisturizer and refresher for plane rides.