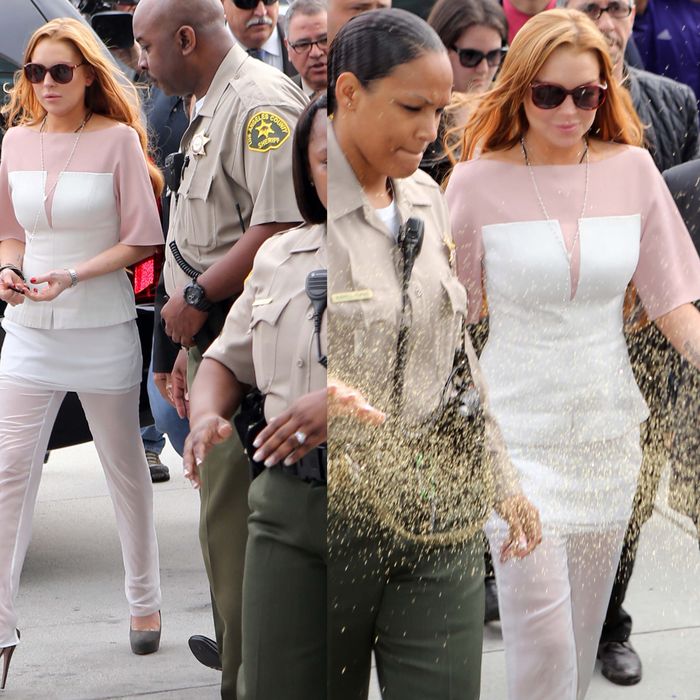 Photo: Deano / Splash News
Arriving 48 minutes late to today's court hearing (thank God for that private jet), Lindsay Lohan avoided jail time by pleading "no contest" to charges for reckless driving and lying to the police. She must go to rehab, perform 30 days of community service, and undergo psychotherapy, TMZ reports. A locked-down rehab will substitute for the five mandatory days in jail that reckless driving usually requires. "Don't drive," the judge advised LiLo.
Lohan received the news dressed in 3.1 Phillip Lim, from the brand's fall/winter 2012 collection. The look, which she likely bought in stores last season, included sheer white pants and an architectural top. Gray suede spike heels, a rosary, and a red manicure completed the look.
Entering the court house after a mad dash from LAX airport, Lohan was showered with gold glitter, which also happened at a 2010 court date. Though glitter bombs originate from the contemporary gay civil rights protest movement, the form is versatile and generally used to a comedic, mood-lightening effect. Some argue that glitter-bombing constitutes assault.
This concludes your regularly scheduled update on the clothing and criminality of imperiled starlet Lindsay Lohan.
* This post has been updated with news and clothing details.