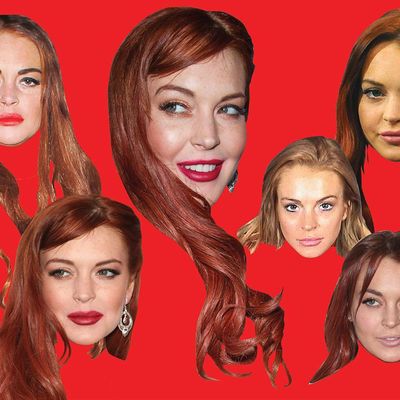 Lindsay Lohan attorney Mark Heller's motion to dismiss the latest criminal charges against the embattled actress was denied this morning, when he appeared at a pretrial hearing sans client. According to TMZ, Judge Jim Dabney urged Lohan to replace Heller, who is her fifth lawyer since 2007 and her loudest advocate, after Charlie Sheen. Last week, Heller filed a motion detailing Lohan's plan to turn her life around with psychotherapy, inspirational speaking events (giving, not attending), and the establishment of the Lindsay Lohan Foundation, to help children avoid bad habits. "When she was handcuffed and put into detention center with murderers, and hardened criminals, it for sure had a great impact on her," Heller told E!. "And then being re-arrested and facing going back to jail caused her to have an epiphany. Sometimes the cumulative effect of everything in your life percolates and you have a realization and a clarity that things have to change."
Indeed, since 2007, Lohan's story has been depressingly, absurdly repetitive — courtroom drama meets Groundhog Day. As with Lohan's 2011 jewelry theft, her current criminal charges are compounded by a possible probation violation, which would mean jail time. Like Lohan's back-to-back DUIs in 2007, the case involves her driving when she probably ought to have called a cab. Readers of this site will recall Lohan told police she was not behind the wheel of her rental Porsche when it rear-ended an eighteen-wheeler on the Pacific Coast Highway in June. (At the time, her contract with Lifetime reportedly barred her from driving during the shooting of Liz & Dick.) She is now charged with lying to the police, obstructing justice, and driving recklessly. Heller negotiated with prosecutors earlier this week, but reportedly failed to arrive at a plea deal due to prosecutor's insistence that Lohan undergo residential rehab. By the Cut's count, that would be her sixth stint. In honor of Lohan's epiphany, we've tallied up other stats from more than five years of her legal entanglements. Click through for the Cut's Lindsay Lohan Recidivism Index.
This post has been updated.