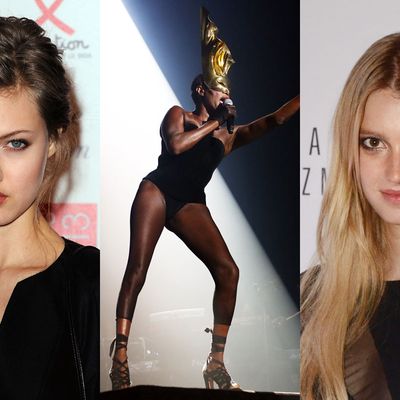 Two months ago, Lindsey Wixson mysteriously dropped off the board at Marilyn Agency. At Ford Models, Sigrid Agren and rising star Marine Deleeuw went MIA shortly thereafter, and whispers of a new modeling agency began to circulate. Enter the Society Model Management, poised to challenge the three dominant agencies of New York: DNA, Women, and IMG. With its official launch today, the board boasts the aforementioned names, plus Ming Xi, Cora Emmanuel, and Grace Jones(!). And we hear that's just the beginning of what's to come.

This past Fashion Week, stylists and casting directors often referred to the Society as "the Secret Agency," because very little was known about this soon-to-be-opened branch of Elite Paris (Not to be confused with Elite New York, which operates on a different network). We recently sat down with the executives of the Society to talk about their plans for 2013, why model poaching is never personal, and the importance of personality.
Why did Elite Paris decide to open a New York branch now?
There's been a lot of talk in the industry about branding and long-term career management, as a reaction to the high turnover of new faces. We want to focus on managing a very specific crop of girls, instead of doing a high volume. Paris is the most famous in terms of shows, but New York is considered the key market globally.

There's been a slew of new modeling agencies opening recently — the Lions, Silent, Mix, and others. Did you worry about overcrowding?
The entire industry suffers from oversaturation. Not just in terms of agencies, but number of models, photographers, stylists, magazines, and designers that are trying to break out now. Being a part of the Elite network, you have a constant source of new faces. We have resources and a network that you don't necessarily have when you're a new, independent company that's trying to build off of the support of mother agents and different scouting systems externally.

So essentially all new faces from Elite Paris will be signed directly with the Society?
It's not so straightforward. Yes, of course, new girls will come from the Elite network. But then you also have other girls represented by Elite Paris that aren't necessarily from the actual [Elite scouting] network; they're from outside and will remain at their New York agencies. It's not that Elite Paris is suddenly going to move all of the models from their New York agencies to the Society. However, moving forward, the scouting will be geared towards placing the girls here with us.

I ask because there are many marquee Elite Paris girls currently signed with other New York agencies.
There's a natural transition that happens when agents move from one agency to another. The girls often follow their agents. But in terms of Elite Paris actually moving girls, no, that is not something we do. We are respectful of our relationships.

But some of your models came from Ford and Marilyn. Usually model switches like these end up with a lawsuit.
Anytime a big model changes agencies, it's never a pleasant thing for the agent or girl. At the end of the day, it's really hard to tell a girl not to follow someone she feels more comfortable [working] with.

How are you planning to push the careers of established models?
That's the entire point of the Society. We want to return to a place where models aren't reduced to being mannequins and they become a collaborative element on a shoot. At a certain point, you hired a model for the same reason you hired an actress, and that's because they brought something to the role, rather than showing up as a blank canvas. It's really about understanding the girl, as an individual, and what's interesting to her, and what makes her interesting to different people.

What new girls should we look out for?
Manuela Frey, who opened Calvin Klein. She speaks five languages. Also, Josephine Le Tutour, she's only 17 years old, but resembles Tatjana Patitz.