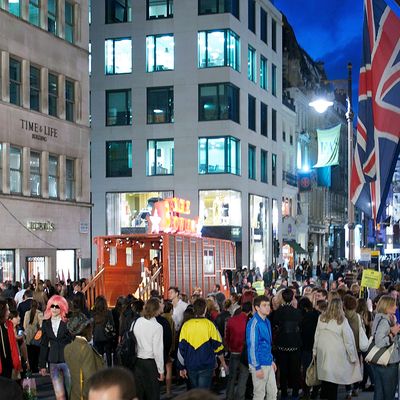 Photo: Felix Kunze/Getty Images
A month ago, American Vogue, the CFDA, and NYC & Co. announced the shopping event would be going "on hiatus in the United States in 2013, in order to enable retailers to channel their resources towards strategies more in keeping with their current priorities." (In other words, retailers had to spend more and more money on Fashion's Night Out festivities each year, and those that double as designers would rather be prepping for their runway shows or doing anything else.) But, the FNO Planning Committee assured us, nineteen countries planned to hold the event in 2013 — and the U.K. will, just not in London.
Instead, it's scheduled for Thursday, October 10, in Manchester. "Once at the heart of a vibrant textiles industry, Manchester's importance to fashion is unquestionable," British Vogue editor-in-chief Alexandra Shulman said. "Bringing Fashion's Night Out to its streets is the next logical step in the evolution of Fashion's Night Out in the U.K. London has witnessed tens of thousands of shoppers joining the fun and we're looking forward to sharing this experience with a new audience." Fun! Sharing! And, of course, money (though FNO is not a sale). Manchester City Council spokesperson councillor Pat Karney told Vogue U.K.: "This will provide a real boost for the city centre economy."
Manchester should be pleased with Fashion's Night Out until 2016; at that point, the program will likely move to Dalton-in-Furness, Appleby-in-Westmorland, or something-in-something.