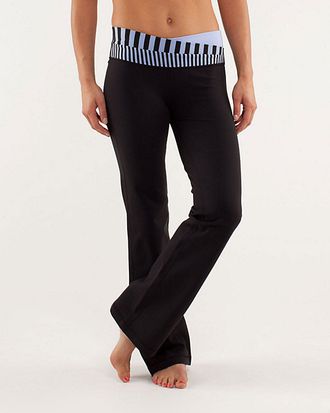 Over the weekend, Lululemon sent out a press release about an impending shortage of yoga pants caused by a manufacturing glitch that rendered a batch of their black pants, all made from their trademark Luon fabric, too sheer. As the Internet is ruled by bloggers who spend the majority of their lives sitting around in stretchy bottoms, this news spread around the web like wildfire. Which is worse: a shortage of expensive leggings, or the threat of buying expensive leggings that show … well, whatever you normally wear underneath?
Hoping to witness the havoc wrought by these see-through pants, the Cut ventured over to Lululemon's Soho store today. With the exception of a two empty cubbyholes where pants are usually stacked, the store looked disappointingly normal. A salesperson explained that all the offending pants had been cleared from the shelves, and those who'd bought them by accident could return them for a full refund. And to make things even less scandalous, she said the pants looked fine when the wearer was standing up; the sheerness only sprang to life in downward-facing dog position. And since only one batch was affected, they still had black Luon pants in stock, albeit fewer than normal.
Which brings us to the more important question: What if we wanted to buy a pair of the see-through bottoms? They're an exceedingly popular subject on Reddit, and they'd certainly turn some heads. One woman's defective pants are another woman's red carpet outfit, after all.
Alas, the see-through batch is totally unavailable; after our request was shot down by the salesperson, we tried one of Lululemon.com's "Live Chat Educators," who informed us that the defective items had been removed from all stores and warehouses. They are totally gone, never to grace our butts with their sheerness ever again. Perhaps they're being recycled into headbands or neckwarmers as we speak.
Alternatively, you could just buy a pair of Luon pants in college, wear them to death for seven years, and refuse to throw them out after the butt grows threadbare of natural causes. Speaking from experience, that's quite effective, too.