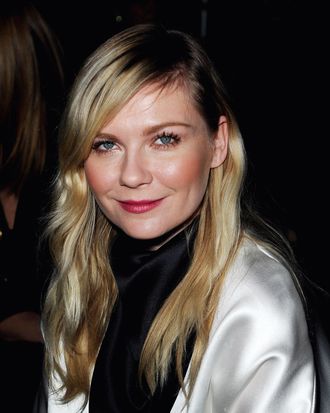 Photo: Pascal Le Segretain/Getty Images
Kirsten Dunst is way too old for YSL. And if she is too hoary, what of her ancient great grandmothers, the Saint Laurent icons Betty Catroux and Catherine Deneuve, sitting slack-jawed across the runway? In a fascinating display of single-minded audacity, Hedi Slimane, in his second women's collection for the house (which he says we must now call Saint Laurent, no Yves), eschews September's California Manson-family acolyte, in her spooky sheer cape and floppy hat, for another West Coast heroine (or in this case, maybe heroin) — a dirty, sullen teenager in a baby doll covered by a flannel plaid shirt. Think Anna Sui without the cheeriness (and the relatively modest price tags) or Mark's long-ago brilliant collection for Perry Ellis, all being looked over by the smirking spirit of Courtney Love, whose quirky brilliance underscored the deliberate winky inanity of some of her early fashion choices.
Really, if you want to look tough next winter — and despite your anti-authority pose and the dark frown on your face, you are cosseted by pots of money — better to rely on Chanel, where the boots are chain-laden, the naughty schoolgirl skirts are light and sprightly, and the ladies cover their coiffures with brightly colored fur hats that fall somewhere between a cloche and a spaceman's helmet. In truth, my eye keeps straying to the vast spinning globe that occupies the center of the runway, where tiny flags with double CCs have been planted, marking the location of each and every Chanel boutique in the entire world. If ever you needed a graphic representation of the unequal distribution of wealth and the enduring legacy of imperialism, here it is, rotating right in front of you: Florida is so crowded with CCs there is barely room for a flamingo. Three double C flags overpower minuscule Hawaii; there is not one on the entire continent of Africa.
In the venue where Kanye West presented his notorious, and final, collection, which had racing cars zooming behind the viewers, the former designer (and his consort Kim, along with Jessica Chastain, Amanda Seyfried, and who knows who else) now sits in the front row for Riccardo Tisci's Givenchy show. The space is configured in the round, and one section of the circus ring is given over to an orchestra and the haunting vocalist Antony Hegarty, whose poignant lyrics have half the crowd nearly in tears. Or maybe they are misting up because the clothes are so good — who doesn't love a biker jacket (yes, I know, another one, but these manage to look sinister even when they are heavily floral), a long sheer skirt deeply spangled at the hem, and even (am I losing my mind?) a Bambi sweater.
The set at Louis Vuitton is similarly in the round, with French-blue faux-walls and a series of hotel doors from which the models will emerge. (You can just glimpse LV trunks and hatboxes in these imaginary rooms.) The women appear to be, in many cases, half-dressed, carrying on the homage to pajamas Marc Jacobs initiated at his eponymous show in New York, but here the exquisite robes are of flowered silk, or pale plaid that morphs mysteriously into sequins. Many of these erstwhile heiresses, partially clad in this finery, appear to be heading down the hall to the bathroom in this no-name hotel: Can they be carrying soap and toothbrushes in their LV bags?