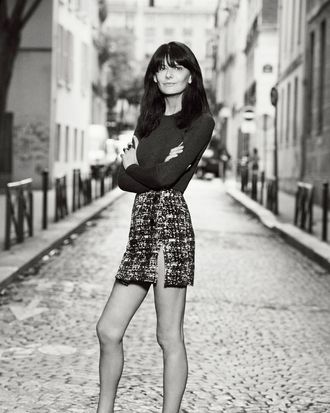 Photo: Patrick Demarchelier/Courtesy of Art + Commerce
In November, when PPR and Nicolas Ghesquière decided to "end their working relationship," the outgoing creative director of Balenciaga took with him Marie-Amélie Sauvé, his second pair of eyes and longtime muse. As the story goes, Sauvé and Ghesquière met through her "friend Lionel Vermeil, who was working with Jean Paul Gaultier at the time, which is where Nicolas was doing an internship," she recalled for NowManifest. When the 25-year-old designer was promoted to the top spot at Balenciaga in 1997, the stylist joined him at the house.
But Sauvé can certainly stand on her own. She started out as an intern for French Vogue in the eighties, and after going off into the world, came back to a bigger role at the magazine under Carine Roitfeld's tenure. She's also worked for American Vogue, Vogue Italia, Vanity Fair, and AnOther; shot with photographers Steven Meisel, David Sims, and Patrick Demarchelier; consulted for a variety of brands; and currently serves as W magazine's senior fashion editor. The Cut called Sauvé post-fashion month to discuss the democratization of the industry, Kristen Stewart's on-set demeanor, and what Ghesquière might do next.
What have you been doing recently?
Right now, I'm coming out of the busiest time for me because I do a lot of traveling — to New York, Milan, and Paris (where I saw Junya Watanabe, Comme des Garçons, Céline, Dior, Louis Vuitton, and Margiela), of course, for the fashion weeks, so it's the most condensed and most tiring period — but also, the most interesting. I'm continuing to work in some capacity with Nicolas [Ghesquière] — even though he left Balenciaga, I talk to him regularly. And I'm still doing my editorials for W magazine — I have one with Steven Meisel and Stella Tennant in the March issue. I also just did another story with Steven for Vogue Italia's March issue, so I travel a lot, and I live mainly between Paris and New York.
What is your relationship like with Nicolas now?
We see a lot of each other. We talk about many different things — we have conversations très diverses et variées, like we say in French.
What is he like as a person?
He is very kind and sincere. He's a genius with a unique point of view. He's really one of the best designers of our time. In addition to being extremely talented, he is truly intelligent, he's very passionate, loyal, and sensitive. He is a really complete person.
When you worked together at Balenciaga, what were your responsibilities?
In general, when I work for houses, I'm there from the beginning of the creative process with the designer throughout the development of a collection. It's amazing to observe.

Do you consider yourself to be a stylist?
No, the word stylist doesn't really mean anything anymore, because it's oftentimes a limiting word. It's difficult to say exactly what stylist corresponds to. There are almost different stages of stylists.

Do you think any sort of stylist is necessary for a fashion house?
I think it depends. It's good, but it's not always necessary. There are people who more or less need the help, but it's always good to have an outside opinion — and also a woman's opinion. Because, in the end, I love fashion, I like to dress myself all of the time, and I love to buy, too, so I can bring in different perspectives, of a professional and a customer. 
Why did you decide to leave Balenciaga?
It just didn't make sense to work for Balenciaga anymore without Nicolas. We arrived at together fifteen years ago, and we put in everything we had to rebirth the name, which belonged to a beautiful house. We pushed it into another dimension, while always keeping its integrity. So, when Nicolas decided to leave, I did as well.
Would you work with him again in the future?
Of course! I should say I have an incomparable relationship with him — it's very rare.

Do you think he wants to go back to fashion or do something completely different?
I think he'll do something in fashion because he is very passionate about it, but his vision goes beyond fashion. 
Back to Balenciaga — what was it like to work with Kristen Stewart?
She came to Balenciaga because of her friendship with Nicolas, and she is kind, she has a very strong character. We did several things together and she was really inspiring. She has a lot of energy, and it's always a great experience to collaborate with her.

I want to talk a little bit more about you: Who are some of your favorite designers and photographers?
I've always felt very, very privileged because I've worked with some of the biggest photographers. At the beginning of my career, I knew Helmut Newton and Guy Bourdin, now I work with Steven Meisel, who is a legendary photographer. And I adore David Sims, too. With designers, I work with Nicolas, I like Rei Kawakubo … but, right now, I think it's important to watch the younger photographers and the younger designers. That's who's going to be interesting in fashion.

Can you give examples?
I don't want to tell you names. There's a few I'm thinking of — young designers who do very good work and who will become emerging talents, I'm sure. And young photographers, too. Because we're going into a more creative period, I think. We're approaching the end of a cycle right now. Today, fashion is more democratized, giving more people the opportunity for self-expression, but at the same time it's confusing — there's too much and not necessarily anything of quality. I think this next cycle will champion people who are expert, creative, and making pieces of quality. But I also believe there are too many collections for established designers. We ask them to do pre-collections, two main collections, and additional products, and we should really allow artists the free space to develop their creativity as they wish to. Eventually, things will change within the fashion system.

So, could you describe a typical day for you, if there is one?
It changes everyday, but I stay organized using printouts. I look at the printout the night before the next day — I can't plan that much it advance because it makes my head spin. But my days vary. I could wake up in the morning and go somewhere to consult; after, I have lunch with someone else; I also attend professional meetings and I consult for private clients; and at the same time I go to see the shows. So it's many different things at once — however, it's enriching and creative. I'm very passionate about what I do because, if not, I wouldn't be able to work all of the time.
What is your next project?
I was asked to be a guest editor for a magazine that will come out in May called System. It's a new magazine, and it's not really a fashion magazine — fashion is just one part of it — so it let me give my opinion on something other than fashion. And I was also able to help with the written part of a magazine, because typically I only do editorials. It really opened up my mind to express myself outside of a photo shoot.