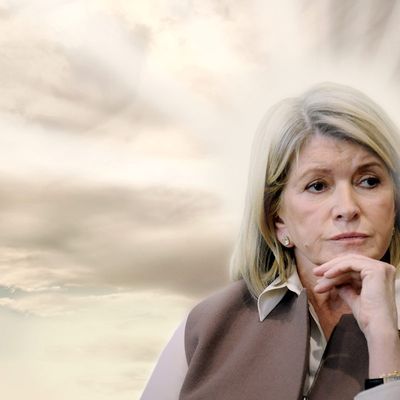 Last year, Martha Stewart appeared on the NPR quiz show "Wait Wait … Don't Tell Me!" and made the case that removing the seeds from a pomegranate is a "practical and everyday" skill. "Do you know how to do that?" she asked host Peter Sagal, who confessed he did not. After listening politely to Martha's detailed instructions — cut it into quarters, hold it skin-side-up over a bowl, and hit it with a wooden spoon — Sagal interjected to ask her whether she could, if she saw someone removing pomegranate seeds in a different way, stop herself from "telling them how to do it better?"

"No," she confessed. "No, but it's fun. And they will love me forever. Because I have solved a problem, a lifelong problem of how to get the — (bleep), oh, excuse me — the seeds out of a pomegranate."

This is an enviable level of confidence. Martha couldn't care less if you agree that pomegranate-seed-removal is an everyday skill, whether you like her particular method of doing so, or if you're annoyed by her way of communicating it to you. She is absolutely convinced that if you heed her advice, you'll be happier. She's relentlessly selling her own taste and vision, and she assumes she will earn your affection because you'll become dependent on her particular way of doing things. She became one of America's first self-made female billionaires on the strength of her own good ideas and her willingness to sell them. This very entrepreneurial spirit has her back in court this month — this time because Macy's claims she agreed to sell her products in their stores exclusively, then turned around and created a pop-up shop for J.C. Penney. When asked by Macy's lawyer Ted Grossman whether people really buy or need two Martha Stewart casserole dishes from two different department stores, Martha replied, "They might have two houses. They might have two kitchens!"

Zero. Fucks. Given.
In the holy trinity of single-name American power women (Hillary, Oprah, Martha), Martha alone is completely unapologetic about her successes and her failures. She has no qualms about declaring what she is — to paraphrase Jay-Z, she's not a businesswoman but a business, woman — and she refuses to care whether we all want to be her besties. She just wants us to embrace her ideas about the domestic arts, then take out our credit cards. Even Oprah, Martha's closest analog, has found success at least in part because of her relentless pursuit of likability. All those giveaways, the fuzzy close-ups, the gentle advice from pop-psychologists, her weepy confessions about her struggles with her weight. No wonder we love Oprah — she makes us believe that she loves each and every one of us right back. The same goes for Hillary. As a politician, she is required to care about and cater to the general public. To succeed, she needs to be liked.

Martha? Her success is isolated from such frivolous notions as likability. Despite her associations with warm croissants and inviting throw pillows, Martha has always seemed cold and distant. She's a rich white lady (a former model, naturally) who made her name by creating a standard of ostentatious domesticity that no mere mortal could possibly imitate. Her love is tougher, her standards higher. "I am a teacher. I teach people what they want and need to know, all about living," Martha says. "And the subject is quite vast so you have to be pretty good at a lot of different things to teach the subject of living." No need to adopt a posture of humility. People come to her because of her exacting standards, and she has fully embraced the role of guru. With Martha, we're not all in it together. "In Ms. Stewart's world," writes David Carr in the New York Times this week, "significant achievement in the domestic arts always requires a bit of suffering, pushing for a kind of perfection that only she can see. But if her recipes can sometimes be complicated and difficult, they pale in comparison to her approach to running a company."

Her faith in herself and her methods is unrelenting. As every aspiring professional woman on the Internet preoccupies herself with the contradictions inherent in Sheryl Sandberg's cheerful brand of feminist advice, Martha's attitude provides a refreshingly clear path to success: work hard, know your value, and have enough confidence in your work and value to keep pressing forward whether or not people seem to like you. It's a strategy that would benefit many women, who even Sandberg acknowledges tend to be too concerned about their likability.

Being everything to everyone is often the burden of the super-achiever. "One of Stewart's challenges has always been that, unlike other executives or celebrities, she has had to juggle multiple roles: mother, friend, product, spokesperson, CEO, and brand," wrote Slate's Henry Blodget in 2005. The list of roles might vary, but isn't this every woman? Isn't this at the heart of the problem Sandberg is trying to solve?

Before we wholeheartedly embrace Martha's approach, however, it seems wise to examine her success a bit closer. Martha, like most convicted felons, is no perfect role model. She's notoriously difficult to work for — as are many people with a maniacal devotion to their vision — and excessively mean to the people who help her company run. "That women's bathroom … there are women in there crying literally all day long," one of her editors told New York in 2011. Martha refuses to apologize or acknowledge fault, even when it's apparent to just about everyone that she has screwed up. On the day her insider-trading conviction came down, it looked like she was falling on her sword. "Today is a shameful day," her statement began. But then she went on to explain that the conviction was just a "small personal matter" that was blown out of proportion. Clearly she wasn't feeling very guilty.

Despite the touchy-feely connotations of crafting, Martha appears completely unsentimental, willing to scrap anything (a technique, a hobby, a portion of her business, stocks) and start over if she hits a roadblock or thinks there may be a better way. This seems to be what's happening with the Macy's/J.C. Penney dispute. "She was married to Macy's, but she went off and had an affair, and got in bed with a direct competitor, with J.C. Penney," Pamela Danziger, a marketing expert, said on CNN, "and I think it just shows really bad form."

Like Martha cares. She's built and rebuilt herself many times before. On the witness stand this week, Martha explained that her 2004 criminal trial "could've taken down the brand; it did not. But I must tell you that rebuilding is a lot harder than building." Take it from someone who knows — a woman who emerged from federal prison after five months as, somehow, a more sympathetic figure. Eight years after her stint in prison, she's never been cooler. Her website, reported the Times last year, continues to make huge gains in visitors in the coveted 18-to-34 demographic. Despite the fact that she's just had to cut two magazines from her publishing empire and last year the Hallmark Channel canceled her show, major retailers are fighting over her in court because her name has never been worth more. The Times characterized it as "a schoolyard fight between two boys — the chief executives of Macy's and J. C. Penney — over the most popular girl on the playground." And in June, The Tao of Martha, a book about one woman's quest to live up to the Stewart standard, hits bookstores. There's also talk of a Fox sitcom. Reinvention has never come easy, especially for women, yet Martha makes it look doable in just a few simple steps.

Of course, it's really hard to imagine imitating Martha's who-cares attitude while you're still climbing your way to the top, saddled with the knowledge that you'll probably never be a billionaire mogul. Maybe this is why Martha makes such a compelling "teacher of living." It's difficult to adopt her attitude, so we do our best to follow her margarita cupcake recipe or her hot-glue guidelines instead. The trick, it seems, is to embrace Martha's commitment to her personal vision, her work ethic, and her zero-fucks-given attitude without veering into the realm of unnecessary meanness or, God forbid, lawbreaking. Not that we need another Sandberg-style manifesto to fight over just yet, but I'd love to read Martha's advice on something a bit more substantive than removing pomegranate seeds. Maybe someday. First, she's got a legal battle to get through.