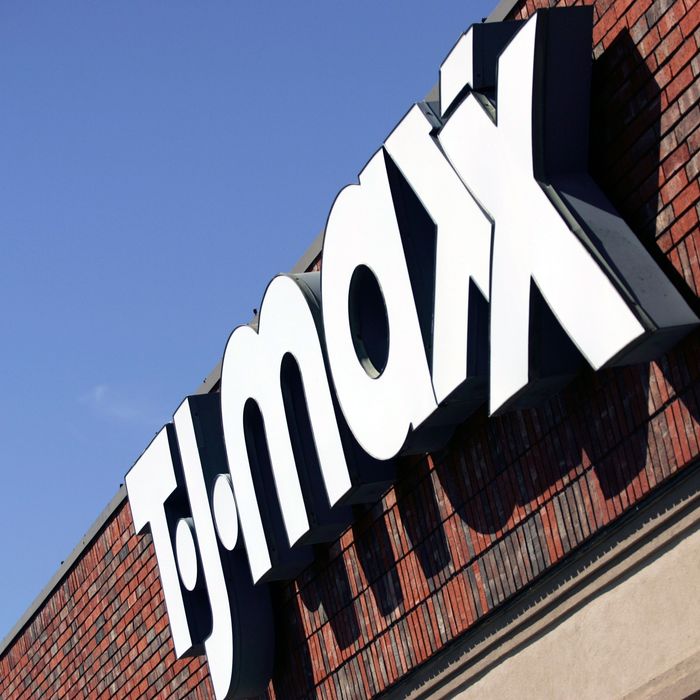 Photo: JESSICA RINALDI/Corbis
As New York Fashion Week ended and top editors packed up for Paris and Milan, T.J. Maxx invited those left behind to a presentation-cum-shopping event in a chic but deserted corner of Manhattan's West Side. It was a fitting gesture from the off-price megachain, whose buyers are — and I mean this in the kindest way possible — bottom-feeders in the fashion ecosystem, snapping up merchandise the department stores have passed over.  Curiously, the event had been billed as a "Self-Expression Exhibit." Unclear what that was, I imagined T.J. Maxx abandoning its high-fashion aspirations ("Maxxinistas") and embracing its role as the anti-fashion emporium, where the independent-minded woman could repurpose a designer's duds outside the edicts of his "vision" and his MSRP.
"We're here showing the media that we know what the top trends are and we have them," T.J. Maxx public relations manager Laura McDowell told me when I asked what the exhibit was all about.

Hanging around the storefront were blown-up street-style photographs taken by the store's new team of "style scouts" — bloggers like Ramshackle Glam's Jordan Reid and Chicago Street Style's Amy Creyer. The pictures illustrated the trends for spring, which were approximated in displays of items available at T.J. Maxx.
Printed Current Elliott jeans satisfied Spring's alleged demand for stripes and dots. An Elizabeth and James linen blouse was one of dozens of offerings in on-trend "sorbet" hues and a Haute Hippie maxi dress revealed the renewed appeal of lace. Apparently that floral and mesh pencil skirt from Alexander Wang's collection last year hasn't gone out of style, inasmuch as black and white — one of T.J. Maxx's trends for spring — can ever truly be in style. But at T.J. Maxx, the Wang skirt is much cheaper than it was in 2012.
"We want them to be calling us," McDowell said of the fashion media elite, which was then trying on sunglasses and making duck faces in a photobooth. "You're doing a story about sorbet, we have sorbet options for you." But fashion magazines depend on novelty for their monthly pages and that Wang skirt is old news. So can last season's clothes compete?

On the contrary, McDowell explained, more than 85 percent of the merchandise in T.J. Maxx stores is from the current season. Most people don't know this. The difference is that a typical department store buys quarterly and T.J. Maxx buyers are "literally in the market every single week" to buy merchandise other stores skipped or missed. They can buy closer to when the season starts, just as panicked brands are slashing prices because they overestimated our appetite for, say, fur vests. There are more than a thousand stores, but they aren't uniformly stocked, so no lot of Ralph Lauren dress shirts is too big or too small. (I tried to get McDowell to reveal which T.J. Maxx locations get the best stuff, but she wouldn't take the bait, except to say that about 70 or so locations have the special, high-end "Runway at Maxx" section.) Another T.J. Maxx advantage is that because it will never return the merchandise to manufacturers, it gets better rates. When the fashion world momentarily turns on peplums, in other words, it'll be T.J. Maxx's problem. (On the other hand, with shorter-term buying, T.J. Maxx can be first one out of the peplum game.) Its advertising budget is small, although this didn't prevent "Maxxinista" to happen.
Regardless of what treasure T.J. Maxx  stores may hold, it's still a hard sell for editors because the company can't make promises about what will be in your nearest brick-and-mortar location by the time you get there, if at all. But McDowell is rightfully skeptical that readers use magazines as a literal shopping guide. "We have found that people don't need to have that exact item," she said. "They want the trend, so they're never disappointed." If she is, she can always try Marshall's, owned by T.J. Maxx's parent company TJX Co., and often conveniently located in the same strip mall. Or, perhaps soon, go online. After acquiring Sierra Trading Post early this year, TJX Co. announced that it is laying the groundwork to offer online shopping late this year.
Even though the function of the self-expression exhibit was to expose T.J. Maxx to fashion editors, McDowell still seemed ambivalent about their sway over Maxxinistas, whom, she says, "don't like to be told how to wear it."  "It's influential but not attainable," she said of fashion and celebrity magazines. "It's more theater for them." Wondering who influences whom does seem increasingly pointless, now that everyone with an Instagram is a style blogger, fashion magazine editors dress to impress street-style photographers, and, reportedly, Catherine Zeta-Jones is a Maxxinista. "Most women get their style advice from their best-dressed girlfriend," McDowell said.
It was thanks to my best-dressed childhood girlfriend that I spent an unhealthy portion of fifth and sixth grade inside my local T.J. Maxx or the Wendy's nearest it. Her equally well-dressed mother's love of the store bordered on the pathological (Maxxinitis?). They didn't have remarkable style, but they looked good more often than anyone I knew, and they believed T.J. Maxx had optimized their purchasing power. Does that make it an "enabler of self-expression though fashion," as the company puts it? I'm not sure. But I am sure that what's so impressive about your best-dressed girlfriend, compared to a well-edited fashion spread, is that she does it every day. As the Maxxinitis mom once taught me, you can't wear your favorite outfit every day of the year, unless you move to France.