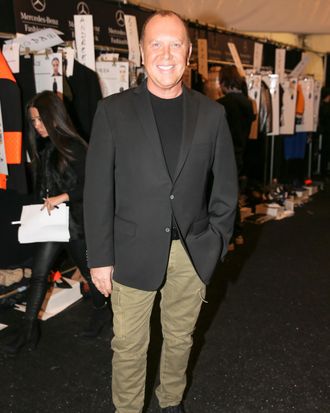 Photo: David X Prutting/BFAnyc.com/BFA NYC
The Couture Council of the Museum at the Fashion Institute of Technology plans to present shana punim Michael Kors with this year's Artistry of Fashion award at a lunch on Wednesday, September 4, WWD writes. The event marks the beginning of New York's spring 2014 shows and the start of the two-day-long Jewish holiday Rosh Hashanah; however, God can't be too angry with the Chosen People — He did cancel Fashion's Night Out, after all.
Kors told the trade, "I'm always happy to wave the flag that design is not strictly haute couture, but that there is something about American sportswear that is such a part of global dressing now." In the last year or so, he's likened clothes to men ("There's great fling material, and then there's great husband material!"), become the most-searched-for American designer online, brought in revenues of $1.96 billion in 2012, established an annual Michael Kors Scholarship at FIT, and his company went public and opened its largest store. He remarked, "I think that realistically to sustain a long-lasting career as a designer, you have to have curiosity and you have to have energy. I sometimes joke that 20 years ago, I used to say 'Oh I'm so busy' and now I realize I actually had a lot of free time on my hands."
His advice to fashion students: work in retail, the best way to learn "how clothes are made, how clothes fit and also what kind of women wear what kind of clothes." The article makes no mention of Kors's Project Runway return.