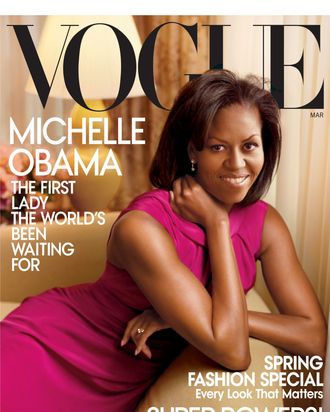 Michelle Obama's 2009 cover.
Photo: Vogue
Michelle Obama's rumored April Vogue cover, which should come out any day now (!), will reportedly feature an ensemble by Reed Krakoff, according to the Washington Post. This isn't terribly surprising, as Krakoff is the FLOTUS's favorite clothier du jour; she wore his designs for her second official portrait as well as her husband's latest swearing-in.
Citing Robin Givhan as their source, the Post also reiterated previous rumors that Annie Leibovitz took the photographs back in January, and added that the accompanying spread will feature a ball skirt and sweater by Michael Kors, another longtime favorite of Michelle's. It's unclear whether the clothes are from her own closet, or whether they were borrowed for the shoot. Either way, here's hoping the result is less awkward than the 2009 cover, shown above.
As this will be Vogue's annual "Shape" issue, we can expect the profile to hinge on the First Lady's "Let's Move" initiative, and possibly show her messing around with vegetables and the like. Maybe we'll even get to see the White House gym! Or at least some dougie photos.