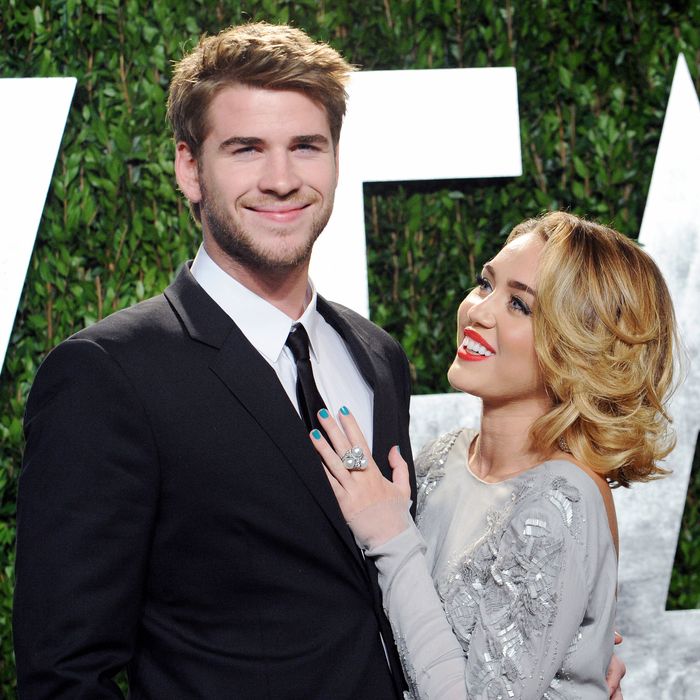 Photo: Jon Kopaloff/WireImage
Liam Hemsworth and Miley Cyrus's "split" finally appeared in gossip holy grail "Page Six" today, after weeks of rumors that Liam was cheating with January Jones and photos of Miley without her engagement ring. Last week, Miley denied that the engagement was off, but "Page Six" is definitive: "It's over for Liam and Miley." Their sources seem to be Team Miley: "They have broken up before, and are broken up again now. There was drama because she suspected he had a wandering eye … While Miley has insisted they are still together, right now they are very, very much apart."
This qualifies as a major bummer. Miley's stirring odes to Liam's naked form were things of splendor. Let's reminisce:
Cosmo: Let's talk about Liam. Do you ever have these moments when you're still struck by how hot he is? 
Miley: Yeah, all the time! I'll literally look at him and be like "You are hot, dear god!" The other day, I turned on the pool heater and it was steaming, and he walked outside and took off his clothes and jumped in the pool. I was like, "I'm gonna faint — the hottest guy of my life is in a steaming pool. This looks like a Playgirl shoot." So I took a photo and made it the background on my phone. My best friend grabbed my phone and was like, "Who's that? He is so hot!" That's my hubby!
Miley and Liam: the horniest young couple that allegedly no longer is.