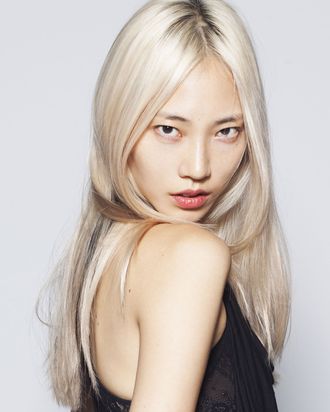 One of the standout rookie performances from last season's shows belongs to 26-year-old Soo Joo Park. Yes, 26; the Wilhelmina model is listed across the Internet as three years younger, however, she admitted to the Cut she was rounding down for a bit: "Since the majority of my fellow models are pretty young, I felt older and a little pressured. At first, we weren't sure whether to reveal my real age, but I think after I bleached my hair, more people understood that I have a personality and I'm more than just a face." Now, Park counts Carine Roitfeld among her biggest supporters — after posing for CR Fashion Book, the editor connected her with Karl Lagerfeld and Tom Ford, resulting in slots on the designers' fall runways (along with the opener at Just Cavalli and nearly two dozen other bookings). On a recent visit to our offices, Park discussed her hair, being compared to the late Daul Kim, and "hard-core lounging" — her favorite pastime.
Tell me about your childhood.
I was born in Seoul, South Korea, and grew up there until I was 10. Then, my family moved, and I've been living in California since. I remember bits about Seoul, but I didn't go back for a long time, and when I did none of it was as I remembered. I went to my old neighborhood and they've developed it into a completely new place. When I was young, I was really into fashion, I used to play dress up with Barbie dolls, as most girls do. I also liked collecting images, so I used to go through my mom's magazines and make little scrapbooks — not always fashion, but always something that looked beautiful to me.
How were you discovered?
I was shopping — I went to school in the Bay Area and I studied architecture — and after I graduated, I was living in San Francisco, where I had a full-time job doing graphic design for a start-up web company. On the weekend, one day, I was shopping in a vintage store and someone discovered me and asked me if I was interested in modeling and I figured, why not?
Had you given it any thought before that point?
I did, but growing up, my parents are very conventional and they were also extremely conservative. They didn't discourage it, per se, but they weren't encouraging of me doing anything besides academics. So, when I told my parents they were entertained by the idea, but they didn't assume that I was going to be as devoted to it. They thought it would be a fling with something different, and then for a while, they didn't want me to continue because [my career] was in a very developmental, slow-burning phase. They thought that I should quit. But I continued, and now they're really happy.
Around the last Chanel haute couture show is when things started to take off for you.
Yes, a little before that. Toward the end of the year, I met Carine Roitfeld and shot with her for CR Fashion Book, and she really supported me and recommended me to Karl [Lagerfeld] and Tom Ford. I've always been a big fan of Carine and when I first met her, I was really intimidated. But I went in there thinking I have nothing to lose, so I'm just going to be myself and I think she liked that. She's [also] really open to suggestions and she's not high-strung at all.
How would you describe your interactions with Karl?
Our interactions are very brief. I know he's lived this really amazing, creative life and we don't have to talk too much to understand that. But he's very sharp and he has a whole team of people whom he trusts and is loyal to, and they're all really good at what they do. The haute couture show was magical — the concept of being in this fairy land — when I first saw the stage, it took my breath away, and I was so jittery because I couldn't sleep the night before. Every atom inside me was colliding … I don't even know how that show was, but I know it was beautiful. And the fall show — I've only done [Chanel] twice, but I feel like they never cease to come up with something spectacular.
What was it like to open Just Cavalli this season?
I had to run over there right after Fendi, so I had like twenty minutes of really intense hair and makeup and I really didn't have time to think about anything! And they didn't give me directions until right before I walked onto the runway. But when I went into the fitting, before, it was really nice because the head designers for Just Cavalli and Roberto Cavalli were like, Oh, she's here! And I'd never met these people, and it's Cavalli. But the show had an Asian fusion concept, and one of the designers said, "I had your photo as one of the inspirations," and he showed me the image from his iPhone. I never thought I'd experience that kind of thing.
What was it like to be a model of color in the industry now?
I'm not really sure. To be honest, I grew up in California more than half my life and I see myself as me; I don't see myself as an Asian model. I think part of the reason I bleached my hair was that I didn't want to be typecast as an Asian model, I wanted to be me. But diversity is very important and to be completely honest, they just want cookie-cutters a lot — not all — but a lot of the times, they do. I can't say I expect people to be colorblind, because as long as we have eyes, we're not going to be colorblind, but I hope there comes a day when it's not just cookie-cutter models. It's going to be about personality and your look beyond being just an Asian or black or Hispanic girl or whatever.
In the industry, who would you like to work with?
Everyone I haven't worked with — I really love Willy Vanderperre and Alasdair McLellan — but rather than working with them just once, and not working with them again, I'd rather work with a few people who I can build a relationship with. For me, it's not just who I'd like to work with in the future but working with them again and again — that's what I want.
So, what do you do in your spare time?
In my free time, I like to do this thing we coined "hard-core lounging," where I just sit in my bed in my jammies and have movie marathons, and eat comfort food and spill it all over my bed.
I read you have a band.
[Laughs] That too — we're working on it. It started out as a fun, do-something-else-while-we-have-time kind of thing, but right now it's taking a hiatus because my friend is really busy with art stuff and I'm busy with modeling. I sing, and then I don't know how to play instruments that well, but on the computer I kind of futz around with it, and my friend plays the guitar and we just mash it up. It's very digital. I would love to come out with something eventually.
How about your beauty routine? Is your hair hard to maintain?
Yes, my hair is pretty much 80 percent of my beauty routine. I take biotin and then I do treatments every time I wash my hair, which is, depending on my schedule, every day.
Do you ever Google yourself?
[Laughs] I won't say I don't. It's funny, because I read some of these things that people say and I'm like, They don't even know me and yet they're comparing me to these people or things. When you're becoming more exposed, people just talk about you in a way that you wonder if they would say that if they knew you. Everyone has compared me to Daul Kim. She was a beautiful woman and she was an amazing model, but I don't think I have anything in common with her apart from the hair, and they need to get over it.
How long do you see yourself modeling for?
I would love to model for at least another year, and then there's some other things that I want to do … take another adventure on. But if things keep going the way they have been, I'd love to continue! You never know, though. One minute you're hot and the next minute you're not, and I guess at this point, I really have no regrets and would be really happy and fortunate that I was able to experience this much. But I'm ambitious — like everyone else, I want more.
Model Profile: Soo Joo Park

Explore other rising stars (plus all the big names) in our extensive Model Manual, featuring runway pics, glamorous editorials, model bios, career timelines, and more.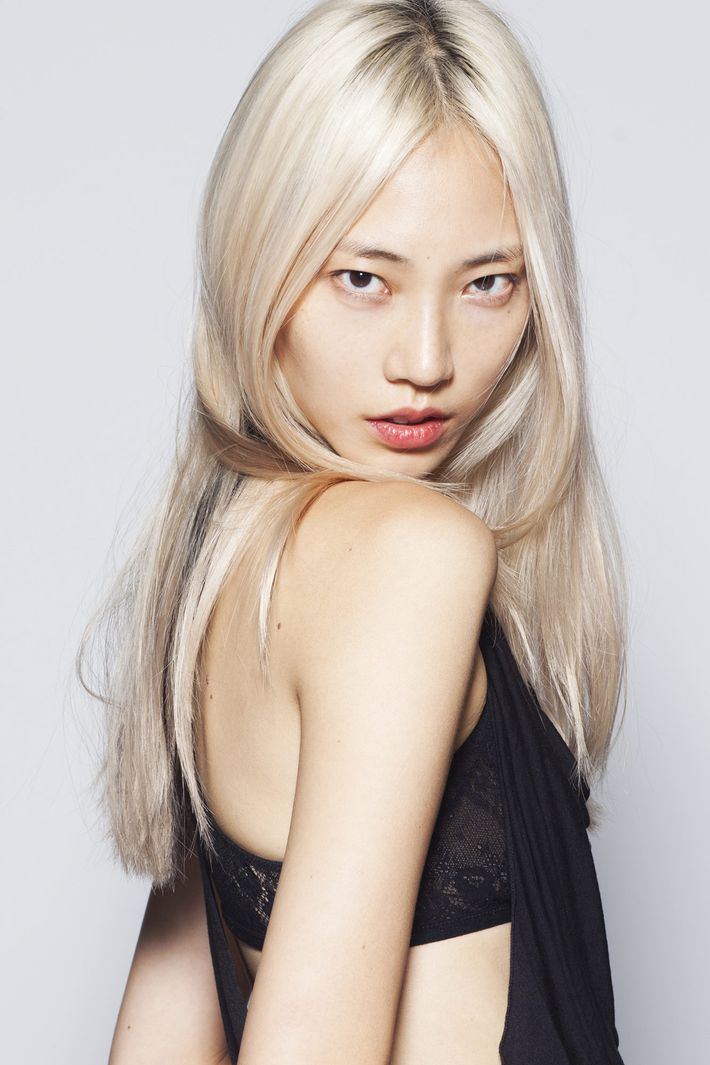 Head shot, 2012.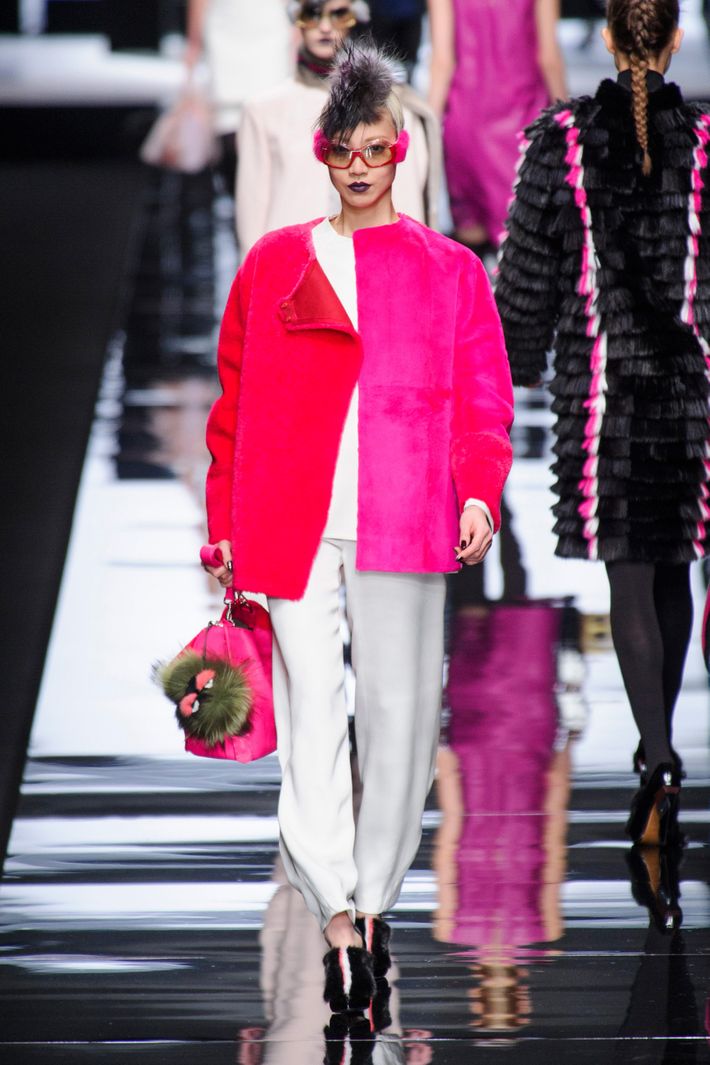 Walking the fall 2013 Fendi show in Milan.
Walking the fall 2013 Rebecca Taylor show in New York.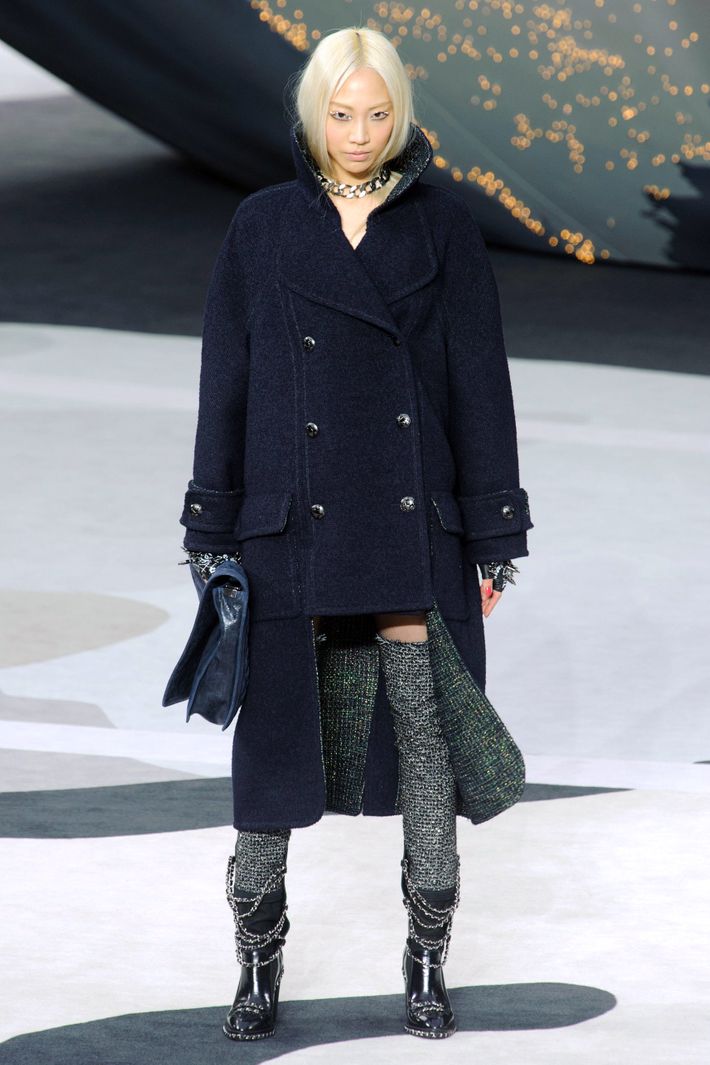 Walking the fall 2013 Chanel show in Paris.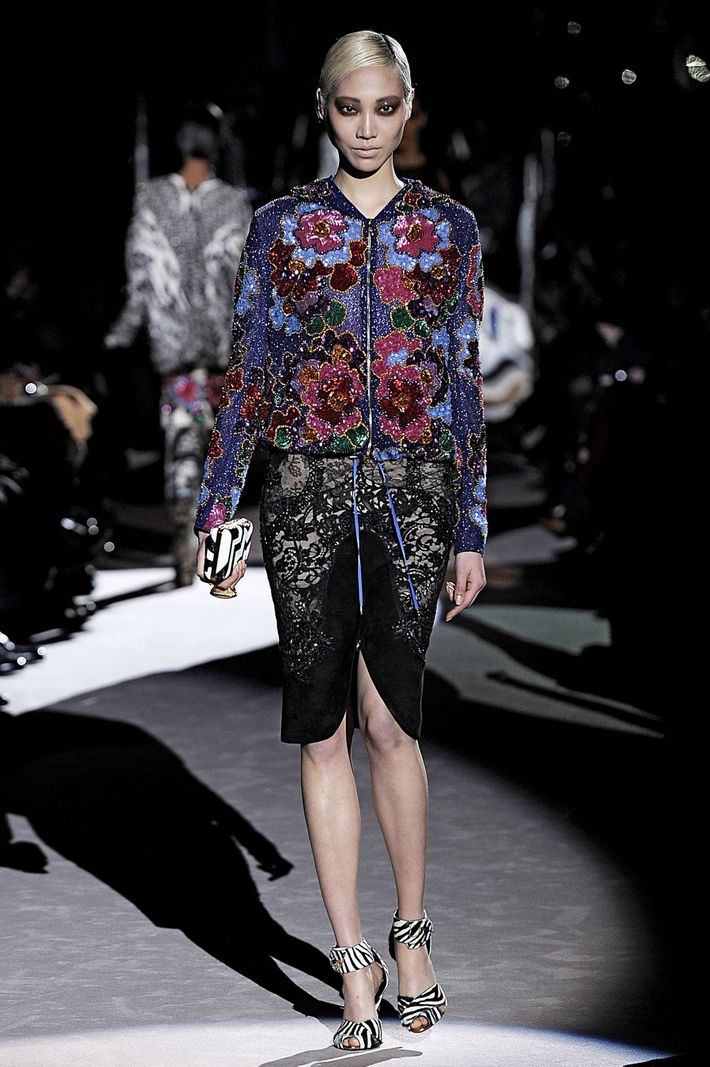 Walking the fall 2013 Tom Ford show in London.