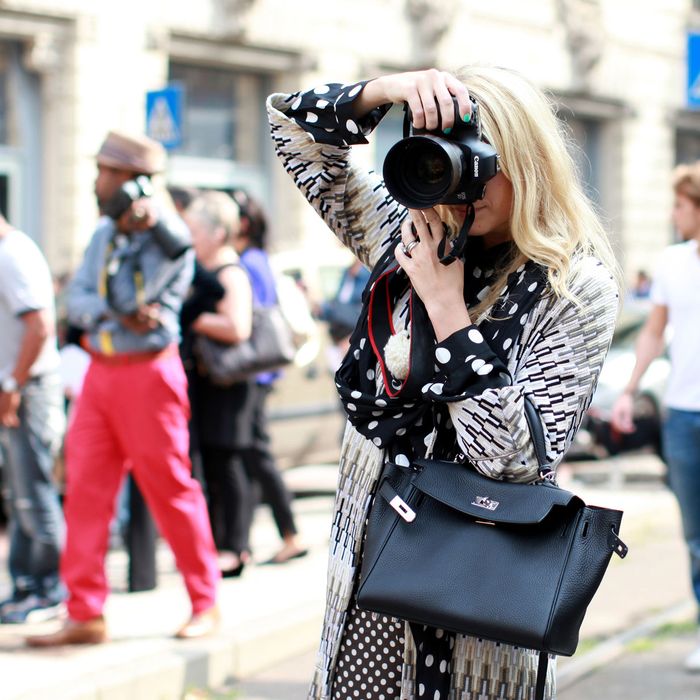 Most kids freak out when their parents join Facebook. But, when I was 22, I didn't have much time to dwell: A few weeks after she joined the social network, my mom one-upped herself by posting a link to her then-secret project, a street-style blog. A place where, with the help of her hand-me-down point-and-shoot Canon, she posted stealth photos of Anthropologie-draped Minnesotans at the Cub Foods with captions like, "I spied a bold zebra print skirt and some artisanally enhanced mukluks and it positively made my day," or "Holy KodaChroma, there's a hootenanny of color going on."
I guess I'd known she'd started a blog because my sister and I actually suggested it. Five years ago, my mom was frustrated with the freelance writing work she was getting, and wanted to "get online." So she fired up Blogspot sometime in 2007; my sister and I quickly adopted our parents' "Don't Ask, Don't Tell" policy and just assumed she'd crafted a nice web portfolio of written pieces to send to potential employers.
So, stumbling upon her anti-Sartorialist style blog was a little jarring. My mom has always been an eccentric, artsy type, the kind with outfits — getups, really — the family nicknamed things like "the shepherdess" and "the leprosy tights." (Word of advice: never buy tights in a small floral pattern.) I never thought of her as being "into fashion" in the way you'd think, but she does treat everything she puts on like a costume, like a non-luxury version of Anna Dello Russo or, I don't know, a demure, Midwestern Lady Gaga?
Now, when she comes to visit me in New York, it's not just to see her daughter, but also to gather fodder for her burgeoning side project in the capital of street style. About four years ago, on her first visit after beginning the blog, I took her to a live performance of an NPR show she likes, and it was only minutes before she was dragging me out of the ticket line by the arm of my jacket to chase a Mohawked lady down 28th Street. Breathless, she snapped the woman's photo while I shuffled around Charlie Brown style, awkwardly waving to my mom's new subject. If there's an older-to-younger female equivalent of emasculation, I felt it.
I don't know why this is so embarrassing for me, and I don't think my mom does, either. A friend once told me the story of her own mom biting into a juicy piece of corn on the cob and giggling to the whole picnic table, "I squirted!" My mortification, which has only grown with her posting frequency, feels like a mash-up of that kind of humiliation and the feeling of the fat kid beating you in the school mile. It's not that you didn't win; it's that he's supposed to be worse at sports than you. After all, this is the woman who still calls me to ask how to pronounce Margiela or wants help uploading foohh-tos to her blahg, all while I make my living as a fashion journalist.
Last month, my mom called me before the busiest seven days of my year. "I booked my ticket for New York Fashion Week," she announced over the phone. Inside, my last shred of calmness folded itself into a tiny square. "Are you staying with me?" I asked. She always does when she comes to New York. This time, she'd booked a bunk at the Jane.
When my mom comes to fashion week, she straps on her running shoes and a JanSport and hits the streets around Lincoln Center in search of Liu Wen. It's kind of refreshing, actually, that at least one street style photographer out there other than Bill Cunningham is wearing warm, comfortable clothes. And, to her credit, she actually talks to her subjects, who generally have pink and purple hair, or a fur coat with fox head attached, or are not being shot by anybody else because of their sub-par bone structure.
She's not photographing me, at my own behest, but it still feels like she's taking a little bit of my soul through her lens. Well, sorta: There's something about our Freaky Friday role reversal – she blogging at fashion shows, me producing them from an office – that has begun to itch. I've become obsessed with holding down cubicle jobs and dressing conservatively because it feels like one of us needs to, and it's certainly not going to be the lady chasing down models for her street-style blog.
On the penultimate day of fashion week, just after the Oscar de la Renta show, I got dinner with my boyfriend and my mom at a small Italian spot in the Village. After asking which designers I was wearing (House of Gap) and recounting every detail of (and photo taken at) the Cynthia Rowley presentation, she continued: "There are some models staying in my hotel. I think I saw Liya Kebede. Kebede? Kebebe." Ki-be-de, I enunciated, breathing deeply into my penne ricotta. My desperation to change the topic had begun to manifest itself, first as chest tightness, then as a pain in the gut. "What are you doing tomorrow?" I asked. She bounced on, describing the walking route that would take her past MILK Studios. I sulked, and envied the twenty-something girl I saw outside the restaurant, the one with the lumpy mom wearing Eileen Fisher.
Later that week, when I pointed out how weird it was to see my mom cavorting with adolescent fashion bloggers, my therapist delighted in accusing me of being jealous. I laughed. Did she know that I write for magazines? She did that silent stare technique that makes me need to cry and punch at once. We both knew that I'd spent fashion week in a desk chair feverishly editing show notes while my fifty-something, casserole-baking, trail-running mom spent it shooting models. She had no deadlines. She reported to no one. She drank wine midday. She did not wear stilettos.
The next day I sent my mom an e-mail: "I'm glad you had fun at fashion week," it said, "but there are a lot of street-style bloggers, and you're my only mom." I selfishly wanted her to respond with a care package of homemade cookies and a note that said let's hang out, just the two of us, without the camera. "I tried to be a mainstream mom," she wrote back instead. "I just can't do it." I clicked on the link in her e-mail signature. Then I caught up on her blog.