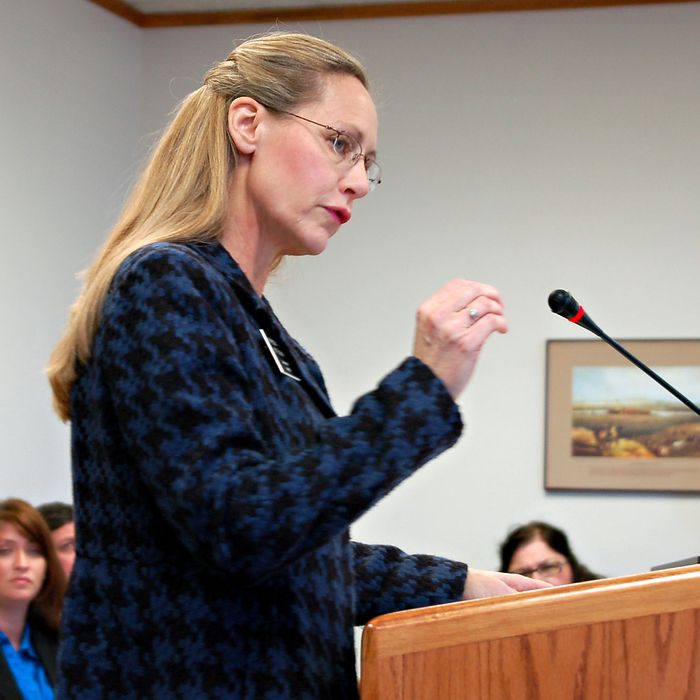 Photo: James MacPherson/Corbis
If you thought Arkansas's twelve-week abortion ban was unconstitutional, wait until you see the one North Dakota's State Senate passed today. North Dakota House Bill 1456, which passed in the State House and is expected to receive the Republican governor's signature, will make it a felony for a doctor to perform a non-emergency abortion after a fetal heartbeat can be detected, which is about six weeks. That's the limit Arkansas State Senator Jason Rapert originally wanted, but scrapped due to the unpopularity of the vaginal ultrasound required to detect the heartbeat. (At twelve weeks, a fetal heartbeat can be detected by the less invasive abdominal ultrasound.) We would expect no less from the American Prospect's worst state for women.
Bill sponsor Representative Bette Grande, pictured, told Bloomberg news she would be happy if her legislation challenged Roe v. Wade, which affirmed the right to terminate a pregnancy up to fetal viability, or about 24 weeks. "The heartbeat is society's marker for life," she said.
Short of a "personhood amendment" — which North Dakota legislators are also weighing — it's hard to know what the next move is in this anti-abortion arms race. Perhaps someone will invent an ultrasound small enough to fit through the cervix? Then you might be able to detect a fetal heartbeat before a woman's even late.