Meet the New Teen Sneakerheads Flipping Shoes for Cash, Fast
Brant Steinberg is a force to be reckoned with in the "shoe biz," as he calls it. Last weekend, the 13-year-old hitched a ride with a friend's older brother to the SoleXchange sneaker convention in Rockville Centre, Long Island, and rented an $80 vendors' table with some friends. He was there to sell his prized possession — a pair of Nike "Paranorman" Foamposites, inspired by the cartoon movie for kids.
"I'm selling the most popular shoe in the game," boasts Steinberg, who is not much over five feet tall but already wears an adult shoe size. With acid-green flames and a glow-in-the-dark sole, the Paranormans would look great if you wanted to play basketball during a nuclear apocalypse. "Yo!" he called to a friend. "I'm going to be featured in a magazine!"
It's easy to laugh at Steinberg's swagger until you find out the market price of a pair of Paranorman Foamposites is currently more than $1,500. Last year, a space-themed version of the shoe, dubbed the "Galaxy" Foamposite, fetched bids of over $2500 on eBay in the days after it sold out in retail stores, where it was originally priced at $220.
On this damp Sunday, Steinberg was far from the only kid hawking shoes at prices that would take some saving up. Fueled by testosterone and a few lone moms handing out bagels and Capri Suns, attendees stormed a Best Western ballroom, dragging around trashbags full of shoes as dubstep blared from a D.J. booth. Wallets stuffed with fat rolls of $20 bills were taken out; shoes were swapped. It was Rick Ross–style hustling, only the PG-13 version.
"Everybody tells me 'you would make it on the street,'" says one 15-year-old, who in addition to selling sneakers was offering watches, sunglasses, and electronic cigarettes in blueberry, vanilla, and other flavors ($15 a pop). "It's better money than selling weed," he explained as a younger kid forked over cash for one of the smokes.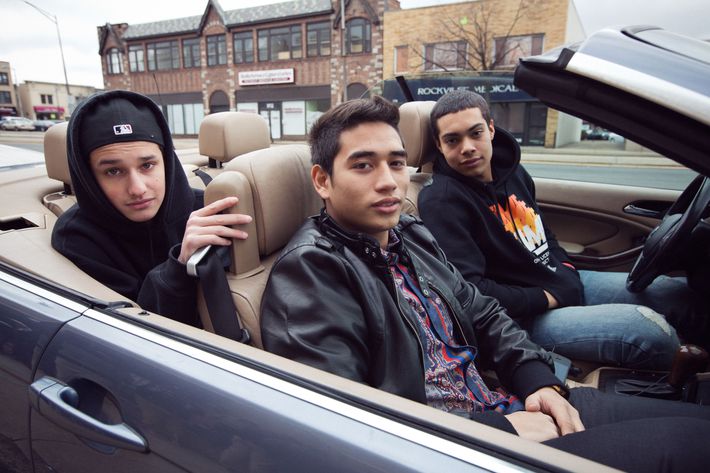 At the SoleXchange, held every few months in different locations around New York City and the suburbs, vendor booths like the one Steinberg and his friends rented allow for an unlimited sale of shoes and other items "applicable to the lifestyle," like jewelry and T-shirts, according to Joe Diorio, 33, the event's organizer. (Cigarettes, Diorio says, are strictly against the rules.) A regular ticket, meanwhile, costs just $15 and allows its holder to sell or trade up to four pairs of sneakers.
It's a good deal, considering. Back at Steinberg's table, 13-year-old Josh Gabbay showed me his Galaxy Foamposites, bedecked with stars and space gas. Last week, he purchased the shoes from someone he met on Facebook for the "cheap" price of $900. "You save birthday, Christmas, Hanukkah money," he explains. "Then you trade a few less expensive sneakers until you can buy something like this." One way to do it is to trade a shoe for another worth a little bit more, à la the blogger who traded his way from a paperclip to a house. Another is to camp out outside of a store for days before a hot pair is released and then flip them while demand is high.
The main thing fueling this secondary market — for middle- and high-schoolers, at least — is Facebook. Over the past two years, new groups allowing anyone to post shoes they're selling has transformed a community of collectors into a market of entrepreneurs. The Facebook groups have also helped shift the median age of a "sneakerhead" from post-college to under 18, according to veteran bloggers and store owners, by making trading more accessible and fun, like a Farmville of sorts for the amateur fashion set.
Conventions like SoleXchange, meanwhile, feed into this system by providing safe environments for kids to meet up with people they encounter online, according to Diorio, who employs someone to verify the authenticity and quality of shoes at his shows. While swap meets for sneaker collectors have always gone on unofficially, the conventions in the past three years have become more frequent and lavish, featuring raffles, performances from rappers, X-Box competitions, and high-profile sponsors like Vitamin Water. Over 500 people attended SoleXchange in Long Island; at the previous location in Soho in late January, it was 1,200. "When I was their age, I was making 100 dollars a week delivering groceries," says Diorio, who quit his job at Bob's Discount Furniture in 2011 to work on the events full-time. "These kids are making $500, $1,000, $1,500 sometimes at every show."
But while dozens of teenagers were flashing fans of $20 bills, none would give straight answers on how much they actually earned from the shoe biz. Most seemed satisfied by the simple fact that they were profiting at all from their hobby. "I've never had to take anything out of the bank," says Tyler Davis, who booked the venue for this event, recruited sponsors, promoted it via social media, and served as host.
He's 15.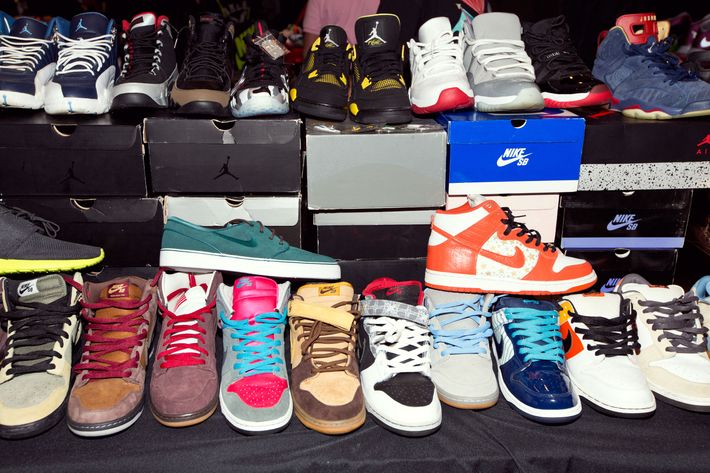 With the money flowing, lots of kids are dreaming about a career in sneakers. Or they hope to become Taylor Lally, the 22-year-old owner of SneakerSpy, an online retailer that employs ten people and was the largest vendor at SoleXchange. Lally has scouts all over the world locating rare sneakers, dates an Adidas model, and personally owns 600 pairs of Reeboks which he keeps in two storage units. "One day I'm going to sell them all and move to Tahiti and surf for the rest of my life," he insists. "I'm aiming for before 30." Still, as sneaker-collecting has become both mainstream and younger in the past few years, others are less sure of their long-term profits. "Do you remember Beanie Babies?" asks Eugene Clowney, 23, an actor and one of the founders of Sneaker Rumors, a Facebook-based blog. "It's like that. When something becomes a fad, humans inevitably kill it."
Many people in the industry place the blame for the bubble on Nike, which over the past several years has accelerated the frequency at which it releases new shoes, all while keeping their numbers extremely limited, according to Jason Faustino, 34, owner of the Long Island–based sneaker store Extra Butter. "There are three main athletes [with Nike], LeBron, Kobe, and [Kevin Durant], who keep coming out with shoe after shoe," he says. At the same time, the company fuels demand by making its products hard to find: Last February, a riot erupted in Orlando, Florida, when Nike first released the Galaxy Foamposite, of which it had initially produced only 1,200 pairs.
Nike declined to comment for this story, but conventioneers believe the company is now shifting gears in order to prevent riots and capture some of the profits from the thriving secondary market. Last year, it set the price for a new shoe in the LeBron James line at $270, one of the highest ever, and began requiring fans to reserve pairs via Twitter rather than camping out in line, in hopes of limiting quantities to one per person.
The changes are a reminder that even in a culture where hustling leads to profits, it's the sneaker-makers that have the real power. "It's materialistic," Lally, the Tahiti-bound veteran, says. "In the end you do all this because you want the freshest new shoe."