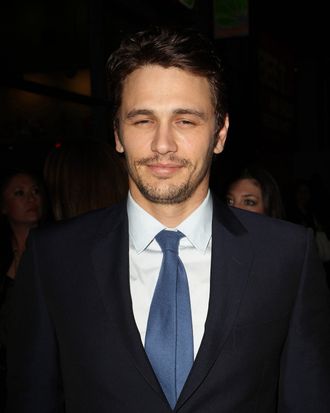 Photo: KevanBrooks/AdMedia/Splash News/Corbis
James Franco wants us to know that he is not bragging when he says that yes, it's true, he totally could have had sex with Lindsay Lohan one time at the Chateau Marmont. The Daily Beast has transcribed the juicy parts of Franco's revealing, widely discussed interview with Howard Stern, where he explained what happened.
"Oh gosh. Poor Lindsay. I haven't talked to her in a while. We were friends. I met her, I think through friends, and there was a moment where I was staying at the Chateau Marmont hotel because my house in L.A. was being re-done, and she had been living there for a couple of years, and we were basically living in the same place, so I got to know her. I don't want to, like, brag about it, and I don't know how that got out! She was having issues even then, so you feel weird. Honestly, she was a friend. I've met a lot of people that are troubled and sometimes … you don't want to do that."
Nor was he bragging when he confirmed to Stern the existence of a Franco sex tape, made with then-girlfriend and nineties teen movie star Marla Sokoloff. It was just amateur stuff!
"It wasn't professional in any way. It was my girlfriend … I think that was after Freaks and Geeks. It was with my girlfriend, and we just made it. She's an actress, and she's married now. All right, I'll say it because it wasn't anything bad. It was an innocent thing we made for ourselves, and it wasn't like Screech where we made it for public consumption."
Good news: All this Lohan-rebuffing, sex-tape-making man could be yours. Despite rumors Franco is with Spring Breakers and Bieber parody video co-star Ashley Benson — who, not to brag, is way young — Franco says he's looking for love. "I'm getting older," he said. "I would like a long-term relationship."