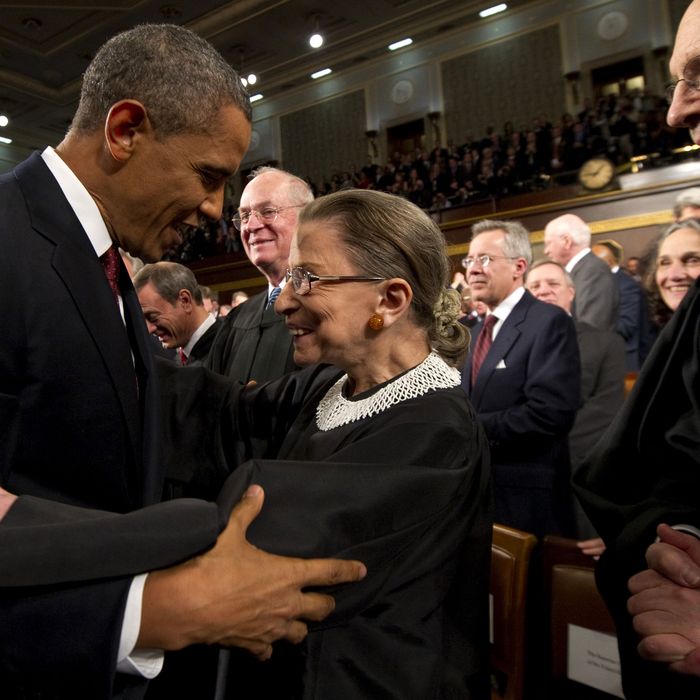 Photo: Saul Loeb-Pool/Getty Images
You could learn a lot about the evolution of women's rights by reading The New Yorker profile of Supreme Court Justice Ruth Bader Ginsburg, published yesterday (behind the paywall). (She argued many influential gender discrimination cases.) You might also get a little choked up reading about her long marriage to the late, celebrated tax lawyer Martin Ginsburg. (He cooked for her.) But if you're short on time, skip to the end, where Jeffrey Toobin dishes about Ginsburg and President Obama's long-running, platonic mutual crush.
According to Toobin, the Supreme Court justice's admiration predates Obama's Senate years to when Ginsburg's son, who lives in Chicago, followed his career and told his mother about him.
Toobin writes:
"When the Court had one of its occasional dinners for members of the Senate, Ginsburg asked that Obama be seated at her table. (Michelle Obama, who also attended, told Ginsburg that she allowed her husband to run for the Senate 'on the condition that he would stop smoking.')"
Since then, he reports, the president has "often singled Ginsburg out" — using middle-school flirtation techniques. Like when Anthony Kennedy asked him if he wanted to play basketball, the president was like, "I don't know … I hear that Justice Ginsburg has been working on her jump shot." No word on whether or not she took the hint and joined. Then, at a Hanukkah party, the president said, "Justic Ruth Bader Ginsburg is here. We are thrilled to see her. She's one of my favorites. I've got a soft spot for Justice Ginsburg." Ginsburg responded in kind: She has a framed photograph of the president hugging her at a State of the Union address in her chambers, which we're pretty sure is the Supreme Court equivalent of having their prom picture in her locker.