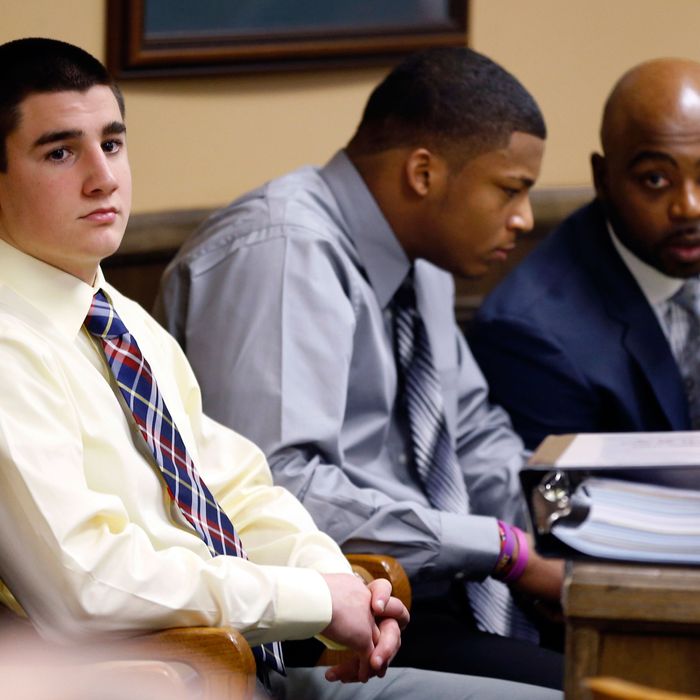 Photo: Keith Srakocic/Corbis
A lawyer for the Steubenville football players on trial for raping an intoxicated 16-year-old compared the accuser's decision not to testify with what they argue was her implied consent. ("She didn't affirmatively say no," the lawyer, Walter Madison, said.) But text messages read in the no-jury juvenile court yesterday by state forensics investigator Joann Gibb might speak louder than testimony. According to the New York Times, messages pulled from the phones of defendant Trent Mays and his acquaintances show Mays worried about getting in trouble while the embarrassed and confused accuser tried to put the pieces of the night's events together.
Texts from Mays's phone:
She "was like a dead body"

He didn't try to have oral sex with her because she "would have thrown up"

"if they press charges, they are going to look at all my texts"

"I got [football coach] Reno [Saccoccia] to take care of it"

"I feel like [Saccoccia] took care of it"

"[Saccoccia] was joking about it so I'm not that worried."
(Saccoccia is the Steubenville football coach who threatened the New York Times reporter on the story.)
Texts to Mays's friends from the accuser's phone:
"I wasn't being a slut. They were taking advantage of me."

"I hate my life"

"Oh my God, please tell me this isn't" true.

"Who was there who did that to me?"

"You couldn't have told them to stop or anything?"
Testimony is expected to resume today.