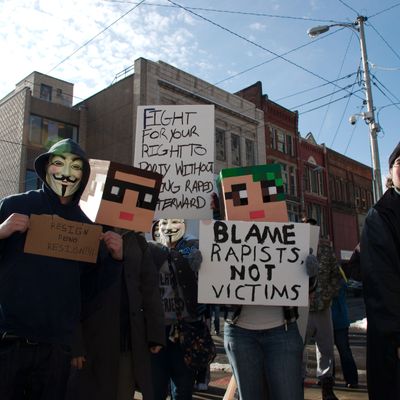 Photo: Joseph Shaffer / Demotix/Corbis
The trial of two football players charged with raping a 16-year-old girl begins today in Steubenville, Ohio. The case against Trent Mays and Ma'lik Richmond attracted national attention and Anonymous hackers' intervention after a blogger alleged that local police were stalling their investigation because tweets and Instagram posts implicated many players on the town's beloved high school football team. Now, attorneys for the defendants and public officials are downplaying the importance of the social media evidence that instigated the media circus.
On Monday, a lawyer for Trent Mays filed a motion to dismiss the case, arguing that the unavailability of "material witnesses" — female friends of the victim — made it impossible for Mays to get a fair trial. According to ABC's Elizabeth Vargas, the friends made "incriminating statements" to police, like that the victim had made plans to meet up with her alleged rapist — and "therefore had given a prior consent " — and that she "had a history of doing this kind of thing before." (I'm no legal expert, but I'm fairly certain neither making plans to hang out nor a history of drunken sex amounts to prior consent. If it does, most of us would probably be considered unrapeable.) A judge had originally rejected requests to subpoena the friends because they live across state lines in West Virginia, but reversed the decision late last night.
Having withdrawn the motion to dismiss, the defense plans to argue that there was no rape. "We're denying that there was any nonconsensual contact, period," Mays's lawyer, Adam Nemann, told the Times. Not because date rape doesn't exist. As the Atlantic Wire points out, it counts as rape in Ohio if a victim is compelled through force or controlled substances and gross sexual imposition (a felony) if controlled substances had "substantially impair[ed] judgment." Instead, the defense intends to show that the victim wasn't that drunk — contrary to a photo of the victim being carried by her hands and knees ("staged," they say) and Michael Nodiano's charming riff on her "dead"-ness. "There's an abundance of evidence here that she was making decisions, cognitive choices," Walter Madison, Richmond's lawyer, told the Cleveland Plain Dealer. "She didn't affirmatively say no." 
What kind of higher-order thinking did the victim — who remembers close to nothing from the night — demonstrate that night? She gave the boys the passcode to her phone, Madison says, after the "controversial" photo was taken. He also compared her plan not to testify to her alleged inability to consent. "The person who is the accuser here is silent just as she was that night, and that's because there was consent." Or, you know, because she was too drunk for her brain to process the memories necessary for a testimony.