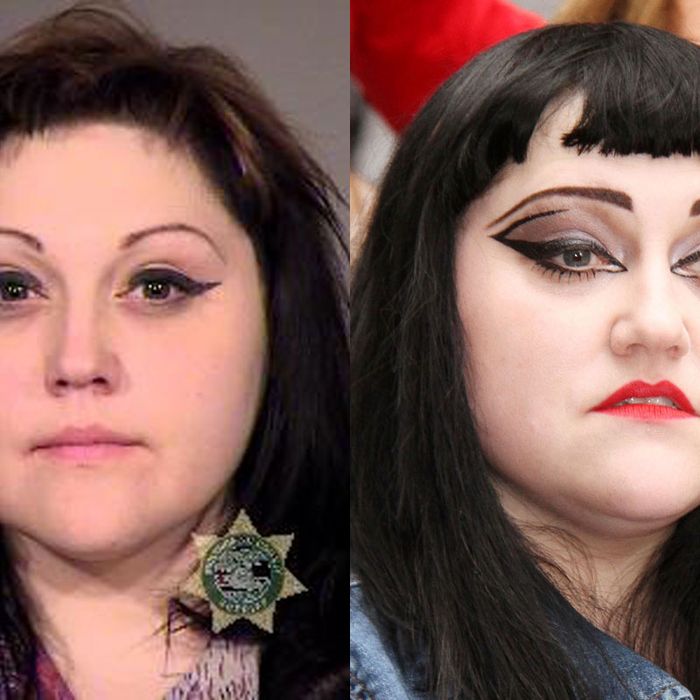 Photo: Getty Images, Corbis
Over the weekend, Gossip singer Beth Ditto was arrested for disorderly conduct outside the Bungalo Bar in Portland. According to the Willamette Week, "Ditto was cut off from drink service at that bar early Saturday morning because she appeared to be inebriated," then "walked out in the middle of the street, threw off her shoes and purse" — par for the course if you've seen a Gossip concert — "and screamed OBAMA! OBAMA!" a trope we've explored here. But after being escorted to the Multnomah County Sheriff's office by "like 10 or 12 cars," says a source, Ditto took what is, in my opinion, an exquisite mug shot, at left. (At right, Ditto poses for photos outside the Ed Sullivan Theater last May.)
Of course, few have mastered the art of the mug shot, but what's most startling is that for her photo shoot, Ditto opted for a fresh-faced look. She skipped her usual one-shade-lighter foundation and bright lipstick, pinned back her bangs, and her eye makeup appears to have taken less than 90 minutes to paint on. This is Beth looking her best! Her most honest. Leading me to conclude:
1. Bangs: ne'ermore.
2. Go easy on the eyebrow pencil if you plan to get arrested later.
3. Sometimes, a good cry makes you more gorgeous. It's called cry with your eyes, or Crize.