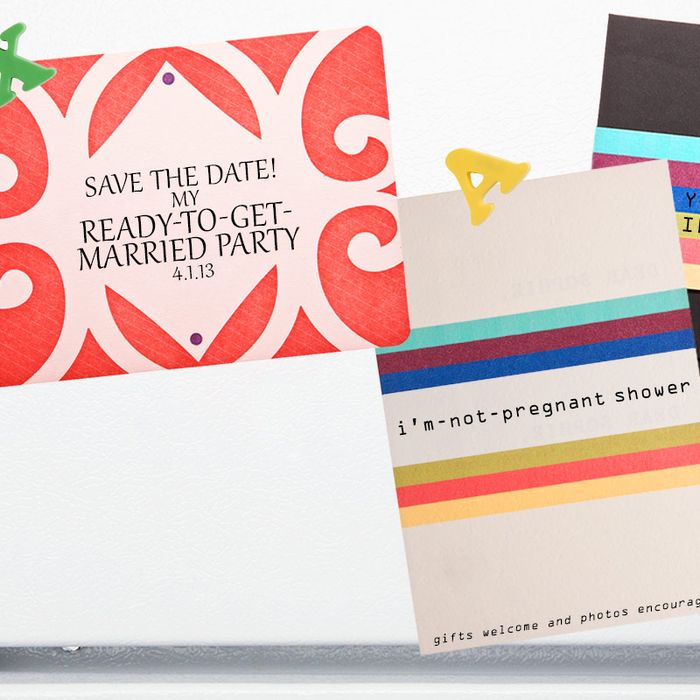 It's marriage season. Not just in your mailbox, where save-the-date cards have inevitably begun to pile up in anticipation of this summer's nuptials, but in the Supreme Court, where lawyers are arguing the merits of throwing open the doors to this venerated but outmoded institution. While most Americans under age 45 agree that everyone gay or straight or whatever should be free to marry their partner, the Prop 8 arguments provide a perfect opportunity to consider how ridiculous most commitment rituals are when stacked up against data about the average modern lifestyle. An unsurprising new report finds people are getting married later or not at all, spending more of their adult lives solo and/or having kids alone. Yet dating and mating customs have remained virtually the same for a century. The general population gives wedding gifts as if neither member of a couple has lived outside their parents' home. Or sends them off with bachelor parties as if they haven't been committed and cohabiting for years. Or still expects babies will come after vows.
Out-of-wedlock births and later marriage aren't problems in and of themselves, as some conservatives would have you believe. The bigger issue is that we have evolved a lot faster than our laws, policies, and social rituals. So how about updating these things to reflect the fact that many people are marrying later (or never) and having kids later (or never)? Some new rites of passage have been written up in the Times "Style" section (see: the divorce party) or depicted on episodes of Sex and the City (see: Samantha's "I don't have a baby" shower — then cringe), but they're a far cry from being as universally adopted as the bachelorette party, the wedding reception, or the baby shower, which feel mandatory even for people who claim they don't want them.
What if both our policies and milestones reflected the way we live now? Here are my gender- and sexuality-neutral suggestions for updating the rites of passage in adult life, arranged from age 18 to death.
The Graduation Shower: It makes no sense that we let newly married adults in their 30s, most of whom purchased their first area rug or KitchenAid mixer years ago, run amok with a barcode scanner in Crate and Barrel while most members of the Thought Catalog generation are adrift with barely an Ikea bookshelf to their name. We know that kids these days are graduating into one of the toughest economies in generations. Why not give them a boost with a graduation shower? Bonus: They'll feel doubly guilty about letting their parents down when they can't manage to turn that publishing internship into a full-time job. See also: Moving-Out-of-Mom's-Basement Party.
The Not-Pregnant Party: This is a real rager! Send out the invitations as soon as you've discarded that negative Clearblue Easy. Party favors include Midol, condoms, and Plan B. See also: Universal health care, as government approved and mandated, that includes stellar contraceptive coverage.
The New Bachelorette Party: Let's keep the name but change the connotation. It makes no sense that you celebrate singledom after you've been coupled for years and are about to tie the knot. You should be having a last single hurrah right before you have the Talk with your partner about dating exclusively. Rituals would include the deletion of your OkCupid/Grindr profile and a slideshow of blurry cellphone photos of your wildest nights out. Friends could weepily bid farewell to the fun and relevant you, and prepare themselves for long brunches at which you drink too many mimosas and sigh and say, "I don't know, like, I love him but we're barely having sex anymore." See also: The Re-Bachelorette Party, for after your breakup. Serial daters would probably celebrate annually. The third bachelorette party would become the new third wedding.
Domestic Partnership: Rather than a legal waystation on the path to marriage equality, what if this were ensconced as the major relationship milestone? You could sign a prenup, some paperwork about who gets to keep which major furniture items, agree on what percentage of the rent you each owe, and possibly name a friend who gets dibs on your sweet rent-controlled apartment after you break up and neither of you can stand to take over the lease. The housewarming party would take on new meaning. See also: the Platonic Domestic Partnership, for long-term roommates. The Commitment to Property Ceremony, because incurring major debt together — er, buying a house — has higher legal and financial stakes than either shacking up or getting hitched. The Pre-Cohabitation Shower, at which you re-gift one of your now-redundant immersion blenders or your perfect vintage sofa that won't fit in the new place. And The Post-Cohabitation Shower, at which you sell off all the stuff you purchased jointly that you can't stand to look at.
The Starter-Baby Shower: Things are getting pretty serious, so you're taking the plunge and buying a dog together. When you bring home your pet, you'll want your friends and family there for a brunch to commemorate the occasion. After all, they'll be looking at Instagrams of this animal every day for the next half-decade. Get them invested now. Gifts — or at least GIFs — required.
The Coming-Out Party: No longer just for gays and debutantes, this is how you tell your friends and family that you're ready to settle down with … well, you just haven't met the lucky guy/girl just yet. Your career is on track. You've got a friend group you adore. You've taken a few big international trips and picked up some awesome hobbies. Now your taxi light is on and you're ready for passengers as you change lanes to the "serious relationship" portion of your adult life. This party — typically with soft music, crudités, craft cocktails — is just as grown up as you are emotionally. It's a way to let all your friends know it's time to set you up with their cute single friends who are also looking for something "real," and the perfect time to crowdsource the photos for your eHarmony profile.
The Donor Party: Not to be confused with the mid-1800s cannibalistic event, this is a celebration of the fact that you've finally found the perfect sperm donor or surrogate mother (or sugar daddy to subsidize the whole procedure). Actual donor may or may not be present — choose your own adventure, Yankee Swap–style. See also: the "We're Trying" Party, sometimes known as an IVFestival, at which people buy wannabe moms and dads lots of sexy gifts.
The Work Honeymoon. With marriage on the wane and relationships a confusing mess, professional milestones are a refreshingly clear way for you to celebrate your progress through adulthood. Let's say you've finally landed your dream job (er, your dream job for now), and you've got a whopping seven days off between your last day of drudgery at the old place and your first day at the new gig. Time for a vacation! You're going to need something to fantasize about when once you realize your new boss is just as crazy as your old one. See also: the Workiversary Party, otherwise known as a four-hour happy hour to celebrate the fact that you've made it through a full year at your job.
Parent Parties: Much like that college fixture, the rent party, these ongoing events are a far more realistic alternative to holding a baby shower while the kid is still in utero — a way to raise money to cover the cost of diapers and goad friends into babysitting when you need their help most. On the government front, see also: federal subsidies for child care; flexible workplaces; guaranteed family and medical leave policies.
The On-Ramp Phase: We all know how hard it is for parents, particularly women, to get back to work after a period of stay-at-home child-rearing. It might help if there were some recognition of this, much like the post-college job hunt. And what about tax breaks for businesses that hire parents who are reentering the workforce after letting their résumés stagnate for the past five years? Wouldn't hurt.
The Heir-Naming Ceremony: A reception after you add someone to your will or otherwise name the recipients of your remaining earthly possessions. It may or may not include a baptism-style ceremony at which you take your lifelong "cool aunt/uncle" relationship with your niece to a more formal level. See also: Changing the inheritance tax so it doesn't hit single people and gay couples disproportionately hard.
Student Loan Repayment Day: Falling sometime between retirement and death, this low-key celebration with your friends, family, and loan officer marks the moment when you're finally back in the black. Just in time to fade to black.
Of course, every single life event doesn't need its own celebratory tradition, and just because marriage has receded in importance as a milestone doesn't mean it shouldn't be an option available to everyone. But most instances in which we have an outdated way of celebrating a rite of passage (like by buying a whole new set of cookware for a bride who's been living on her own for more than a decade), odds are we have outdated policies and laws that accompany it. And despite what certain Supreme Court justices have to say, none of that is worth dismissing.