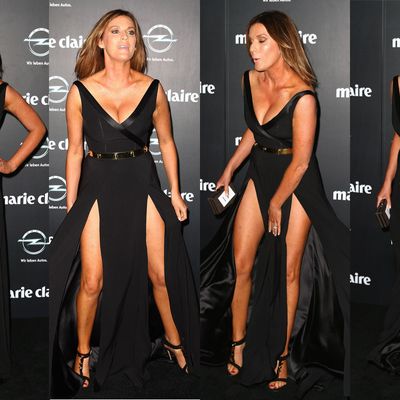 Photo: Don Arnold/WireImage
At the Academy Awards in 2012, Angelina Jolie disturbed the relatively calm red-carpet waters by flashing her pallid, yet incredibly confident end-of-winter leg out of a single, thigh-high slit. An army of celebrities itching to parade their lower limbs followed suit, some even going for two slits at once. Rihanna, Kate Middleton, Queen Bey, and Kim Kardashian all went for it this season, revealing this as one of the go-to gown trends.
But women of the red carpet, tread carefully. We're speaking specifically to Australian television personality, Kylie Gillies, who — like a few other women we mentioned — seemed to be unaware that one slit is probably enough (dual thigh-high slits: a danger to us all). Today, the co-host of the Morning Show on Channel Seven Australia attended the 2013 Prix de Marie Claire Awards in Sydney looking glamorous in a black Paolo Sebastian gown. That is, until a gust of wind appeared out of nowhere and left her baring two naked legs in front of prowling red carpet photographers. Watch below in our GIF, as she's forced to pull the fabric back to its sorta rightful place, lest she showed more upper leg than Lindsay Lohan stepping out of a taxicab. At least her legs were tan! But lesson learned: A night out in thigh-high slits means you'll probably end up with your hand covering your crotch.