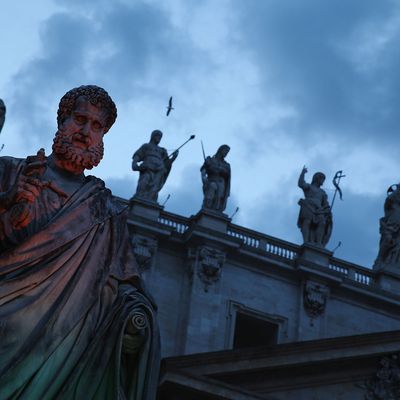 Photo: Dan Kitwood/Getty Images
The new pope hasn't been declared yet, but according to the Times, his wardrobe is all set and waiting for him, right down to his red loafers and white socks. The papal garments have been made at a place called Ditta Annibale Gammarelli in Rome since the eighteenth century, where the tailors have a system set up for creating the pope's wardrobe before his identity is announced: They simply make all the clothes he'll need in a bunch of different sizes. Presto!
Here's what we know about the clothes that await the future pope:
His socks: They're white, as a rule, and come from a French company called Mes Chaussettes Rouge. Incidentally, Hamish Bowles also procures his hosiery there, so we can assume they're of superior quality. Hopefully they have good moisture-wicking properties, as Rome can get pretty balmy in the summer. 
His cassock: It'll be floor-length, wool, and NOT white. "Our white is really ivory," tailor Lorenzo Gammarelli clarifies to the Times. 
His skullcap: Also ivory.
His mozzetta: An optional red tunic-type worn over the cassock, should the new pope feel like it.
His shoes: Red loafers! It's unclear whether the new pope will go with Prada, like his predecessor supposedly did, but apparently there's a wide selection in many different sizes ready for his fitting session.
All of the above — except for the shoes, of course — are ready in sizes small, medium, and large, as there are no XL men up for the job. The real question, though, is what happens to the unused garments? Do they get recycled into cardinals' robes? Potholders for the Vatican's kitchens? Pocket squares for Hamish?