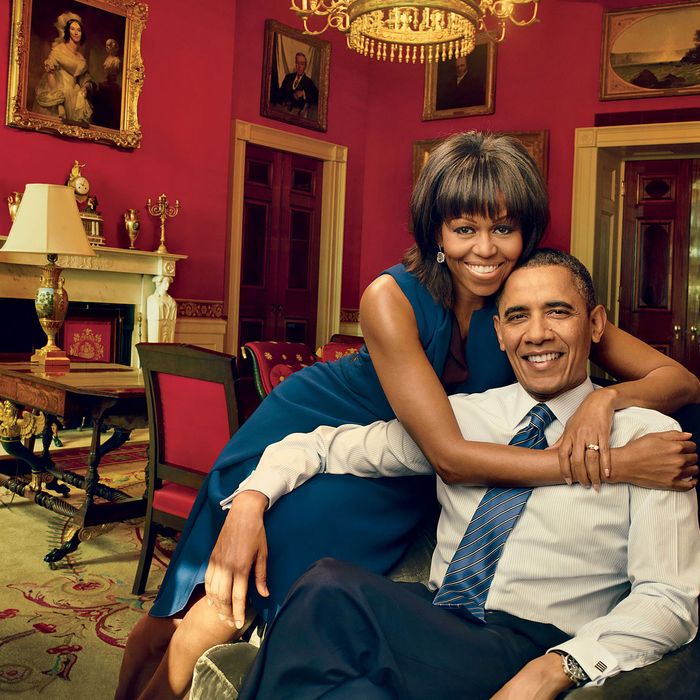 As reported (and breathlessly reported), Michelle Obama covers Vogue's April issue. She was photographed by Annie Leibovitz, wearing an asymmetrical Reed Krakoff dress and Kimberly McDonald geode-and-diamond drop earrings, and inside, both she and the president speak to Jonathan Van Meter about "living their lives on their terms: not as the First Family but as a family, first" — the writer's perfect way of phrasing it. Michelle explains, "The stresses and the pressures of this job are so real that when you get a minute, you want to give that extra energy to your fourteen- and eleven-year-old … "
"Although," her husband says, a big grin spreading across his face, "as I joked at a press conference, now that they want less time with us, who knows? Maybe you'll see us out in the clubs."

"Saturday night!" says the First Lady. "The kids are out with their friends. Let's go party!"

Malia and Sasha are at the age when their parents — along with their security detail — have to take a tiny step back. "The Secret Service has to change the way they do things; they have to become more flexible," FLOTUS says. "And they do. Because they want to make sure that these girls are happy and that they have a normal life … There's a lot of energy that goes into working with staff, working with agents, working with friends' parents to figure out how do we, you know, let these kids go to the party and have a sleepover and walk through the city on their own, go to the game." America's mom continues:
Any parent knows that these are the times when you're just a scheduler and chauffeur for your kids. And that doesn't change for us. Ninety percent of our conversation is about these girls: What are they doing? And who's got what practice? And what birthday party is coming up? And did we get a gift for this person? … And [the president's] doing it while still dealing with Syria and health care.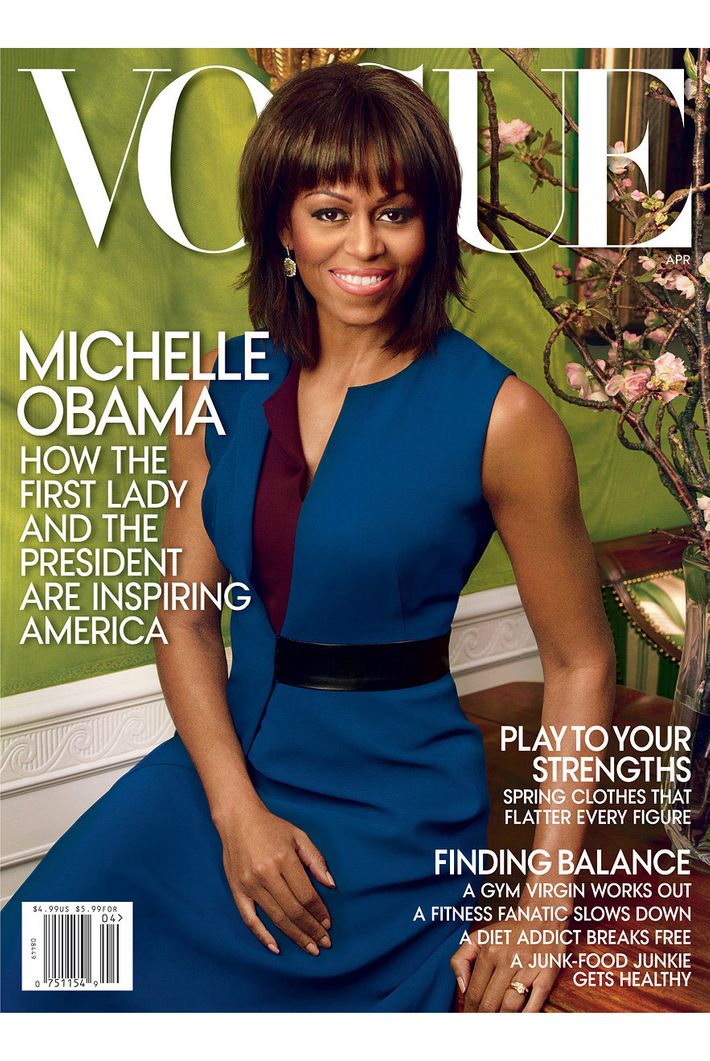 It certainly wouldn't be a Vogue cover story without a discussion of fashion; surprisingly, it's Barack's style that's given more ink! He notes, "In fairness, there is one thing that's changed" since the Obamas moved into the White House.
"Which is, I used to only have, like, two suits," he says.

Now you must have dozens, I say.

"Thank God," [Michelle] says. "Now, let me tell you: This is the man who still boasts about, This khaki pair of pants I've had since I was 20." The president throws his head back, laughing. "And I'm like, 'You don't want to brag about that.'" Jay Carney and the young staffers from the White House press office, who are all sitting on a sofa on the other side of the room, crack up.

"Michelle's like Beyoncé in that song," says the president. "'Let me upgrade ya!' She upgraded me."

"The girls and I are always rooting when he wears, like, a stripe. They're like, 'Dad! Oh, you look so handsome. Oh, stripes! You go!'"
For his part, Van Meter adds the president "has beautiful hands, with long, slender fingers." We were not expecting this piece to turn into a presidential profile, but clever of Vogue to go through his wife to get to him!