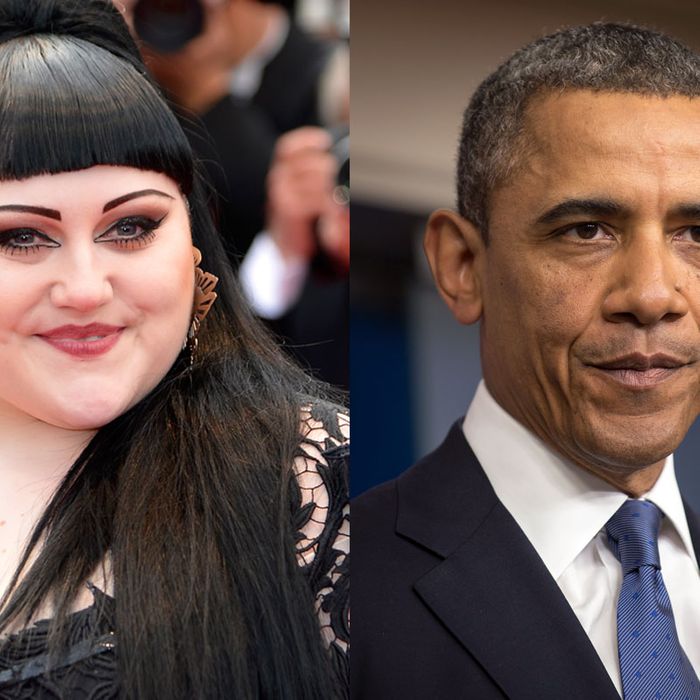 During the 2008 election, an anti-Obama commercial approved by John McCain dubbed the future president "the biggest celebrity in the world." Shutters clicked and a crowd chanted O-BAM-A as Britney Spears and Paris Hilton floated past. At the time, the ad seemed ham-fisted and desperate. Now it seems like it's stating the obvious.
The main case for President Obama as biggest celebrity in the world is that he's the celebrity's celebrity. They post blurry cell-phone photos with him on Instagram and are speechless in his presence. Beyoncé — a celebrity so megalomaniacal she recently commanded her listeners to "bow down, bitches" — published a mash note to Obama on her online photo shrine to herself. In other words, celebrities treat Obama the way we treat celebrities.
More interesting is when celebrities will invoke his name (or Twitter handle) in times of trouble. Amanda Bynes tweeted at President Obama last summer, entreating him to "please fire the cop" who arrested her for drunk driving. "I also don't hit and run," went her 140-character defense. "The end." During a dark night of the soul on Twitter, Lindsay Lohan asked the president to cut taxes "for those that are listed on Forbes as 'millioniares'" even though "they are not" millionaires, in addition to middle-class families and small businesses. (You didn't have to be Justin Bieber to guess whom she was asking for.) To the godless starlet deified by the tabloid-reading masses, Obama might be the only higher power around.
The latest (and best) prayer to the president took place over the weekend in Portland, where Gossip singer Beth Ditto was arrested for disorderly conduct outside a bar. According to local Redditors, Ditto was drunk and belligerent— shouting "Google me!" to patrons in her way — until she was eighty-sixed. In response, she "walked out in the middle of the street, threw off her shoes and purse and screamed OBAMA! OBAMA!" an eyewitness told the Willamette Week. 
Unfortunately, President Obama has roughly the same response rate as your average patron saint. Lohan's broke and back in rehab, and Bynes is wandering New York streets in a disguise. As for Ditto, friends tried to get her into a car, but she was picked up by one of "like ten or twelve" police cars and booked with second-degree disorderly conduct. She was released that night under her own recognizance.