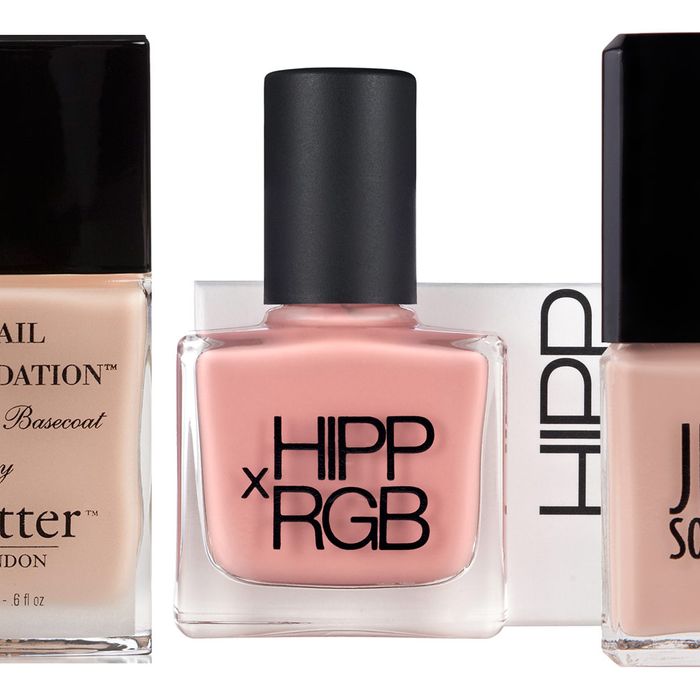 Welcome to mid-March, that time of year when we've had our fill of all things wintery — our cold-weather wardrobes, dry complexions, and static-y hair. Not to mention our fingernails, which have been painted concrete, deep Bordeaux, and muddy navy … perfect for slush, but spring is just around the corner. It's about dang time we move on to a happier palette of polish hues. But not everyone is ready to break out the neons and punchy pinks. To help ease the transition, here's a selection of lacquers that will have you fresh-faced … we mean, fresh-nailed, for spring.
The Primer: Butter London's Nail Foundation Flawless Base Coat ($19) is a subtly tinted tan-neutral to even out the color of your nail bed before a paint job, but can also be used solo. It'll fill in any ridges and cover up nails that might have turned yellow after a particularly penetrating dark hue. Used alone, the polish will leave behind a matte finish. If you're after a sheen, follow with a regular top coat.
The Foundation: Manicurist Jenna Hipp and RGB founder Gina Carney pioneered this concept when they launched their Nail Foundation set in 2011. But we recommend trying Jin Soon's Nostalgia ($18). It's a true neutral that doesn't show up overly pink.
The Blush: But if you do want a hint of sheer pink (without having to commit to a ballerina shade), add a coat of HIPPxRGB's newest set of nudes, Nail Sheers. Available online later this month, this foursome — from petal to deep rose — is meant to give nails a blushlike effect.