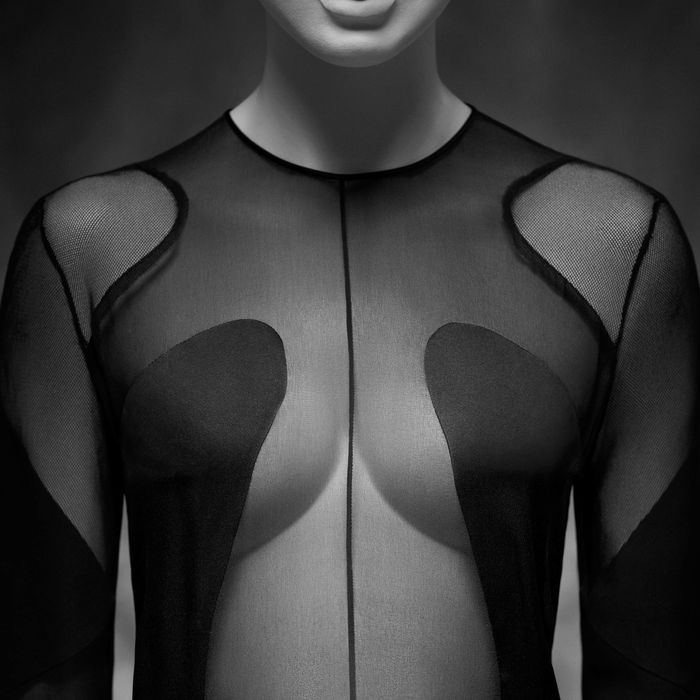 "When my best friends doubt their little black dresses, they call me on the telephone seeking reassurance," André Leon Talley muses in the introduction to his 208-page book that pays proper homage to the Little Black Dress (with a special emphasis on contemporary interpretations). The freshly appointed Numéro Russia's editor-at-large's latest book, which was created as an accompaniment to Talley's exhibit of the same name at Savannah College of Art and Design's SCAD Museum of Art, is an entirely black-and-white photographic affair. But before you get to 80 full-page images, there are personal essays on the LBD by Talley, Robin Givhan, Maureen Dowd, and more.
The book, which took just two months to compile, features Chanel's "Ford" dress that kicked off the LBD craze, Audrey Hepburn eating her breakfast at Tiffany's dolled up in her Givenchy dress, Marc Jacobs in his lacy sheer Comme des Garçons man dress, plus a flood of other luxurious gowns from the minds at Yves Saint Laurent, Carolina Herrera, Joseph Altuzarra, Oscar de la Renta, and more. "I wanted to include a contemporary context to the little black dress," Talley explained. "It was a great moment of wonderment to actually take the dresses and see them in the exhibit and then to put them in this hardcover book. I know it will be very informative to people." The book will be released in April this year, and the exhibit will travel to the Mona Bismarck American Center for Art & Culture in Paris from July to August. The Cut spoke to the fashion editor just after he'd touched down in Paris for the shows (with his four pairs of monogrammed Uggs in tow) to discuss his first recollection of setting his eyes on a Little Black Dress, his love for impeccable white sheets, and more.

Is there a memorable Little Black Dress you remember seeing growing up — in film or in real life — that you first fell in love with?
I cannot give you a moment, no. The first time I remember noticing it was seeing women at funerals, and I noticed that they were in black clothes.

Why do you think every woman should own a black dress?
It's always the dress that one turns to in doubt. The little black dress is a guarantee that they will look their best; their confidence will be conveyed. It is probably also a dress that stands to the test of time. At some point, it used to convey correctness as well.

In your book, you included a photograph of Marc Jacobs wearing a man dress by Comme des Garçons. If you could own a black dress, which designer would you prefer to wear?
I would not wear a dress! No, I would not! I envy him for being able to have that body and own that look, but not me. But I do love black clothes — black conveys elegance. I think people look great in black. I love that what stands out is the person, especially. Black just conveys a kind of drama, even if it can be quiet drama. It does lend to the wearer a sense of confidence.

From the runways, did any black clothing catch your eye?
I saw a beautiful, a beautiful black suit at Bottega Veneta designed by Tomas Maier. I did not see a lot of black dresses — but a very elegant black coat at Dolce & Gabbana. Those are the two things that stand out in my mind this moment as I speak to you. Oh! And Tom Ford. Tom Ford had a beautiful black suit. A pencil skirt with a jacket.
You've mentioned that you have a "love of luxury." After decades of being in fashion, what is the most luxurious item you own?
The most luxurious item is a beautiful bed and beautiful, simple sheets. And a reading lamp so you can read a fabulous book in bed. I'm currently reading Tolstoy's War and Peace and Tolstoy's Anna Karenina at the same time. Luxury, for me, after all these decades, is comfort, luxury is simplicity, and luxury is to enjoy life and embrace the day.
Do you think your definition of luxury's changed over the years?
No, I think it's stayed the same. I still think that luxury is a personal attitude about life, a personal attitude about enjoyment, enhancement. I also think one of the greatest luxuries a person can have is the luxury of true friendship, loyal friends. I think luxury is just to have a beautiful, beautiful bouquet of flowers sent by a friend. It's a wonderful thing, it just changes your whole day if you just come into your room or you open the door and you receive flowers from a friend, that's amazing.

What are your favorite flowers?
Well, I love parrot tulips, orchids, casa blanca lilies. I just love any flower that's sent to me! [Laughs.]

In your essay, you mention that your grandmother, Bennie Frances Davis, influenced your fashion sense. How so?
Perhaps the first black thing I noticed was of my grandmother wearing a black suit. But as I said, that black suit might have been worn to a funeral. My grandmother was a very wonderful lady — she was a maid, but she had extreme elegance and she had Spartan elegance. We did not have a lot of money, we did not have a lot of wardrobe or clothes, so what we had was the best. We did not have a lot, but the luxury that she taught me was the luxury of family, the luxury of good food, and the luxury of beautiful, beautiful white sheets. I mean, my grandmother had the most impeccable white sheets. Egyptian cotton that she also washed and ironed herself. And that was where I learned luxury. The luxury of an impeccable bed is amazing.

In your teens, how did you explore fashion?
I just read everything. I learned about fashion and how to understand fashion, through novels, and through history. Reading the history of the French courts. Reading the history of Louis XIV and Louis XV and Louis XVI. History. I try to be aware of the past in order to understand today or the future. That's all it is. It's important to have a sense of knowledge where things have come from. I think it's important when you're in fashion to know — you don't have to dwell in history, but you have to understand the evolution of it, how fashion evolved over a period of time.

You've been in fashion for decades — what keeps you inspired year after year?
There's always something new to discover. I'm always inspired by people who create fashion. And there's always a new moment of excitement, no matter, a flash of something that's not seen. So what inspires me is to have the curiosity to continue to explore fashion.

There's a red carpet section in Little Black Dress. What do you think of the black dress on the runway?
Marvelous! Just look at my book! Stella McCartney, maaarvelous. Rachel Feinstein, marvelous. With the hat. Look at the way they look with the little black dress. Linda Evangelista de Prada is every bit as extraordinary as anything elegant in the annals of elegant dressing. I mean, the little black dress with the peplum from Linda Evangelista de Prada. Exquisite! It's where they're conveying drama. (Drama is conveyed!) Now if these dresses came on the red carpet, that would be amazing. But people in Hollywood don't even think. Yes, maybe a girl in a cocktail hat would be good with a bird of paradise sticking off of the side, you know? I'm longing for the days when people came like Björk when she wore that strangling swan dress. At least there was originality. It was daring, and now, originality is lacking. There's a poverty of originality. You can put that: There is a poverty of originality and style on the Oscars red carpet. It's the Hollywood factory of the Über-stylist who controls what these incredibly talented women wear, and it's very, very disappointing.
Any final thoughts on Little Black Dress?
I'm very proud of the book, Little Black Dress. What I love most is that people who have seen the book and are in the book — the designers — are very impressed with the book. Marc Jacobs loves the book, and that makes me very happy; his opinion is highly important to me. Tom Ford loves the book. I'm also happy and proud that I have Maureen Dowd, as well as Robin Givhan, who are writing essays for the book. Both are Pulitzer Prize winners. The fact that two Pulitzer Prize winners, who are both friends, took the time to pen essays on the little black dress, personal essays, is really great. It became more than just a photo album of black dresses.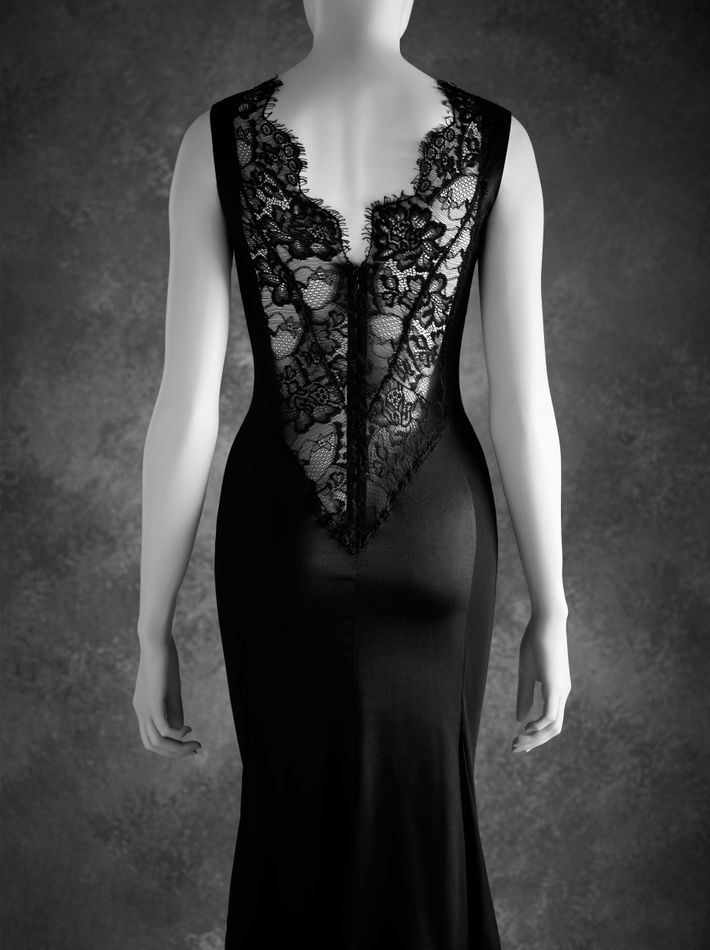 Dolce & Gabbana, décolleté sheath dress made of embroidered lace and silk satin; c. 1990s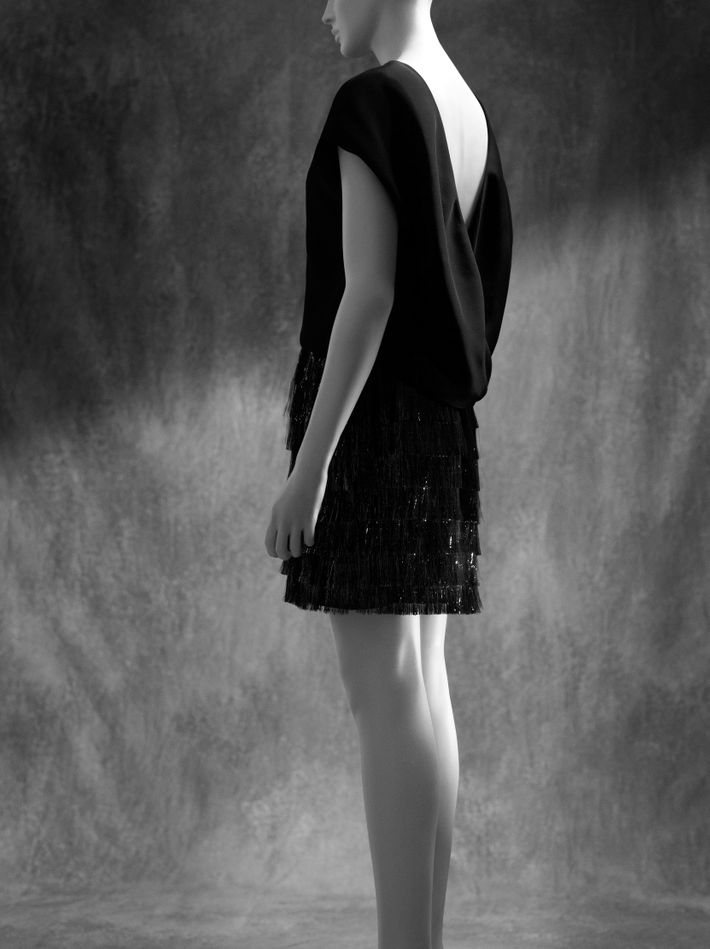 Nicolas Ghesquière for Balenciaga, dress made of silk crepe and cellophane; resort 2013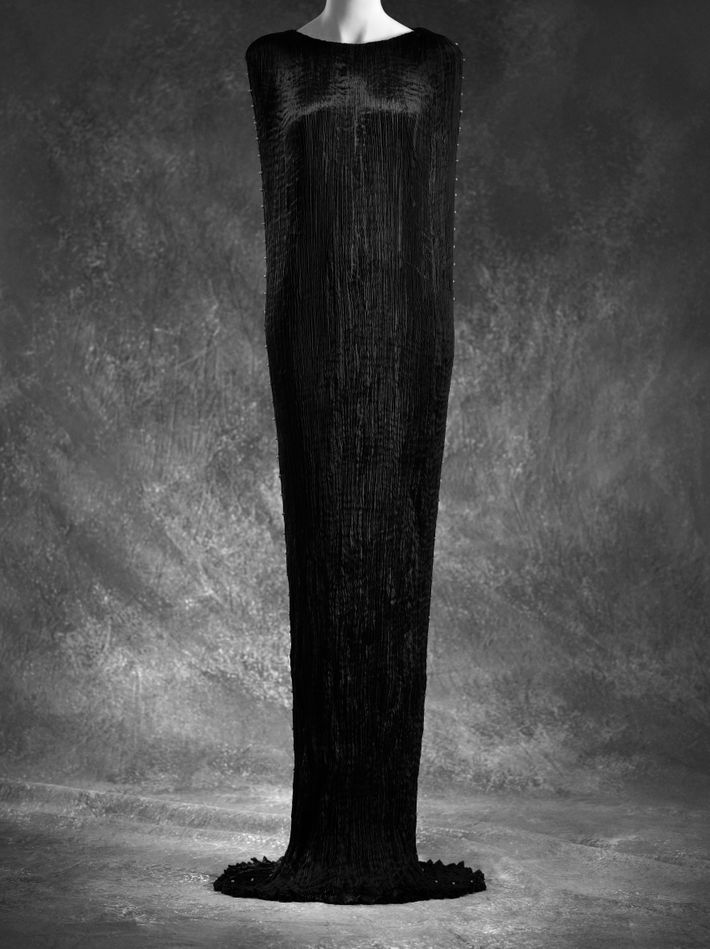 Mariano Fortuny, Delphos dress made of pleated silk, silk cording, and glass beads; c. 1907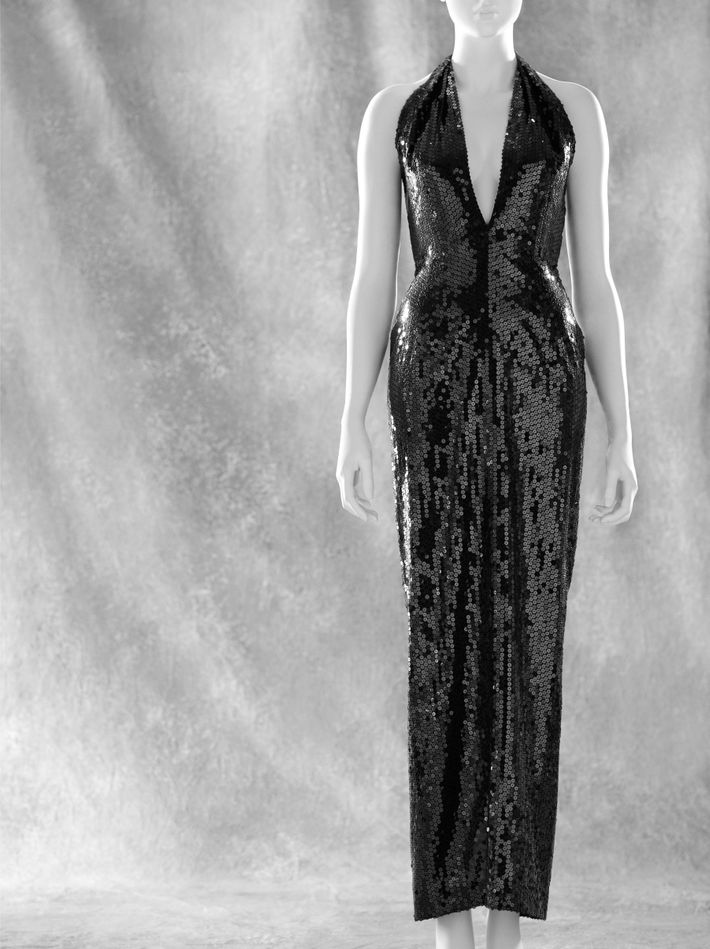 Yves Saint Laurent, décolleté halter dress made of silk and sequins; spring haute couture 1990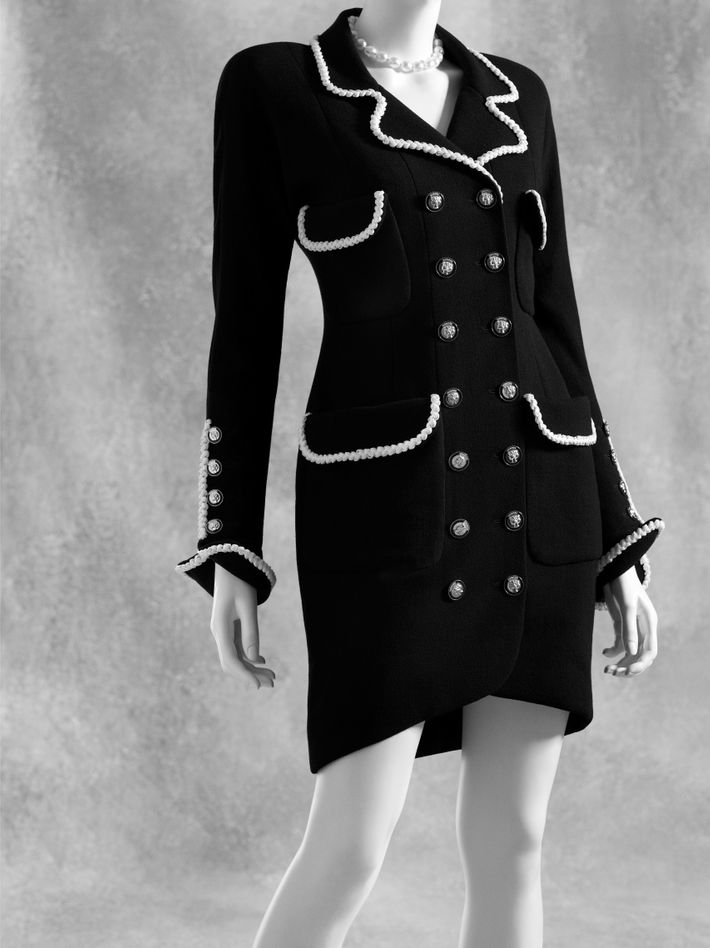 Karl Lagerfeld for Chanel Haute Couture, double-breasted coatdress made of grain de poudre wool; spring/summer haute couture 1990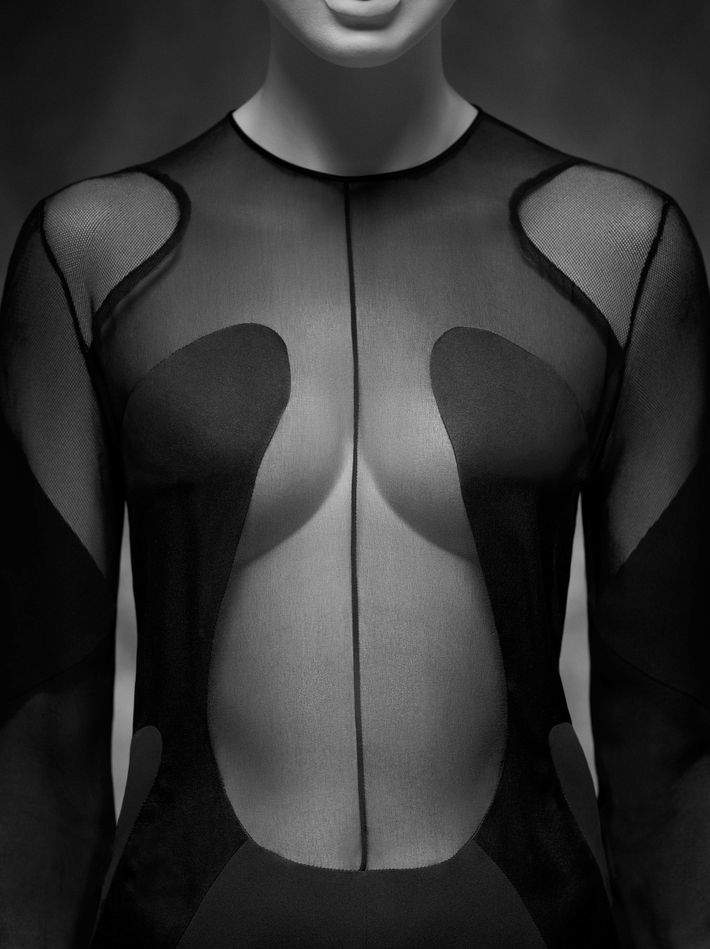 Proenza Schouler, dress made of satin and mesh, resort 2013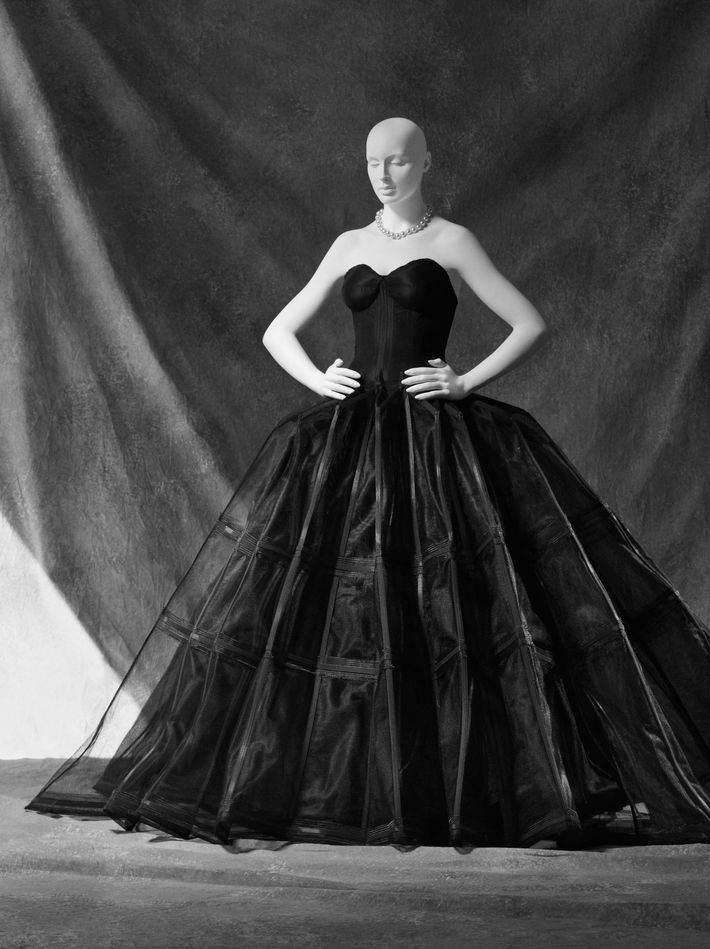 Zac Posen, spider-structured crinoline made of horsehair, boning, and silk taffeta; spring/summer 2013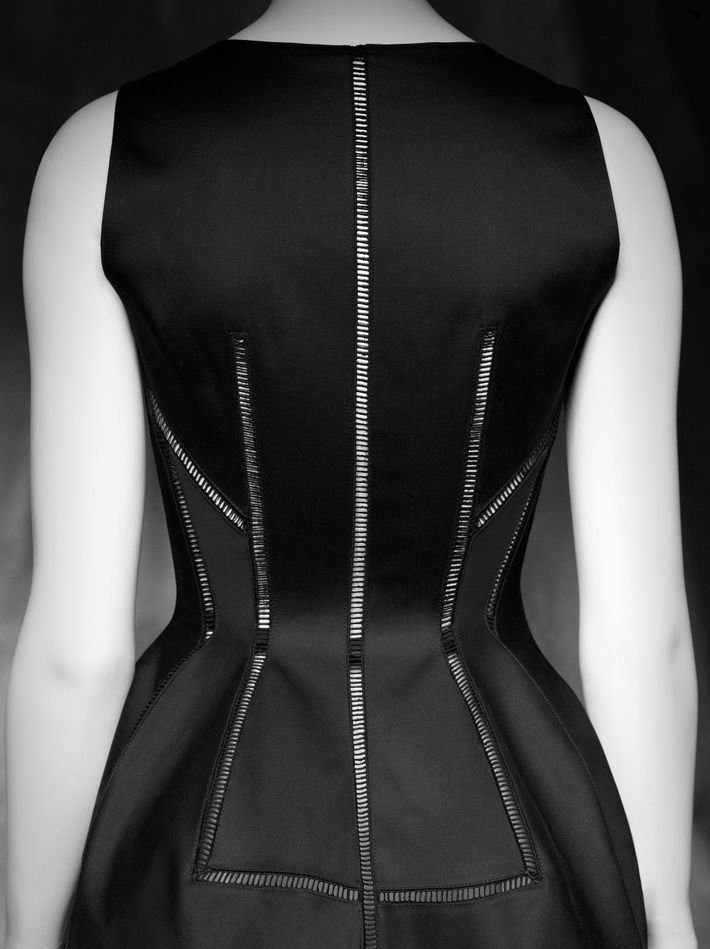 Azzedine Alaïa, zip-front knee-length dress made of cotton; summer 2011