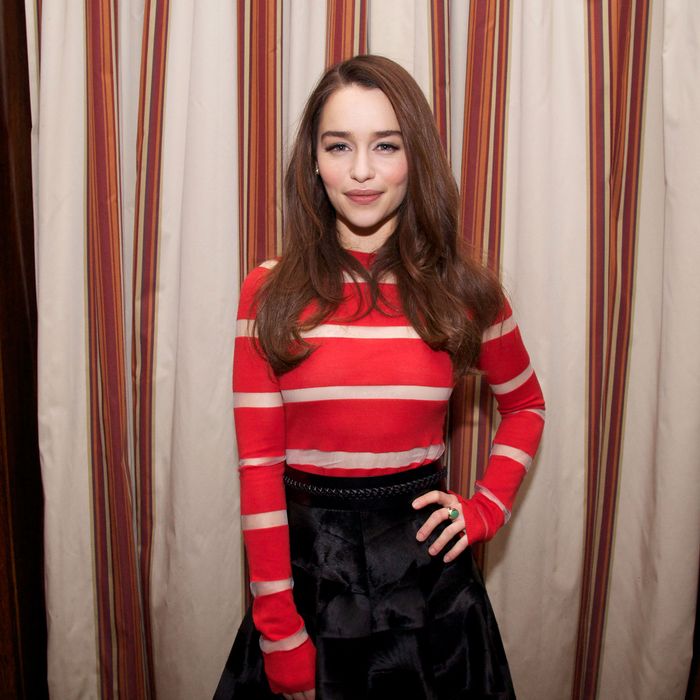 Emilia Clarke, the English actress probably best-recognized for her platinum-blonde mane playing Daenerys in HBO's Game of Thrones, will be swapping out her enviable wavy tresses for yet another wig. Starting March 20, Clarke's naturally brown hair will be hidden underneath a stylish, jet-black updo straight from the forties, as she'll be playing Truman Capote's iconic "good-time girl," Holly Golightly, for a Broadway adaptation of Breakfast at Tiffany's. Not only will she be wearing 25 different costumes throughout (with one tribute to Audrey Hepburn's iconic black dress and pearls look), but she also will strut around onstage in six different pairs of shoes, with a few pairs of Louboutins sprinkled in the mix. Longtime Target beauty liaisons Sonia Kashuk and Umberto also collaborated to create Golightly's darker, sultry look. At a Target x Breakfast at Tiffany's event held this morning, Clarke showed up wearing a head-to-toe Jason Wu outfit and spoke on her everyday beauty routine, makeup tips she learned from her mother, and her favorite way to relax postshow.
Can you describe the makeup process for your transformation into Holly Golightly?
For the stage, I'm wearing basically powder, a little liner, some mascara, and then the lip. It's quite minimal, super forties. For the cheeks, I do as they would in the forties. I get a little bit of the lip color and add it to my cheeks. It's a Prescriptives color, so this wonderful makeup artist named Roy, who's Meryl Streep's personal makeup artist, has been helping us out, and he gave me the color. I used to wear [Prescriptives] as a kid, but then they went away. And so, he had like a whole ton frozen in his freezer [laughs] which is amazing. It's like a deep red-brown. And I wish I knew the name of it, but I don't. 

You mentioned that you do your own makeup on a day-to-day basis. How do you go about creating your own look?
I wear tinted moisturized since, on the stage, we tend to wear such heavy stage makeup. I'm not sure what I'm wearing today, but I do know I'm wearing some Dolce & Gabbana powder.
 
What are some makeup tricks your mother taught you that you still use today?
My mother taught me how to apply my own makeup at 13 years old and the most important lesson I learned is to never touch my eyebrows and to cleanse, tone, and moisturize twice a day. She did what I think is the final frontier, which is wearing makeup but not looking like you're wearing makeup. For me, the best way to do that is to — I actually don't like using liquid liners, so you get the shadow and you get a really, really thin brush. You wet the brush, and then you put it just underneath, in between the lash, so make sure you don't get it in your eye, obviously, but literally at the lash line. So you just follow that down so it looks like you have a defined eye without looking like you have a ton of it on. I'm just a girl who loves mascara. Like, you have some good mascara, you comb it through with a good brush and you can get some amazing one from Ricky's, and a great lip color, and you're good to go.

Which one's your favorite mascara?
At the very moment, I'm using a Trish McEvoy one, actually. That's pretty good, but Chanel has incredible [ones] because they have the combs that comb through your lashes properly.  
Any beauty massage routines after a show?
No, I actually don't get massages very much. But Epsom salt baths are better than any massage.