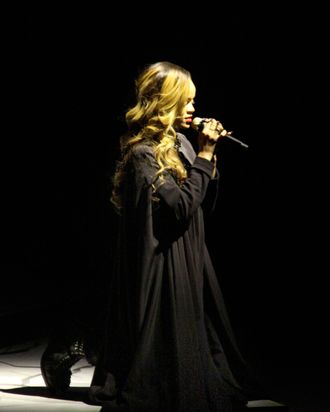 Photo: S Fernandez / Splash News/? www.splashnews.com
After a brief bout with laryngitis, Rihanna returned to the stage last week, giving the Cut exactly seven days to pore over her seven Diamonds World Tour looks. How serendipitous! What follows is our breakdown of each outfit and how it ranks among other items in the HBIC's concert wardrobe.
Outfit One: "A floor-sweeping ruffled silk crepe cape in black with a embroidered collar and a pair of black-and-white leather thigh-high boots with lacing details," created by Riccardo Tisci for Givenchy Couture, according to WWD. She seems upset she missed the papal conclave.
Shine Bright Like a: dark, dark room.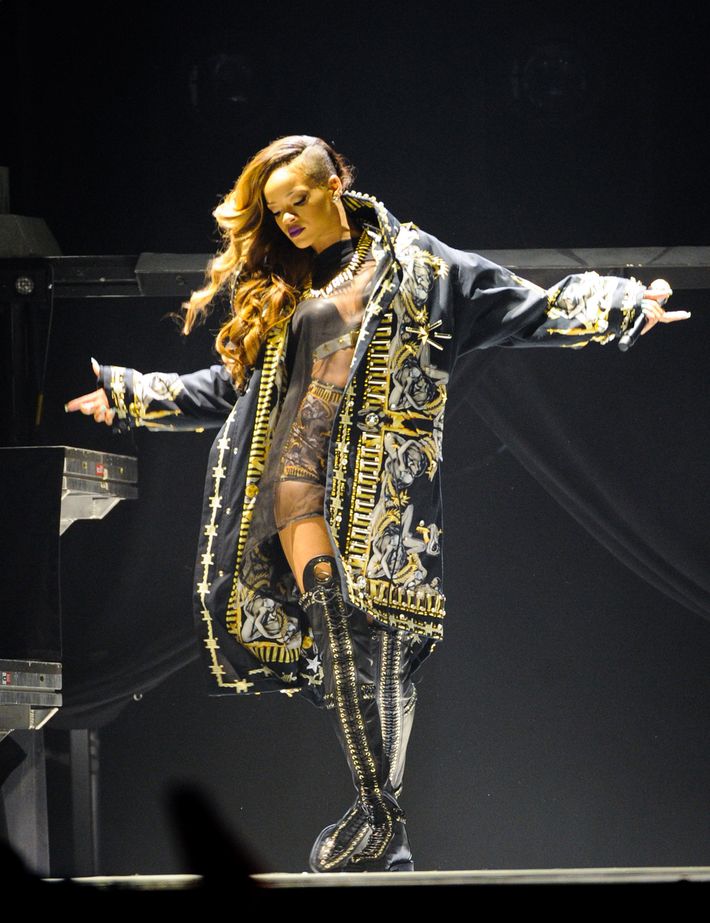 Outfit Two: Another Tisci, he "designed a printed parka featuring gold bullet motifs, embroidery and Swarovski Elements. Underneath was a black-and-white leather bra with golden buckles and starry embroideries, juxtaposing a pair of black silk and satin mini shorts," wrote WWD. Great to Instagram and send to your frenemies.
Shine Bright Like a: reflection of the magic carpet on the side of Aladdin's lamp.