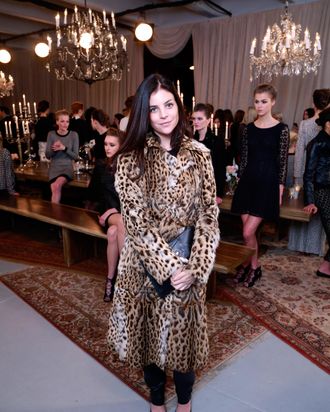 Julia Restoin-Roitfeld.
Photo: Charles Eshelman/Getty Images
Julia Restoin-Roitfeld has had a busy week drumming up press for her new maternity-themed website, Romy and the Bunnies, and today she talked to British Vogue about the dearth of sexy online resources for moms. When she was pregnant, she noticed that people judged her for looking hot: "I wanted to have fun with the way I dressed, while also looking after myself and my future baby," she said. "I didn't want to change the way I dress, or the way I felt about myself. I wanted to keep dressing in a very sexy, girly way. It's so strange how people can be judgmental when they see a pregnant woman dressed in high heels and tight dresses. Being pregnant shouldn't make you feel less of a woman, but more of a woman!" Also, why not show off your temporarily enormous boobs, right?
Julia continues, "I have a passion for lingerie, and designed a collection last year with Kiki de Montparnasse, and didn't find a lot of maternity websites that spoke to me. They all felt a bit too goodie goodie." So, all you ladies out there who don't welcome motherhood as an opportunity to permanently swathe yourselves in granny panties and spit-up-friendly outfits, there's now a place on the Internet for you, too.