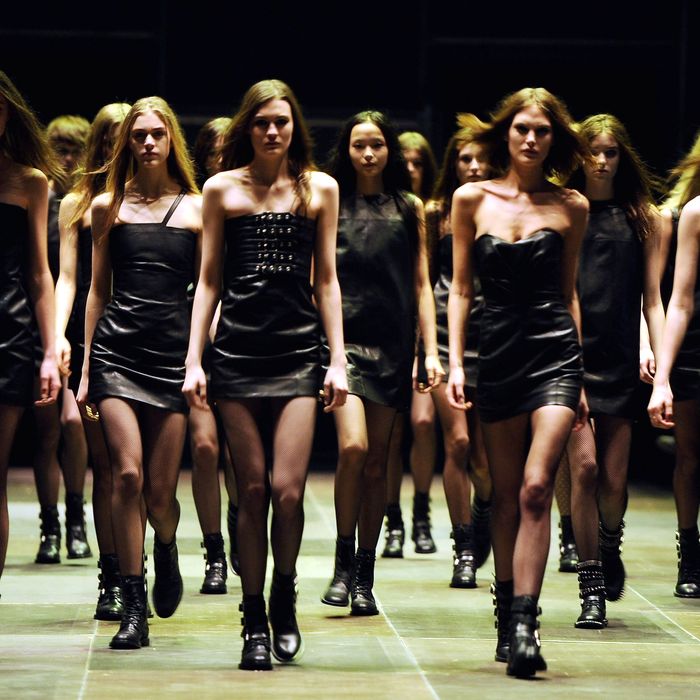 Saint Laurent.
Photo: Pascal Le Segretain/Getty Images
Hedi Slimane held his second Saint Laurent show in Paris last night, and while it's tough to imagine him causing more of a ruckus than he did last season, the fallout from this collection may come pretty close. In short, critics don't know what to make of it, particularly considering its departure from anything remotely resembling Yves Saint Laurent. (What did Pierre Bergé, who sat front row, think? He's not one to keep quiet about such things.)
Fashion critics, no matter how much they personally enjoy or despise a collection, are tasked with making educated guesses and comments about what exactly the designer is trying to convey. That way, they can still put a positive spin on clothes they find ugly. In the case of this collection, no one seems to know what exactly Slimane was getting at besides a very expensive redux of nineties grunge, which a certain kind of girl will probably buy no matter how much it costs.
Journalists are still not permitted to ask Slimane any questions backstage, so we've no clue about his objective. (It's also notable that Cathy Horyn, who was lambasted by Slimane on Twitter after her critique of his collection last season, did not write anything about this collection.) But here's what we do know: Slimane knows how to get attention, and knows that by pissing everyone off, he'll get that much more notoriety. And notoriety sells.
While no one dared to speak ill of the collection outright, few responses were positive (the Times' Eric Wilson perhaps went the smartest route by quoting overheard anonymous editors). Here's a roundup of reactions:
"So we get it. Slimane is remaking Saint Laurent. It's young. It's sexy. It's très rock and roll. A gazillion girls who love Urban Outfitters' signature homage to Seattle Grunge will adore this luxed-up version … But he needs to have more faith in the enduring allure of beautifully engineered pieces — and riff on them some more next season. Neither he — nor Saint Laurent — requires the styling tics of a 20-year-old teenage music revolution." —Lisa Armstrong for the Telegraph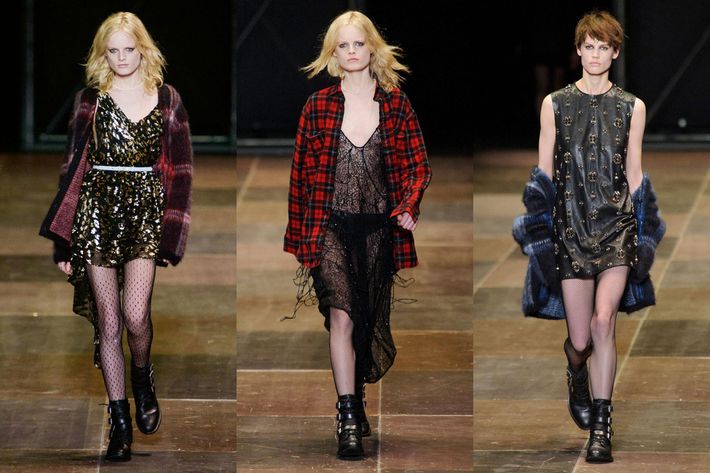 "Few archetypes are more engaging than the undone girl, especially when under her ratty hair, pout, pounding gait and sloppy chic lurk a pretty face and skinny body. But is playing a cutesy, disaffected-youth hand enough to propel the house of Saint Laurent into today's luxury stratosphere — especially if the targeted air space is that in which Chanel and Dior reside? That, too, remains a question." —WWD
"I feel like he's playing a huge joke on the entire fashion industry." —Anonymous editor quoted by Eric Wilson in the Times
"It's haute couture made grunge … It's very L.A." —Kirsten Dunst, quoted by Eric Wilson in the Times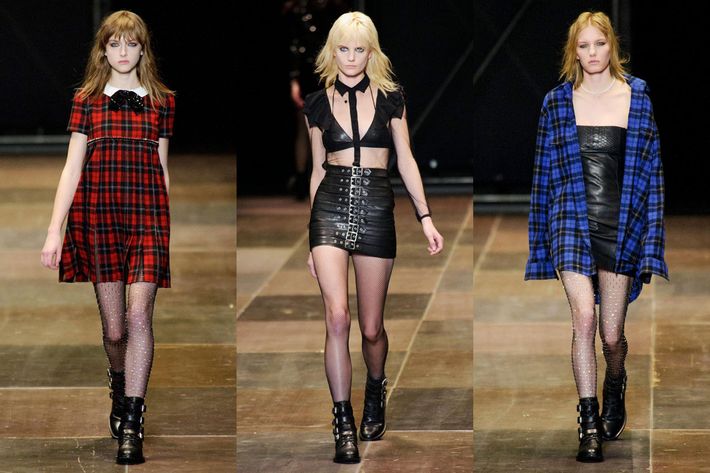 "Many editors present did not appear to be in love with the concept, but there were many pieces that looked commercially lucrative … The connection of grunge to Mr. Saint Laurent was less clear, though he did once produce a fragrance called Baby Doll, and a pink fur coat in Mr. Slimane's show seemed a nod to a famous fox coat design of the early 1970s called the 'chubby.'" —Eric Wilson for the Times
"'It's like bad Topshop!' hissed one retailer as the audience filed out. 'So disrespectful!' said another… And yes, it kind of was. Saint Laurent has recently started to take on the elevated, and static, aura of French Fashion Treasure, even though once upon a time (fashion has a very short memory) it was actually French Fashion Rebel. And yet, this sort of grungy fashion is not really rebellious, since it has been done before – by Marc Jacobs when he was at Perry Ellis, to the same horrified reception back in the 1990s, and most recently by Dries Van Noten, last season – so it was also a bit of a postmodern pose, with a Hedi (not Atlas) Shrugged aspect to it."  — Vanessa Friedman for the FT
"She's LA effortless and belongs at Coachella all year round." —Jessica Bumpus for Vogue U.K.