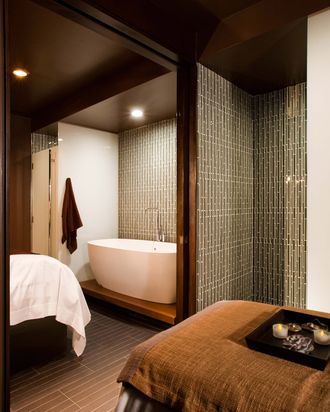 Is there a better time than a frigid winter's weeknight to try a decadent body treatment? I arrived at Wall Street's Setai Spa wind-burned and wearied after a multi-block detour (thanks, Apple Maps), and preoccupied by my looming deadlines. In store was the DayNa Decker Sierra Renewal, an elitist blend of thermal bathing, head-to-toe exfoliating, and aromatic massaging — heavy emphasis on the aroma throughout.
The service is exclusive to the dark-lit, Zen-like downtown Setai, nestled on the third floor of luxury residences. Decker, who made her name with $64 botanical-based candles and other "eco-couture" home fragrances, is amping up her arsenal of perfumed body creams, scrubs, and sprays. The new Sierra line — infused with orange blossom, jasmine, and bourbon vanilla — folds into every step of the spa treatment, layering to an effect that, I was informed, would not just be aromatherapeutic (a word that tends to conjure medicinal-smelling eucalyptus), but narcotic. And that's before your glass of gratis Champagne.
Awaiting me in the mahogany-wooded service room was a pampering table, marbled shower, and thigh-deep tub, steamy and foamy with Sierra-scented essential oils. The therapist tossed in some extra goods: bath salts laced with slippery elm bark (which simultaneously detoxify the skin and lock in moisture) and almond milk (its natural enzymes gnaw away dead cells). You spend 30 minutes there soaking like an heiress, inhaling a sweetly exotic alchemy, alone with the voices in your head and an icy tumbler of rosewater in hand. When the knock came that it was time to towel off, I felt very inconvenienced (it seemed the whiff of entitlement had gone to my head). Next you're face-down for the exfoliation portion. It hurt in a good way, in the way that pinching yourself distracts from pain or stress you're feeling elsewhere (in this case, my brain). The Sierra Buffer is comprised of fine-grain lava crystals that went to town on my wintery limbs while emitting a juxtaposing warm, gentle fragrance. Another half hour and you rinse in the shower; the Sierra Cleanser is infused with antibacterial birch bark extract and vitamin E.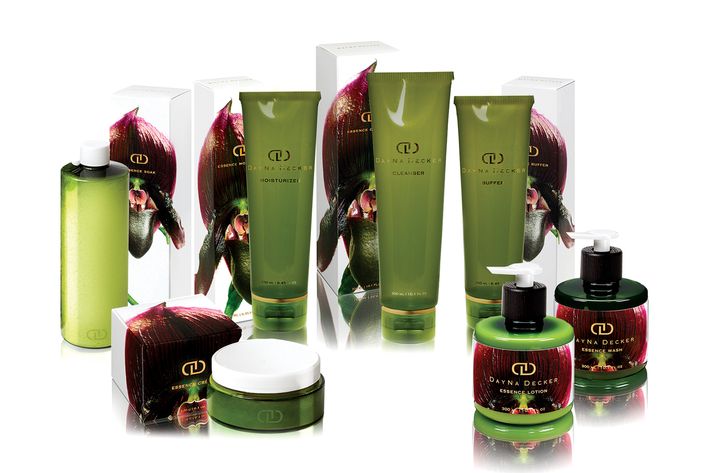 The final 30-minute massage is lubricated by the Sierra Moisturizer, a sheer, argan-oil-based formula that absorbs quickly and boosts elasticity with bamboo sap and vitamin A — enhanced by the spongelike condition of your skin after all that lathering and scrubbing. (Note to at-home spa-ers: The Setai sells the whole gamut of these products for about $40 a bottle.) The therapist kneaded heel-to-scalp pressure-points, restoring my circulation while disorienting my mental state. The air of citrus flower was familiar now, as if I were outstretched in my personal penthouse bathroom. Sealed off by a cool spritz of Sierra Body Mist, I floated home, lacking any clear sense of anything except my own scent. In the morning I didn't want to wash it off.
DayNa Decker Sierra Renewal at the Setai Club & Spa Wall Street, $285 for 90 minutes.