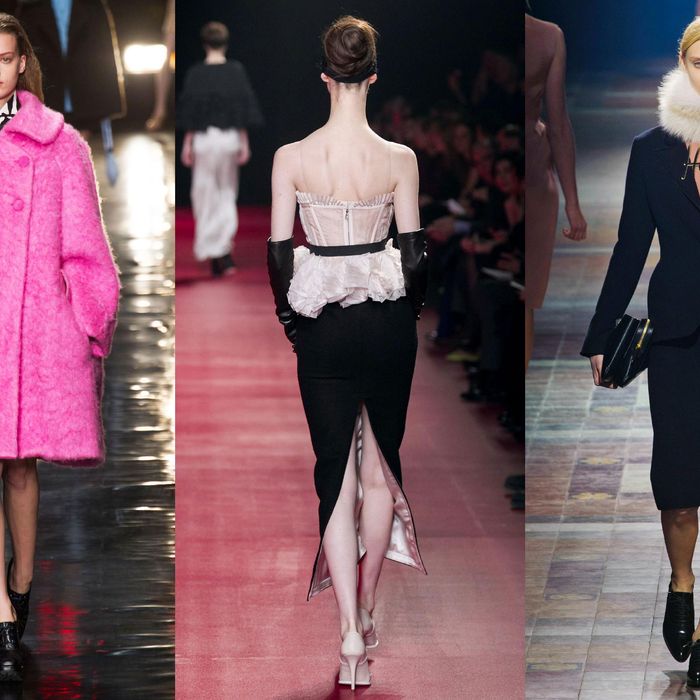 Photo: stellabugbee/Twitter.com
We're live from Paris, where our editorial director is reporting from Fashion Week (albeit in a different time zone).
11 a.m. At Carven, the colors of Easter mix with black, white, and zebra prints. Voluminous overcoats made of stiff pale-pink wool get tied at the waist with thick belts. I imagine one of the Rich Russians trying to wear these coats next fall. Keyhole cut-outs appear in interesting spots like just above the breast.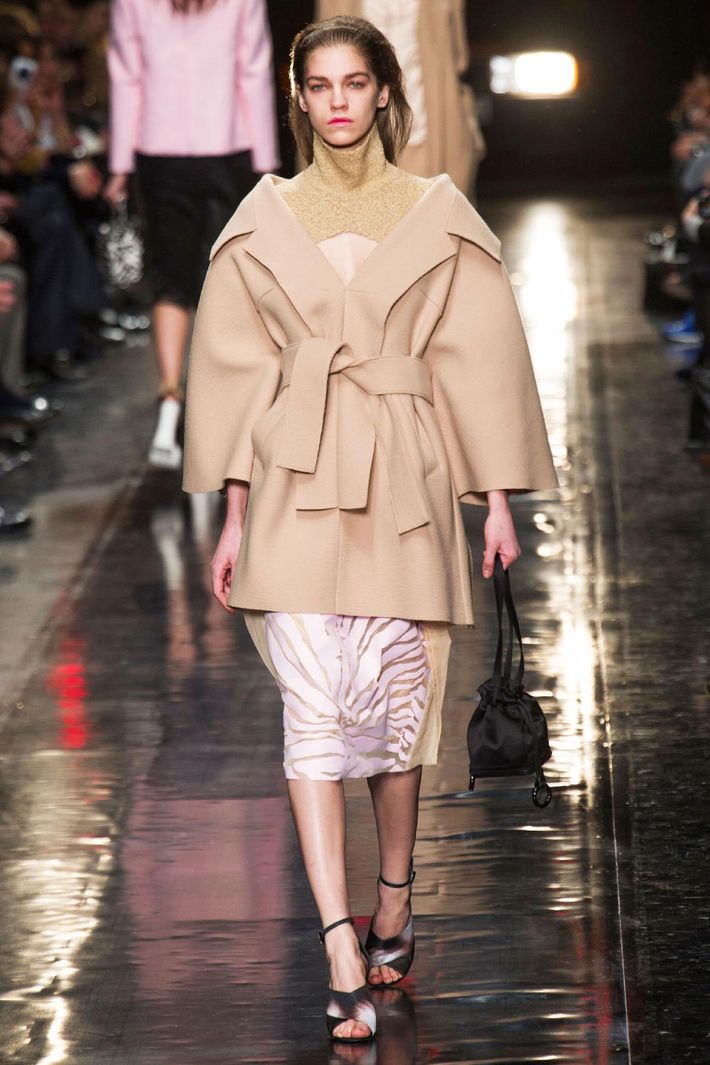 None of the silhouettes feel expected; on some dresses, bottoms are sewn around the model, creating straight flaps with pockets.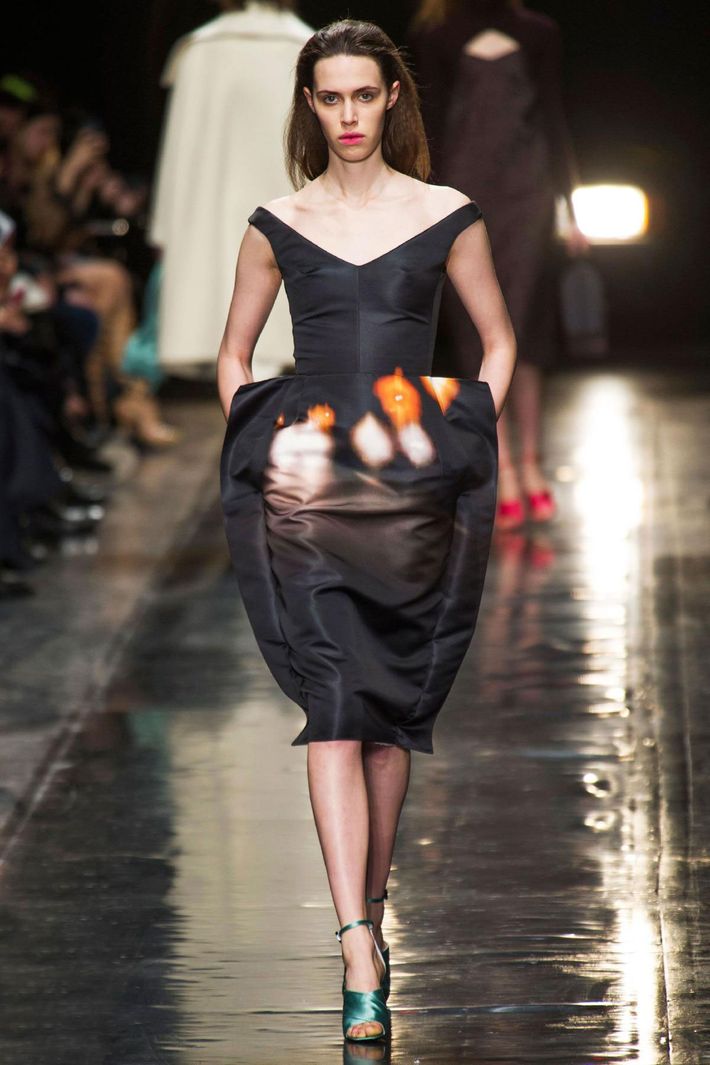 12:15 p.m. Being early to the Pierre Hardy appointment means I have extra time to look around the showroom. Art influences abound, from strappy ankle boots inspired by cubist artist Fernand Léger to pink suede platforms riffing on Ettore Sottsass. The color-blocking thrills, as do the knee-high black boots covered in hand-dipped metallic feathers.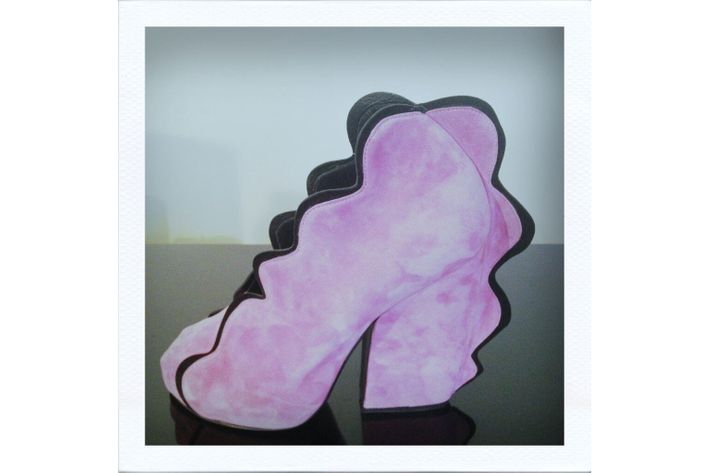 1:30 p.m. I decide to forgo lunch and head to shopping mecca Colette, because who needs food when you can look at what French people think is cool? Unfortunately, I am not the only person with this idea. A black-and-white pinstripe Saint Laurent shrunken blazer calls my name, and if money were no object, I would be wearing it right now. A brief tour of the beauty section yields recognizable niche brands. I feel a momentary pang of sadness about globalization before I am rescued by a tweet from @manrepeller telling me to join her for lunch at Hotel Costes, a mere three-minute walk. When I tell the hostess I am there to meet someone named Leandra, she says, "Oh zhou mean zee Man Re-pe-lah?" After a lengthy conversation about Lena Dunham, Cathy Horyn, Balenciaga, and motherhood, we hop in the car and head to Balmain.
3:30 p.m. Balmain begins with a jolt of rock and roll so loud it makes the audience jump. Models strut in high-waisted harem pants cinched with bejeweled obi belts. Olivier Zahm seems to be enjoying himself. One Led Zeppelin sample gives way to the next, and somewhere in the middle of "Communication Breakdown," Karlie Kloss swaggers by, looking like the baddest babe in Dallas, wearing an enormous, low-cut, boxy jacket over gold pants. Most every look is paired with chandelier earrings, including tailored emerald and sapphire tops encrusted in crystals and white angora one-shouldered sweaters.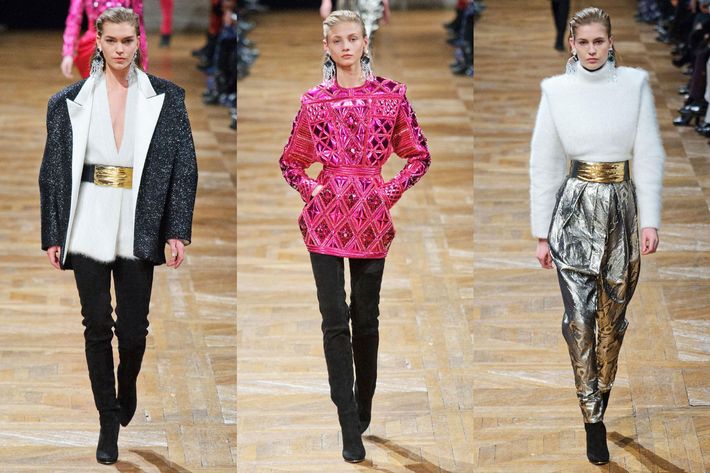 Oh, AND CHER. She's been all over.
4:30 p.m. A quick stop at the Louboutin showroom where I am treated to a panoply of spikes, mesh ornamented with Swarovski crystals, platforms with sombrero embroidery, and multicolored brogues with gold-chain-wrapped soles. Monsieur Louboutin is having a ball designing these shoes.
6 p.m. At Nina Ricci, the palette of red, black, and the palest creams give the collection a deceptively simple feeling, though the pleats and folds make these dresses anything but. High slits up the back of form-fitting, ankle-length skirts reveal contrasting duchess satin; poppy-red silk dresses have moments of structure in the front but soft drapery in the back; clear straps on pale pink corset tops and layers of chiffon imply lingerie. In the midst of all this, Sisters Katia and Maria Labèque play a Philip Glass composition called "Two Movements for Two Pianos."
7:45 p.m. No one wants to sit down at Lanvin because they are having such a great time sipping single-serving bottles of Champagne. Eventually we climb the treacherous bleachers. I am surprised by the strength and chivalry of Bill Cunningham, who offers a shockingly firm grip to help me get to my seat.
Eventually the show commences and I am smitten from the get-go. The models wear giant, hilarious necklaces that say Happy (or Love, or Lanvin, or Help) in gold script. Cara Delevingne wears a black dress that appears strapless at first glance but is actually outfitted with a dusty-rose long-sleeved pink bodysuit. A giant bumble bee rests on her clavicle. Someone should liven up a red carpet with that immediately! It only gets better from there. A one-armed fur scarf-thing makes my seatmates giddy because, in a season of reckless use of animal pelts, Lanvin manages to use pelts to make something outrageously fun and chic, without feeling gratuitous.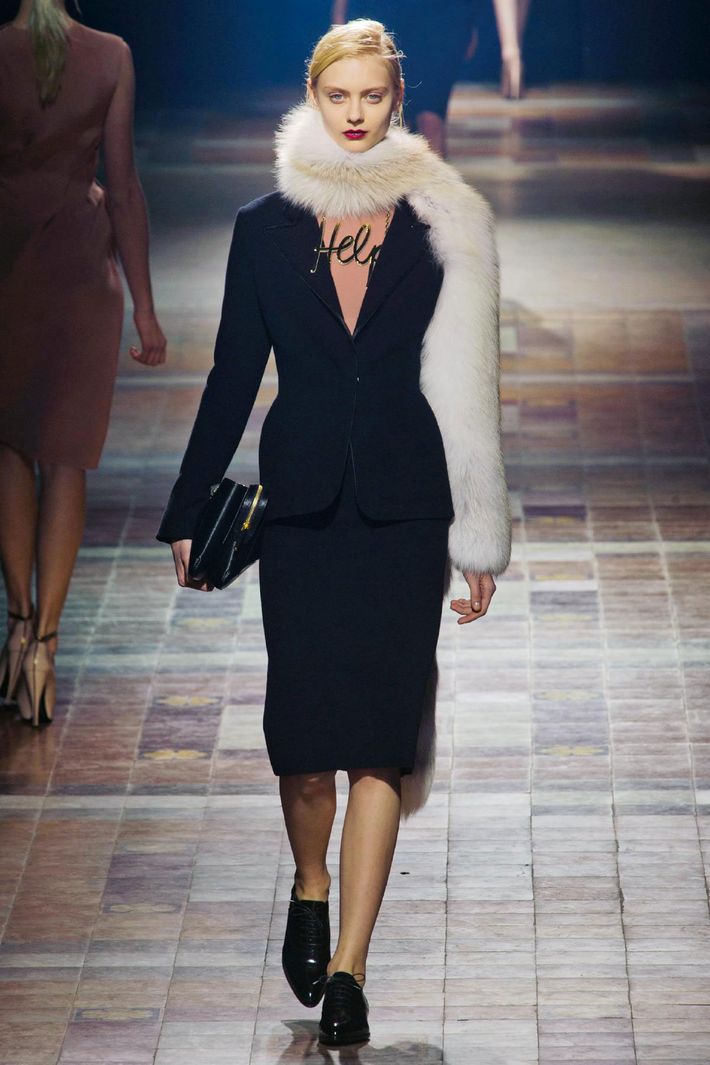 When Alber Elbaz makes his bow, it's to the classic, "It's In His Kiss" (sung by CHER!).
We are not left to wonder if he loves us, because it's in his clothes.
10 p.m. Nestled and cozy in my hotel, I catch up on all the things I missed on the Cut.
11:30 p.m. Christina, our beauty editor, calls to say the Milk/Made in Paris party is happening in the Irish Pub literally across from my hotel. No excuse. I meet her for a drink and mingle with a crowd that includes makeup artists, editors, models, Jefferson Hack, Hannah Bronfman, and Garance Doré. Almost every woman there is working a bold red lip. But the highlight of the night is when I spot my French hair icon Caroline de Maigret. That's enough for one day. It's time to go to bed, though I can hear the party rage on for many more hours.